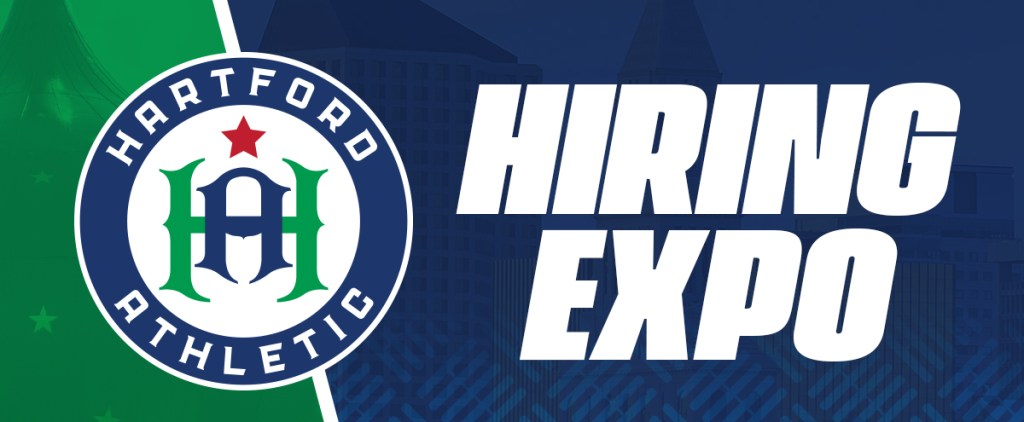 Job Seeker Registration:
If you are a job seeker wishing to attend this free event please register below. If you are an employer looking to table at the expo please contact Eric Horn at ehorn@hartfordathletic.com.
What is the Hartford Athletic Hiring Expo?
Hartford Athletic is not only committed to world-class soccer entertainment; we are committed to providing pathways for everyone in our community through our year-round community pillars of support.
On September 21, 2022, in partnership with the Connecticut Department of Labor, Hartford Athletic will be hosting its second annual Hiring Expo at Trinity Health Stadium in Hartford. The Expo is free to those who are underemployed, seeking new career opportunities, or most importantly, directly impacted in their careers by COVID-19.
Hartford Athletic will host 60+ organizations who support a diverse workforce providing opportunities for veterans, people of color, women, and those with disabilities. In conjunction with our partners, we will also provide educational opportunities for those looking for résumé assistance, interview strategies, and dress for success advice to assist in the process. All participants will also receive one ticket voucher for a future Hartford Athletic match.
Case studies in other markets have shown this format to create over 260 new career paths. We expect even more in this great, diverse city and state.
Supporting partners of the event include the Connecticut Department of Labor, Connecticut Department of Transportation, Eversource, and Citizens Bank.
If you are interested in participating please sign up via the form above.
Where: Trinity Health Stadium (250 Huyshope Ave., Hartford, CT)
When: September 21, 2022
Time: 10:00am-2pm (you can arrive and depart as best fits your schedule)
Registration: Fill out form above
2021 Employers
Aflac
Amazon
Army National Guard
ATI Metals East Hartford Operations
Avangrid
Beebe Landscape Design
Cadence, Inc.
Cattleya, LLC
Chapel Haven Schliefer Center
CliftonLarsonAllen
Connecticut Department of Administrative Services
Connecticut Department of Transportation
CT Fastrak/CT Transit
Connecticut Lottery Corporation
Connecticut State Colleges
Connecticut State Police
Data-Mail
Dattco Bus Company
Dog Star Rescue
Dungarvin Connecticut, LLC
Dupli – Envelope & Graphics
Eastern CT Health Network
Eljen Corporation
Fed Ex Ground
Fortis Solutions Group
Gengras Auto Group
Hartford Athletic
Home Depot
Home Instead
Horizon Services
HP Hood
ITW Graphics
Journey Found
LAZ Parking
Liberty Bank
Lighting Affiliates, LTD
LOWES
Manafort Brothers, Inc.
Manchester Police Department
Metal Finishing Technologies
The Metropolitan District (MDC)
MFR Property Services LLC
Navarro Trucking
Nucor Steel Connecticut
Nuovo Pasta Productions
O&G Industries
Powerscreen New England
Propark Mobility
Quest Global
River Ridge at Avon
Stop & Shop
The Reserves Network
Torrington Savings Bank
Trinity Health of New England
UConn Dining Services
UPS
US Army
USA Haul
W+D North America
West Hartford Police Department
Windows Restorations of CT
Wounded Warrior Project
Zoe's ProEdge Painting
2022 Employer List will be posted as soon as it is available.