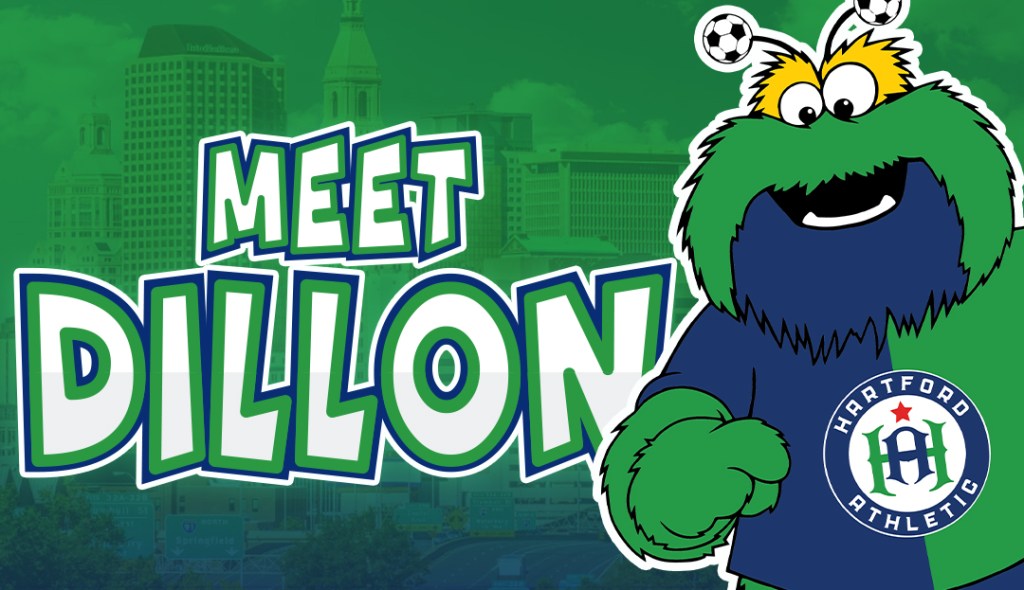 Meet Hartford Athletic's Mascot: Dillon!
Dillon is our club's wacky, fluffy, and friendly take on the Glawackus, an animal of legend in Connecticut, with the only sighting on record occurring in the 1930s. His fur is equal parts green and blue including an all-green mustache. Dillon's head is topped with soccer ball antennas due to his love of the beautiful game.
In his youth, Dillon was proud to be a Glawackus, but was saddened that many believed his kind to be scary creatures. That wasn't who Dillon was. He was kind, friendly and loved all creatures large and small. He loved his home, but wanting to develop a new reputation, he set out to travel the world to find a place where he could start fresh. Dillon traveled for many years to different cities across the country, but each place he went, he struggled to find acceptance. Eventually, Dillon decided to follow his heart and return home.
Dillon returned to Connecticut and found a place different than he remembered. The hustle and bustle of the burgeoning city of Hartford gave Dillon energy, and he was welcomed with open arms, especially at events at the aptly named Dillon Stadium. Dillon cheered on the Hartford Bicentennials, watched Pele play in person, sang along with the Rolling Stones, Beach Boys and Grateful Dead, and attended the annual Thanksgiving Day football game between Hartford Public and Weaver. Dillon was truly having the time of his life.
Over time, Dillon Stadium fell into disrepair and Dillon, who had made the stadium his permanent home, sat lonely within it. The excitement of the city that had brought him to the stadium was gone, until Hartford Athletic came to town. The energy that had once captivated Dillon had returned to the stadium and he found the true happiness he sought cheering on Hartford Athletic week after week with the club's many fans and supporters.
Look out for Dillon on game days at Trinity Health Stadium!
BIOGRAPHY
BIRTHPLACE: Glastonbury, CT
BIRTHDAY: July 13, year unknown
HOMETOWN: Hartford
WORDS TO LIVE BY: "I'm Hartford til I die!"
FAVORITE COLORS: Green and Blue
FAVORITE FOOD: Pizza and $1 Hot Dogs
FAVORITE SONG: Brass Bonanza
OTHER HOBBIES INCLUDE: Attending events at Trinity Health Stadium, grooming his eyebrows, playing as Hartford Athletic in eFootball, practicing soccer
Request Dillon For Your Event!
Dillon keeps a busy schedule while cheering on the Green and Blue, but works hard to make time to attend events in the Hartford community! From birthday parties and school appearances, to corporate events and weddings, Dillon is guaranteed to add to the fun times. Hit the link below to request Dillon for your event and get pricing and scheduling information.