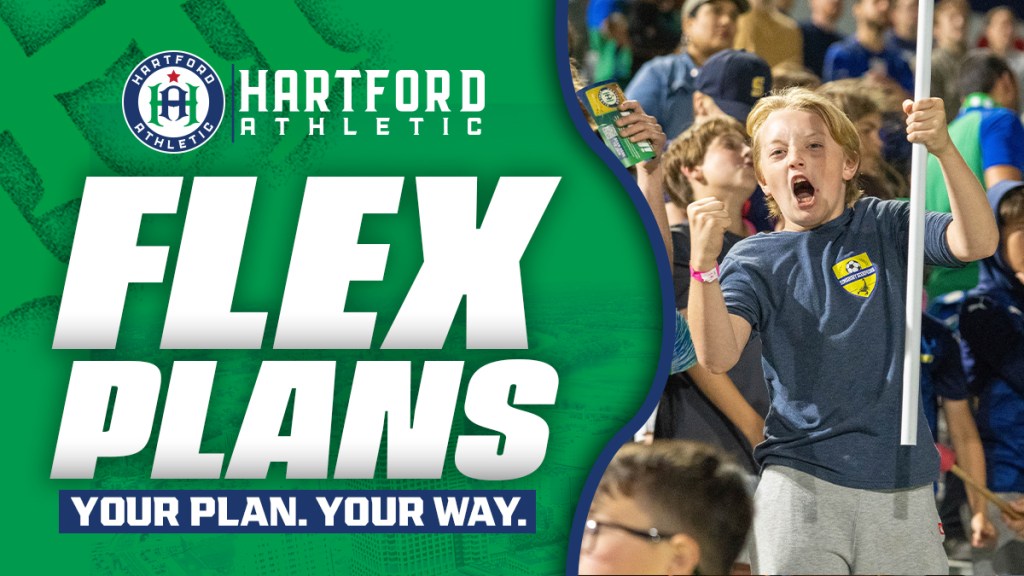 2024 Flex Plan Ticket Packages
Build Your Own Custom Plan
Your plan…your picks! Select the matches that fit your schedule for the 2024 season and enjoy saving up to 20% off matchday prices and additional benefits.
No need to select matches months in advance, redeem your flex plan right up to the day of the match and be in the stands to cheer on the Green & Blue.
Pick the games that best fit your schedule and use your 6 vouchers however you'd like. Use two vouchers to three games, three vouchers to two games, all vouchers at once, or one voucher for six. Plans to put you at the center of the action whenever you want will go on sale in early 2024.
For questions or more info email tickets@hartfordathletic.com or call (860) 298-9233.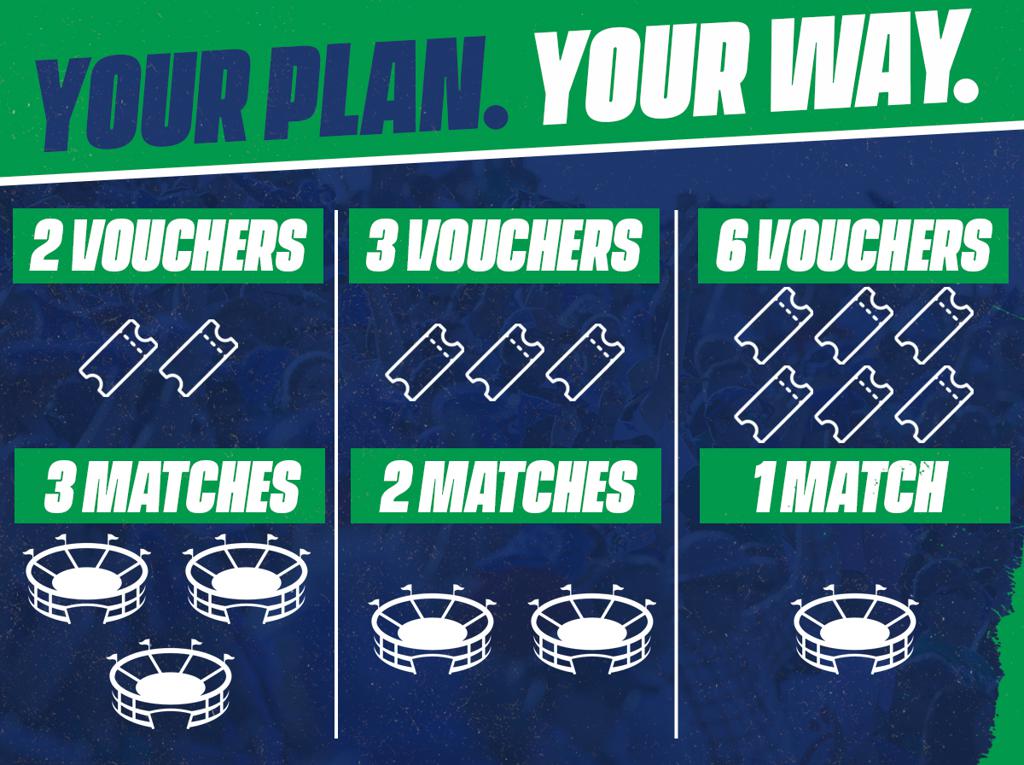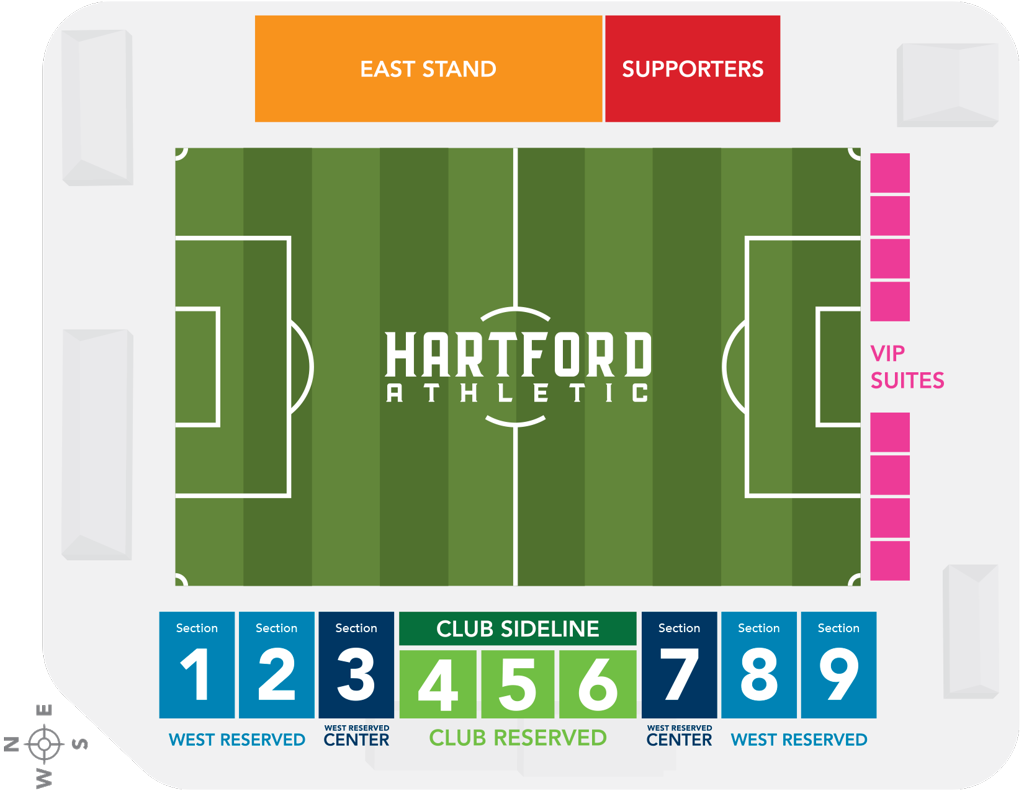 FAQ's
Q: WHAT BENEFITS DO I GET AS A FLEX PACKAGE MEMBER?
A: Flex Package Members are eligible for the following benefits:
Priority access for US Open Cup, Friendlies and Playoff matches
The ability to flex seat location within your neighborhood for any of our regular season games
Savings on Single Game Tickets
Q: HOW DO I REDEEM MY FLEX PACKAGE TICKETS?
A: Flex Package Members will log into their Hartford Athletic-SeatGeek ticket account and go to the "Flex Redemption" offer upon the offers tab of their account manager to redeem as many of their tickets to any match of their choice up to kickoff of the chosen match. Once you have reserved seats there will be a payment due upon checkout but all flex members will have "flex redemption credit" as a deposit category you will be able to pay for your tickets with. Flex tickets are unreserved seats, meaning the best seats in each section are first come first serve. The earlier flex tickets are reserved the more seats are available to choose from. To redeem flex tickets, click on this link to choose your seats.
Q: CAN I SIT NEXT TO MY FRIEND IF WE HAVE FLEX TICKETS IN THE SAME SECTION?
A: Your account representative will do their best to accommodate you and your friend(s) to arrange seating locations next to one another. Flex tickets are redeemed online so coordinate with your friends before reserving seats.
Q: I DID NOT USE THE ENTIRE VALUE OF MY FLEX PLAN TICKET PACKAGE THIS YEAR. WILL THE REMAINING "FLEX REDEMPTION CREDIT" ROLL OVER TO THE FOLLOWING SEASON?
A: No, flex redemption credit is only valid for the season in which it is purchased.
Q: WHAT IS THE CLUB'S REFUND POLICY?
A: No refunds, exchanges or cancellations are permitted unless Hartford Athletic is unable to fill your order. Refunds will not be granted due to a match date or time change.
Q: IN WHAT FORM WILL I RECEIVE MY FLEX TICKETS?
A: Flex Tickets will be distributed via the SeatGeek App available on the App Store and Google Play. Flex Pack members will need to link their SeatGeek account to their Hartford Athletic ticket account to be able to access tickets within the app.
Q: DO FLEX PACKAGE MEMBERS RECEIVE A DISCOUNT ON TEAM MERCHANDISE?
A: No. Only our traditional Season Ticket Members will receive 20% off discount on all team merchandise.
Q: HOW DO I CREATE/REGISTER A SEATGEEK ACCOUNT?
A: To create/register a SeatGeek account, please visit https://seatgeek.com/#register and you will be prompted to create an account. If you already have a SeatGeek account you can link that with your Hartford Athletic account to not create multiple accounts.
Q: WHAT IF I FORGOT MY SEATGEEK PASSWORD?
A: If you have forgotten your SeatGeek login password, please visit https://seatgeek.com/forgot_password to get instructions on how to reset your password. If you do not receive the instructions to your email, please check your junk and spam folder.
Q: ARE TICKETS TO THE PLAYOFFS INCLUDED IN MY FLEX PACKAGE?
A: Playoff tickets, exhibition matches, and non-USL regular season tournaments played at Trinity Health Stadium are not included in your flex package. Flex pack members will be informed by the Hartford Athletic ticketing office and receive priority to purchase their seats for additional matches prior to the general public.
---
Have further questions?
If you have any questions, please contact a ticket representative by calling (860) 298-9233 or email tickets@hartfordathletic.com.