ADDRESS
250 Huyshope Ave., Hartford, CT 06106
TICKETS
For information on tickets go to hartfordathletic.com/tickets or contact us at:
Phone: (860) 298-9233
Email: tickets@hartfordathletic.com
SEATING MAP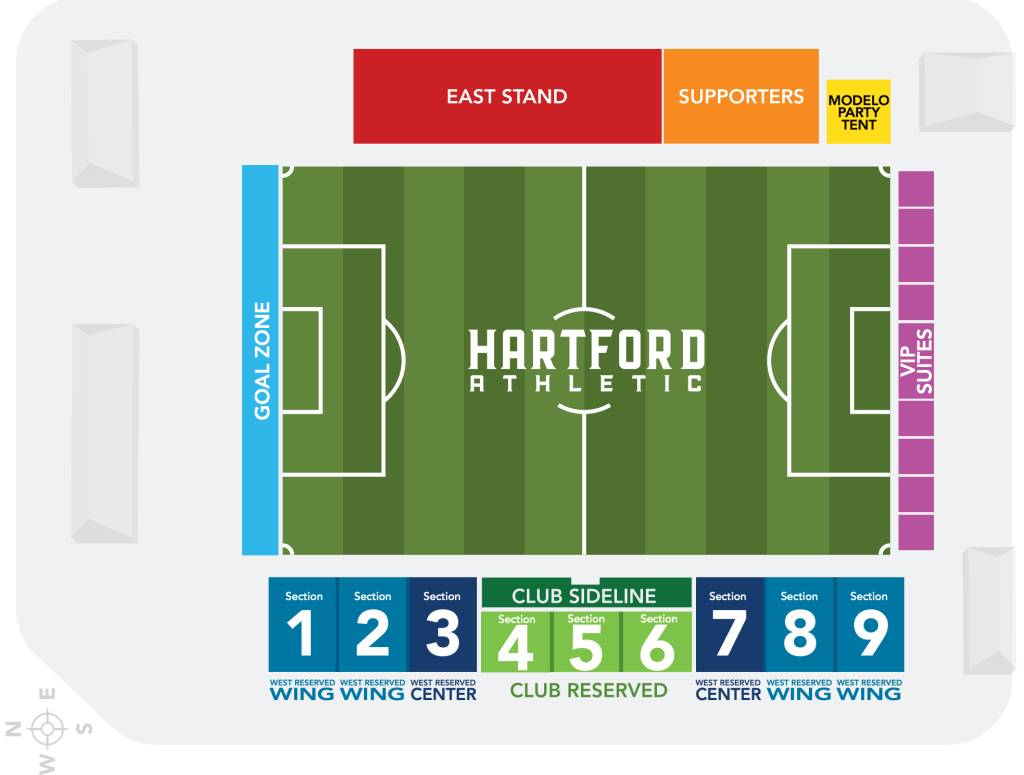 PARKING
Lot 2 opens 3 hours prior to kickoff
All other lots will open 2 hours prior to kickoff
Parking passes (Season Ticket Members and Corporate Partners) are delivered digitally and available in the SeatGeek app. Please go here for instructions on accessing your parking passes. Individual game parking passes are also available for purchase here.
Matchday Parking cost is $10 and will be cash only (this is the only cash payment area — all in-stadium payment for concessions, box office, and merchandise is contactless payment with no cash accepted)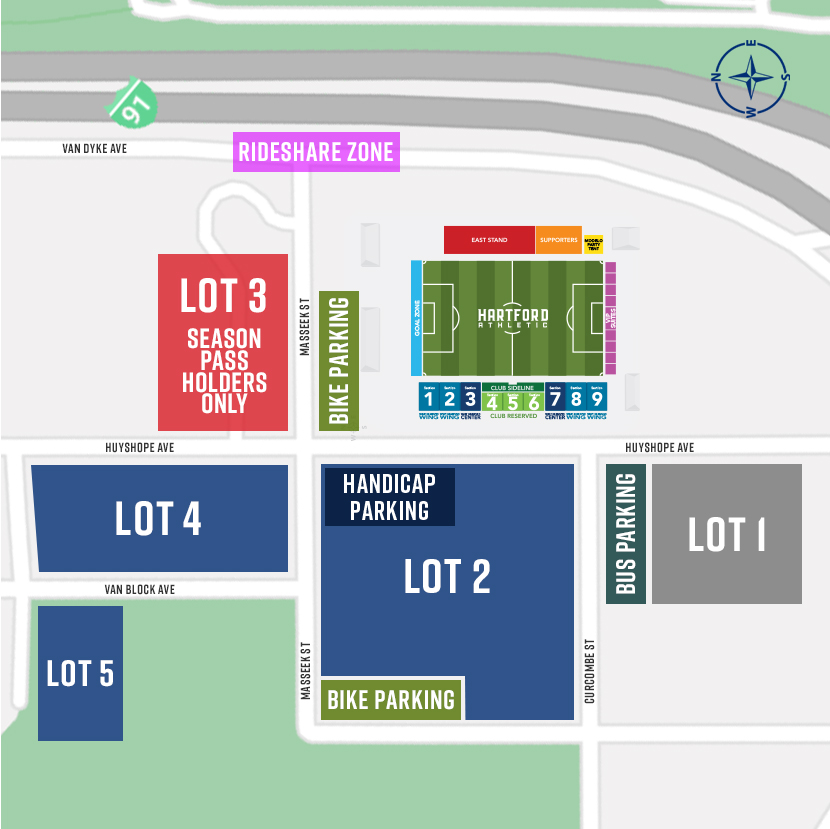 STADIUM POLICIES
TICKETING
All patrons ages (4) four and older are required to purchase a ticket. No ticket required for ages (3) three and under but the child must sit on a lap with a ticketed patron. All sales are final and events are rain or shine.
ADA ACCESSIBILITY
Trinity Health Stadium is an accessible stadium with ADA seating available as denoted on the seating map. Please contact us at tickets@hartfordathletic.com or (860)-298-9233 should you have any questions and to ensure seating will meet your needs.
INGRESS/EGRESS
Hand sanitizer will be available throughout the stadium
Gate Opening: Gates will open 1 hour prior to kickoff
Designated Gates: Three gates will be open for entry and exit:

Main Gate (Gate A): West Stand – Sections 1-7
North Gate (Gate H): East Stand & Supporters
Southwest Gate (Gate E): West Stand – Sections 8-9; VIP on Field Seating; VIP Suites
CONCESSIONS
Concessions will be available inside the stadium with both north and south end concessions buildings as well as food trucks and kiosks open
All concessions purchases will be cashless
MERCHANDISE
All merchandise transactions will be completely cashless
TAILGATING
Tailgating is permitted in Lot 2 only
FAN CODE OF CONDUCT
Hartford Athletic will provide a safe and enjoyable experience to all spectators in attendance. Spectators are required to refrain from the following. Fans in violation of these policies will be subject to ejection, arrest and possible loss of future ticket privileges.
Behavior that is socially unacceptable, offensive, unruly or illegal in nature.
Using or displaying foul or inflammatory language.
Verbal or physical harassment of opposing teams' fans.
Throwing objects onto the field.
Entering the playing field or interfering with the progress of the match.
Intoxication or other signs of impairment that results in irresponsible behavior
ALCOHOL
Hartford Athletic encourages responsible drinking. Proper identification is required to purchase any alcoholic beverage. The purchase limit may be reduced, and sales may be discontinued at any time at the discretion of Team management and Hartford Police Department. Fans will not be allowed to enter the stadium if they are visually intoxicated.
Spectators must be 21 years old to purchase alcohol.
All spectators under 30 years old will be required to present an ID.
Limit of two beers sold per purchase per spectator.
Alcohol will not be allowed into or out of the stadium.
Alcohol sales will end in the 90th minute.
Team management reserves the right to discontinue sales at any time.
BANNERS, FLAGS, INSTRUMENTS, AND SUPPORTERS SECTION
Banners, flags, displays, tifos, and instruments are permitted only with pre-approval from the Hartford Athletic Front Office staff and the designated Supporters liaison. Any banners, flags, displays, and tifos must be respectful, cannot obstruct another spectators view and cannot cover any stadium signage. Any displays must be checked in at Gate E up to 90 minutes before kickoff. Team management reserves the right to confiscate or deny any displays at their sole discretion.
Instruments must be pre-approved by Hartford Athletic Front Office and the Supporters liaison. They must be entered through Gate E and placed 90 minutes prior to kickoff. Placement will be approved by team management and the Supporters liaison. Hartford Athletic reserves the right to deny or remove instruments at its sole discretion. Instruments may only be located in the designated Supporters Section unless otherwise permitted by the Hartford Athletic Front Office.
The Supporters Section is for fans that would like to chant, sing, drum, wave flags, display banners, stand, jump, and support the Club to the fullest extent. The first row of the Supporters Section is reserved for the designated Supporters Capos as assigned by the Supporters Liaison and Hartford Athletic Front Office.
STADIUM RE-ENTRY
There will be no re-entry permitted except in the case of a mandatory evacuation.
PROHIBITED ITEMS
Certain exceptions to the list of prohibited items will be made for those fans attending Hartford Athletic matches as a member of a recognized Supporters Group, and for items pre-approved by Hartford Athletic, United Soccer League, and Trinity Health Stadium.
Animals, other than assistance dogs
Scooters and other powered devices
Weapons of any kind (not applicable to Local law enforcement personnel, and authorized security personnel)
Compressed and liquefied gases, flammable and pyrotechnical substances and items regardless of their type
Aerosol cans or pressurized containers
Unlawful narcotic, psychotropic and/or toxic substances
Umbrellas (fans should bring raincoats/ponchos for inclement weather)
Moving and gliding aircraft or other models and any missile or projectile like object
Strollers or baby seats may not be taken into the stands or left in section entrances
Bikes, skateboards, roller blades, roller skates, shoes with wheels
Backpacks and large bags over 14x14x6 inches (subject to search)
Laser pointers or flashlights
Selfie sticks and/or monopods
Smoking or tobacco products.
Frisbees or inflated balls of any kind
Outside food or beverages
Metal or glass containers of any kind
Un-approved pamphlets, handouts, advertisements, etc.
Insulting any other persons (which includes by use of banners, signs and other means of visual propaganda) and carrying out any other activities that humiliate and/or insult people, their human dignity or business reputation
Acting, chanting or using language in any way that is discriminatory or extremist, aimed against a country, person or group based on race, color of skin, ethnic, national or social background and wealth, birth or any other status, gender, disability, age, language, religion, political or other opinion, sexual orientation or on any other grounds.
SEVERE WEATHER
In the event of severe weather, stadium personnel will make announcements to provide direction to all fans in attendance.
FAN EXPERIENCES
By participating in fan experiences you agree to the following waiver.
STADIUM ENTRY: DESIGNATED GATES BY SECTION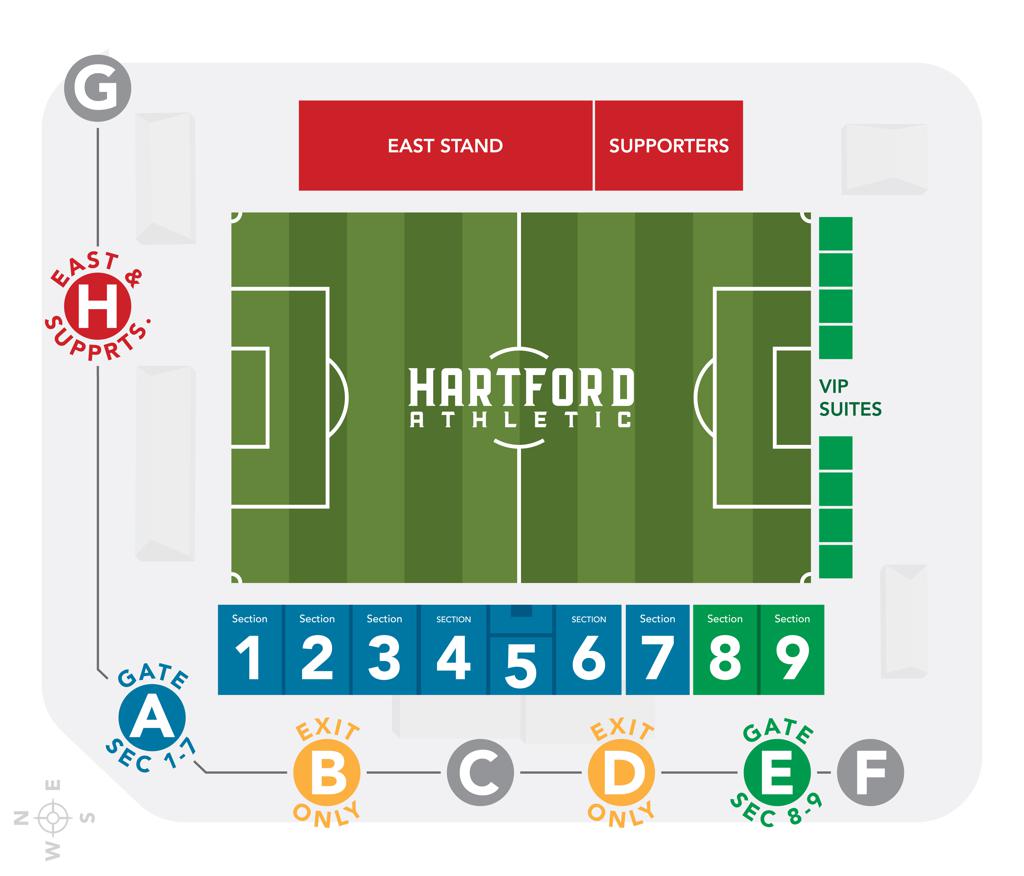 DILLON STADIUM HISTORY
As a part of the original Colt gift, the lands of Dillon Stadium and Colt Park have long been a treasured community asset. Steeped in history, Dillon Stadium is an iconic Hartford venue. As a FERA (Federal Emergency Relief Administration) project dedicated in 1935, the stadium reached great heights before falling into disrepair – playing host over the years to everything from the annual Thanksgiving high school football game to professional soccer to concerts from the likes of the Rolling Stones, Beach Boys and the Grateful Dead. Dillon Stadium was renamed Trinity Health Stadium on March 18, 2022. The Dillon name will be prominently commemorated at the stadium as the Dillon legacy lives on.