Celebrating 75 Years of Fire Safety
The Hartford and Hartford Athletic are teaming up to celebrate 75 years of fire safety education through the Junior Fire Marshal Program. The Junior Fire Marshal Program takes life-saving lessons and makes them fun for kids to learn about fire safety. This season, kids of all ages will celebrate 75 years of this life-saving initiative in fun, interactive ways.
Hartford Athletic will be selling ice cream served in Junior Fire Marshal 75th Anniversary collectible fire helmets this season (while supplies last). Each ice cream served with a fire helmet will have a chance to win a Junior Fire Marshal Prize Pack which includes four tickets to a Hartford Athletic match, a Hartford Athletic branded hat and scarf and a replica jersey t-shirt! The winning helmet will be marked with a gold star so make sure to check under your helmet!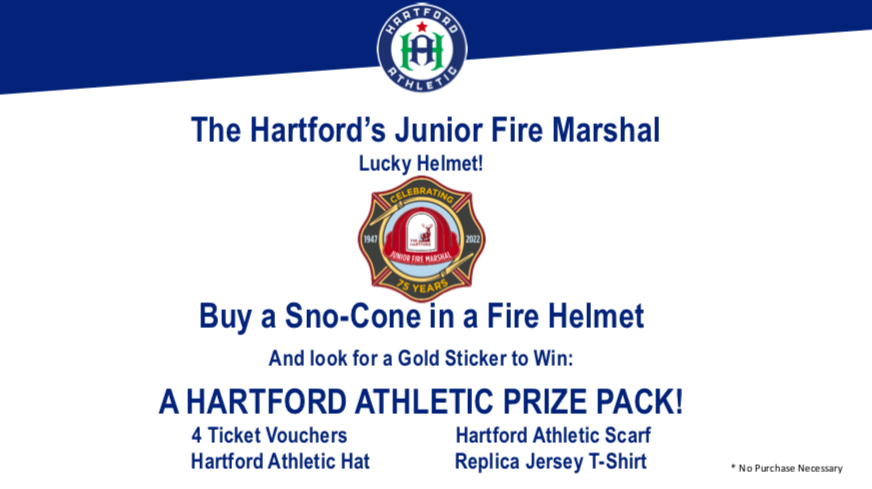 One lucky young fan will be chosen each game to participate in The Hartford Junior Fire Marshal Halftime Contest. We look forward to rooting on each participant under the lights at Trinity Health Stadium this season while promoting fire prevention and safety in our community.
On June 25th, join us for Junior Fire Marshal Day at Trinity Health Stadium, where all children in attendance will receive a free Junior Fire Marshal Helmet. Prior to the game, a select group of children will join members of the Hartford Fire Department on-field to take the fire-safety pledge, along with all of our fans, and become deputized as official Junior Fire Marshals.