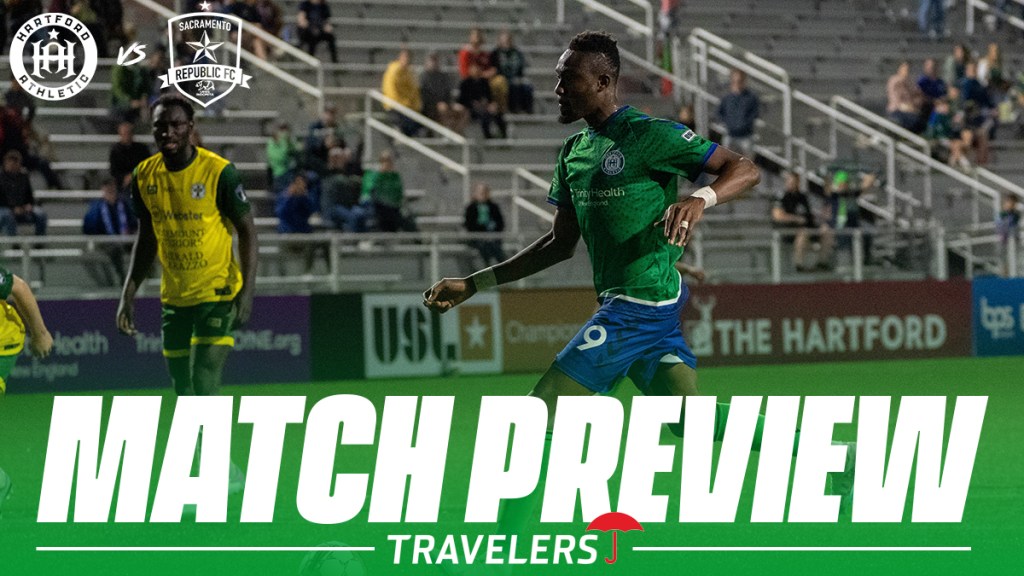 Hartford Athletic started their homestand with a win last week over Loudoun United, and have a chance to make some noise against the Western Conference leader Sacramento Republic FC tomorrow night.
PRESENTED BY TRAVELERS
Date: Friday, May 26th, 2023
Time: 7:30 PM ET
Location: Trinity Health Stadium, Hartford, Connecticut
Tickets: HERE
Streaming: ESPN Plus or WTNH.com
HARTFORD ATHLETIC (2-6-2) vs. SACRAMENTO REPUBLIC FC (7-1-3)
LAST TIME OUT
Hartford Athletic are coming off a 2-0 win over Loudoun United last Saturday at home, snapping their three-game losing streak. Hartford were in control for most of the game, suffering few dangerous scoring threats from Loudoun. Juan Pablo Torres scored first for Athletic in the 23rd minute, with Kyle Edwards picking up the assist. Torres' first goal with Hartford and Edwards second assist of the year. Edwards was involved again in the second half, drawing a penalty kick after getting tripped in Loudoun's box. Elvis Amoh converted the penalty for Hartford, scoring his third goal of the year in his first game back from injury.
RE-LOADED WITH AMOH
Elvis Amoh made his return to the pitch for Hartford last Saturday, appearing for the first time since suffering a thigh injury on April 8th in Charleston. He logged 32 minutes as a second half substitute, took two shots, and converted a penalty kick that gave Hartford a 2-0 lead in the 67th minute. It was his third goal of the season and a great sign for Athletic to see their top striker back in action and scoring goals. With Amoh back, Hartford await the return of midfielder Kembo Kibato to have their Week One lineup back and fully healthy. Kibato suffered a foot injury against Birmingham in Hartford's home opener on March 25th, and is out indefinitely.
A HARTFORD KILLER
Sacramento's leading goal-scorer Russell Cicerone has a strong history against Hartford. In 2020, he was on Saint Louis FC which heartbreakingly eliminated Athletic from the postseason which the Green and Blue has not been back to since. Then, across two seasons in 2021-2022 with Riverhounds FC, he scored four goals against Hartford, including one in stoppage time, to claim the lead 3-2. This season, Cicerone has eight goals in the club's 11 matches, putting his second in the USL Championship and first in the Western Conference.
ABOUT THE OPPONENT
Sacramento Republic FC comes to Hartford for the two clubs' first ever meeting. After outscoring their opponents 6-3 in their last five matches, Sacramento looks to continue its dominance within the USL Championship. The club's +15 goal differential and 7-3-1 record are atop the league and it also has had a player represented on Team of the Week in 8 of 11 match-weeks this season. Republic FC begins its three-game road trip in Hartford for its first time on the East Coast this season. The club will not return home for a match until mid-June.
Check the Pulse
PLAYERS TO WATCH
Hartford Athletic, Elvis Amoh, FW #9
A proven goalscorer in this league, Elvis Amoh is a massive piece for Hartford to have back in their lineup. The penalty he converted last week was his third goal of the season, and he leads Hartford in shots with 14. He has scored 13 goals in each of his last two seasons in the league, and was brought to Hartford this year to be the team's most consistent scoring threat.
Sacramento Republic FC, Keko, FW #7
Coming off a Week 11 Team of the Week selection, forward Keko attempts to continue his hot streak this Friday. In Saturday's match against Oakland Roots SC, he tallied both a goal and an assist, earning him Man of the Match honors in the club's 3-1 win.
INJURY REPORT
Hartford Athletic
Out: Kembo Kibato (Foot), Jonathan Filipe (RT Knee)
Sacramento
Out: Rodrigo Lopez
JOIN THE CONVERSATION: For live updates, follow along on twitter using the hashtag #HFDvSAC