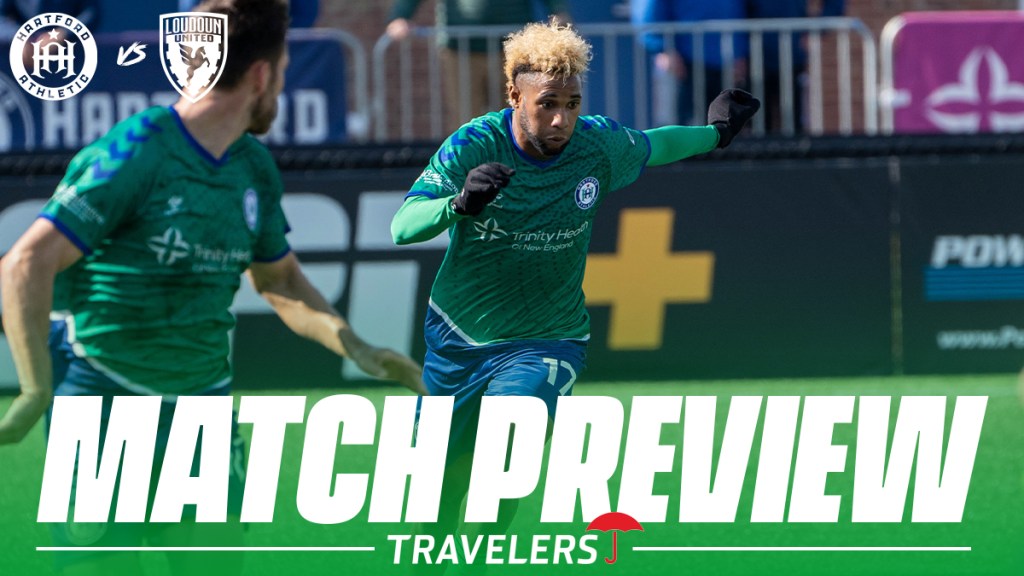 PRESENTED BY TRAVELERS
Date: Saturday, May 20th, 2023
Time: 7:00 PM ET
Location: Trinity Health Stadium, Hartford, Connecticut
Tickets: HERE
Streaming: ESPN Plus or WTNH.com
HARTFORD ATHLETIC (1-6-2) vs. LOUDOUN UNITED FC (3-6-1)
Hartford Athletic return home for three straight games at Trinity Health Stadium, beginning with a matchup against familiar Eastern Conference Loudoun United FC this Saturday at 7:00 PM.
LAST TIME OUT
Hartford Athletic are coming off a 3-1 loss to Phoenix Rising FC on the road last Saturday. Athletic took an early punch in the mouth from Phoenix, conceding just five minutes into the match on a goal from Danny Trejo. They were out possessed 65.2% to 34.8%, but managed to equalize on a penalty kick after Antoine Hoppenot was tripped in the Phoenix box. Kyle Edwards converted the PK. Rising FC was in control for most of the second half, and regained the lead in the 73rd minute. After a corner kick bounced out of the Phoenix box, Matt Sheldon misplayed a ball and fell down with no reinforcements behind him. Carlos Harvey took the ball all the way down the field and scored. Manuel Arteaga sealed the game with another Phoenix goal nine minutes later.
CRUCIAL STRETCH
It's been tough sledding for Hartford through the first quarter of the season. They've earned just five points, have had some brutal losses on late goals conceded, and have played six of their first nine games on the road. Starting this Saturday, however, Hartford will play seven of their next nine matches at home, giving them a massive opportunity to gain some points back and climb the table. "It's been a tough stretch for us," said Coach Ramos this week. "We've played most of our games on the road, and have been out to the west coast four times. I think the most difficult part of our schedule, as far as road games are concerned, is out of the way." Hartford host Loudoun, Sacramento, and Louisville for their next three games.
MATCHUP HISTORY
Hartford Athletic have a deep history with Loudoun United across four seasons. They have faced the Northern Virginia side 12 times (T-most in club history with NYRBII) since both clubs entered the league in 2019, and Hartford have dominated the series like no other matchup they've had. The Green and Blue hold an astonishing 10-1-1 overall record against Loudoun, and have yet to lose to them at home (7-0-1). They suffered their first lost to Loudoun at Segra Field last September. The two teams come into Saturday's match on respective losing streaks in the USL Championship, Hartford's at three and Loudoun's at four. 
Check the Pulse
ABOUT THE OPPONENT
Loudoun United holds a 3-6-2 record, coming off of a 3-1 loss to New Mexico this Wednesday. Loudoun played from behind for the majority of the match, conceding three unanswered goals until converting a penalty kick in the 87th minute. The Northern Virginia side had gotten out to an impressive start this season, beating Memphis, Birmingham, and tying the defending champions San Antonio FC. However, they've fallen into a four-game losing streak as of late.  Loudoun currently sits in the eighth spot in the Eastern Conference and are led by captain and top goal scorer Zach Ryan.
PLAYERS TO WATCH
Hartford Athletic, Kyle Edwards, FW #17
Kyle Edwards continues to be an attacking force contributing two goals and one assist in his seven games. In Hartford's last match against Phoenix, Edwards stepped up to the line and easily sank a penalty kick into the bottom left corner of the net to tie the game at 1-1 in the first half. If Hartford can spark an offensive turnaround during this home stretch, Edwards will likely be a key part of it.
Loudoun United, Zach Ryan, FW #28
Ryan is a new addition to Loudoun's 2023 squad and has made an immediate impact for the team, earning a USL Championship Team of the Week honor in Week one after contributing two goals and one assist in his debut game against Memphis 901 FC. Ryan's five goals this season has him leading his team in goals scored, along with sitting at fourth overall in the USL Championship league. The 23 year old is a Stanford alum and during his time as a Cardinal, he scored 31 goals in 73 appearances and earned PAC-12 player of the year in 2020.
INJURY REPORT
Hartford Athletic
Out: Kembo Kibato (Foot), Jonathan Filipe (RT Knee)
Loudoun
Out: Alex Nagy (ACL), Kwame Awuah (Achilles), Cole Turner (Meniscus)
Questionable: Yanis Leerman