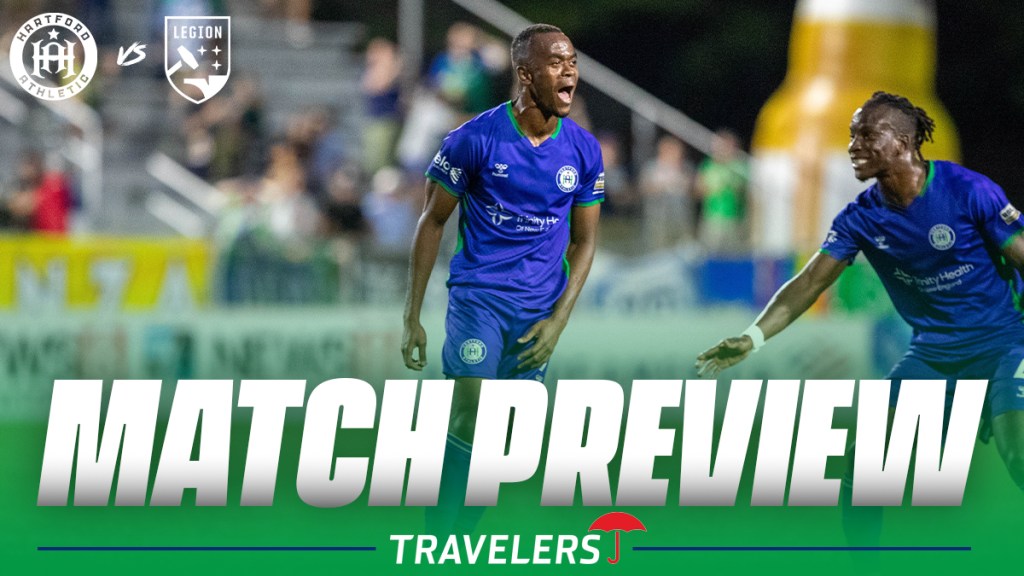 PRESENTED BY TRAVELERS
Date: Saturday, March 25th, 2023
Time: 2:00 PM ET
Location: Trinity Health Stadium, Hartford, Connecticut
Local TV: WCTX MyTV9
Streaming: ESPN+ or hartfordathletic.com/watch
HARTFORD ATHLETIC (0-1-1) vs. BIRMINGHAM LEGION FC (1-0-1)
LAST TIME OUT
Hartford Athletic are coming off a 1-1 draw at Colorado Springs, earning them their first point of the season. After a scoreless first half, Elvis Amoh got Hartford on the board with his first goal of 2023. Prince Saydee made a lovely move to beat his defender, played a cross to Amoh, and the six-foot-three Ghanain finished with a header. The Green and Blue held their lead until the 88th minute, when Zack Zandi equalized for the home side. Deshane Beckford made a strong run to the Hartford end line and found his teammate just a few feet in front of goal for the tap in.
PRINCE IN HIS PRIME
Through two games, Prince Saydee has been the offensive engine for Hartford Athletic. He's contributed two goals and an assist, and has looked awfully comfortable in the front of Hartford's attack. The Liberian striker followed his brace in week one with a brilliant assist at Colorado Springs last week, showing off his top-level stop-and-go ability in the process. Saydee cut sharply from left to right, then right to left to beat his defender and struck a quality ball across the box to Elvis Amoh, who finished with a header. The 27 year old is dangerous in one-on-one opportunities, and is off to a promising start this season. "Prince is in a good moment right now," said Tab Ramos. "He worked extremely hard in the preseason to be where he is… He's happy with the team that's around him right now, they're a bunch of hardworking players who will work hard for him."
BETWEEN THE POSTS
After conceding five goals in week one, Richard Sánchez had a strong bounce back performance against Colorado Springs last week. He only had to make three saves, but all of them were challenging and crucial to earning a point on the road. He denied Speedy Williams early in the second half on a shot from straight away, then made a spectacular diving save to keep Romario Williams' well-placed header out of the bottom right corner of the net. In stoppage time, Drew Skundrich tried to beat Sánchez to the bottom right corner as well, but Hartford's keeper was well-positioned and kept the ball out. "I'm very happy for him," said Coach Ramos about Sánchez. "What happened in the first game didn't reflect the goalkeeper he has been over the preseason and over the last 10 years. I think he's one of the best keepers in this league, he's playing well, and this game [last week] he showed it."
HOME, SWEET HOME
Hartford Athletic are 2-1-1 all-time in home openers dating back to 2019, and played some of their best soccer at home at the end of 2022. The Green and Blue won three of their last four home games to close out the season under Coach Ramos, and scored 13 goals across that stretch.
Check the Pulse
PLAYERS TO WATCH
Hartford Athletic, Antoine Hoppenot, FW #29:
Antoine Hoppenot played 81 minutes of Hartford's last game against the Colorado Springs, and while he has been quiet for the first two games, he is overdue for a breakthrough game. An all-time great distributor in the USL, he was a vital contributor to Detroit's 14-win season by scoring seven goals on 32 shots across 33 appearances. Hoppenot's 11 assists led the Championship and earned him the Assists Champion award, and his 80 chances created led Detroit City and were third-most overall in the Championship. After getting comfortable during the first two games with Hartford this season, Hoppenot is expected to be an offensive threat and key contributor for the Green and Blue.
Birmingham Legion, Neco Brett, FW #11
Neco Brett played in the last 36 minutes of Birmingham's game against FC Tulsa, playing a key role in their dramatic 3-2 win. In the 93rd minute of the game, Brett scored the game winning goal off of a header serviced by Ben Reveno. Brett has a copious amount of accolades, including winning the club's 2020 and 2021 Golden Boot award with nine goals and three assists in 17 games in 2020 and a career high 18 goals and three assists in 2021, many USL Championship Player of the Week honors, and a call up to his home country Jamaica's national team.
INJURY REPORT
Hartford Athletic
Out: Andre Lewis (Head)
Birmingham Legion
Out: Mikey Lopez
JOIN THE CONVERSATION: For live updates, follow along on twitter using the hashtag #HFDvBHM