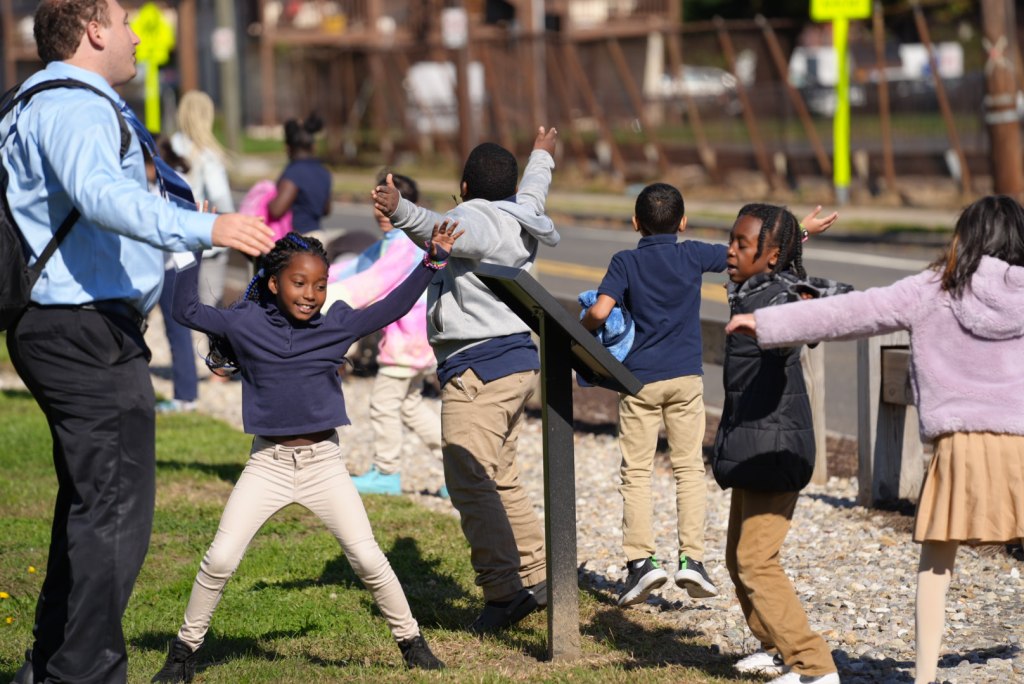 Thanks to the support of the City, State, fans, and partners, Hartford Athletic continued to deliver on its mission to make the community the best place to live, work, and play in 2022. The club continues to expand on an already robust lineup of impactful community programming with a number of exciting new activations. Here are this year's highlights:
Green and Blue Foundation
Hartford Athletic launched the Green & Blue Foundation 501c3 in 2020, which strives to enhance the quality of life for youth and disadvantaged people in Connecticut. The Foundation focuses on making a difference for communities in need in support of five key Community Pillars: Health and Wellness, Diversity and Inclusion, Youth and Family Education, Economic Development, and Veterans and First Responder support.
On May 7th, over 50 volunteers smiled, laughed, and worked with Hartford Athletic Staff to pack 1,000 Period Poverty Totes with partner organization Dignity Grows. All "Dignity totes" were filled with an entire month's supply of hygiene products that were donated to local schools and community colleges in the Hartford area. Many thanks to the partners and volunteer groups that supported our initiative: Bank of America, Walgreen's, Anthem, Trinity Health of New England, PWC, Clarus Commerce, the Aurora Foundation, & Greater Hartford Chapter of the Links.
The Hartford Athletic Community Ticket Program presented by Travelers provides tickets to those who might otherwise not have a chance to attend a match. This season, thanks to the generosity of Travelers, over 15,000 tickets were donated to more than 20 different programs.
In 2021, Hartford Athletic and Cigna teamed up with the Hartford Public Library to begin creating The StoryWalk, an interactive children's book display in Colt Park. In September 2022, the amazing project came to fruition, as a series of 20 podiums displayed pages of a book in English and Spanish and challenged kids to complete a physical activity while walking to the next page. To view photos from the StoryWalk unveiling, click here!
Hartford Athletic is proud to work with Liberty Bank and the City of Hartford to clean the streets in areas that need trash pick-up. On November 13th, teams of volunteers, including Hartford Athletic players and staff, traveled to various neighborhoods in Hartford to remove trash from our city's streets.
Corporate Partnerships
The Club continued to expand on its strong corporate support with 55 corporate partners including Founding Partners Trinity Health of New England, Stanley Black & Decker, The Hartford, and Travelers. Key community elements are part of all corporate partnerships with this year's highlights below:
Community Awards Night
Our first annual Community Awards Night was launched as a part of Changemakers Night on May 7, 2022, at Trinity Health Stadium. Nominees and winners that stood out in their commitment to our Five Community Pillars – Diversity & Inclusion, Veterans & First Responders, Youth & Family Education, Economic Development, and Health & Wellness – were honored.
Community Health Night Presented by Trinity Health Of New England
On Saturday, July 23rd, Hartford Athletic hosted the fourth annual Community Health Night presented by Trinity Health Of New England. Hartford Athletic would like to thank all of the groups who came out to table at the event: Women's Preventative Health, Maternity & Prepared Childbirth, Primary Care, Surgery, Emergency Medicine, Community Health & Wellbeing, Mount Sinai Rehab, Neurology and Stroke, Cardiology and Walk for Alzheimer's. Community Health alley was packed all game with fans engaging with the Trinity groups.
Junior Fire Marshal Program Presented by The Hartford
The Hartford and Hartford Athletic teamed up this season to celebrate 75 years of fire safety education through the Junior Fire Marshal Program. The Junior Fire Marshal Program helps children learn about fire safety by teaching life-saving lessons in a fun and exciting fashion.
Throughout the season, Hartford Athletic sold snow-cones and nachos served in Junior Fire Marshal 75th Anniversary collectible fire helmets. One lucky fan at every home game was chosen to participate in The Hartford Junior Fire Marshal Halftime Contest.
On June 25th, the fourth annual Junior Fire Marshal Day was hosted at Trinity Health Stadium. The game was broadcast live on ESPN. All children in attendance received a free Junior Fire Marshal Helmet. Prior to the game, a select group of children joined members of the Hartford Fire Department on-field to take the fire-safety pledge, along with all of our fans, and become deputized as official Junior Fire Marshals.
On July 13th, Hartford Athletic hosted its first ever Fire Safety camp day. Over 1,000 campers showed up to Trinity Health Stadium to cheer on the team and were deputized as Jr. Fire Marshals.
Match for a Cause Presented by Stanley Black and Decker
Hartford Athletic and Stanley Black and Decker collaborated for the 4th consecutive year on Match for a Cause. Hartford sported special neon green uniforms and all player worn jerseys were auctioned off after the match. All proceeds from the auction were donated to the Grace Academy of Hartford. The online auction, along with Stanley's matching donation, raised over $17,000.
The Grace Academy, founded in 2010, is a tuition-free middle school for girls in grades 5-8 designed to provide underserved girls in Hartford with a high-quality education. They work to inspire the intellectual, spiritual, moral, social, creative, and athletic growth of each young girl and to nurture the full potential of her whole character in a small school setting.
Pediatric Cancer Awareness Night Presented by Goldberg Capital Management
On Saturday, August 13th, Hartford Athletic hosted Pediatric Cancer Awareness Night presented by Goldberg Capital Management. Goldberg has generously donated 1,000+ tickets over the course of the 2022 season to Connecticut Children's Medical Center and as a part of this special night, donated 250 tickets to CCMC patients and families. Goldberg also teamed up with the American Cancer Society to raise funds for Pediatric Cancer Research.
Goals for Meals Campaign
For the second year in a row, Hartford Athletic has teamed up with Nuovo Pasta, Citizens Bank, Stop & Shop, and ConnectiCare to participate in the Goals for Meals program. For every Hartford Athletic goal scored throughout the season, partner companies made donations to Connecticut Foodshare, the regional food bank serving Hartford and Tolland Counties. For each goal Hartford scored, a total of 300 meals and 24 boxes of pasta were donated to Connecticut Foodshare.
Stop & Shop also hosted two can drives at the stadium this season. Thanks to the amazing contributions from our fans, Stop & Shop donated over 2,000 pounds of food to CT Foodshare.
Gengras Motor Cars Drives
Gengras Motor Cars hosted two donation drives at Trinity Health Stadium this season. On Saturday, September 17, Gengras hosted a used equipment drive outside of Trinity Health Stadium. Donations, which went to the Boys and Girls Club of Hartford, filled a white, all-electric Ford F-150 Lightning. The Gengras drives continued at the last home game of the season where over 200 coats were donated by Hartford Athletic fans. All coats were donated to Button up Connecticut. Thank you to Gengras, and all of our fans for supporting these amazing drives.
Safe Driving Night Presented by the CT Department of Transportation
CT Department of Transportation and Mothers Against Drunk Driving (M.A.D.D.) promoted safe driving during the match on June 15th. Hartford Police Department and Corona Auto Body of Hartford provided a wrecked vehicle which sat in the concourse to give a view of the results of distracted and drunk driving.
Walk With a Doc
Thanks to AARP and Trinity Health Of New England, monthly Walks With a Doc started in October to get senior citizens exercising regularly. A medical professional from Trinity Health Of New England led each walk and talked to attendees about important ways to stay healthy and the benefits of walking on a regular basis.
Community
Global Atlantic Financial Group supported our Community Champion Program. Thanks to their support, a large group of children and parents from the Boys and Girls Club of Hartford were able to enjoy home games this season.
Hartford Athletic also continued to expand to hosting major community events at Trinity Health Stadium. On September 24th, the Small State Great Beer Festival presented by Powerstation Events returned to Trinity Health Stadium in a big way. Thousands of people came to the Stadium for a festival celebrating our great state. Event-goers enjoyed tastings from over 40 Connecticut breweries, cideries, distilleries, and vineyards. Local restaurants and food trucks were also on hand to showcase their food while Sonia Sol and the Funky Dawgs Brass Band combined for an all-day concert.
Trinity Health Stadium is happy to be hosting local high school sporting events again in 2022 and beyond. Hartford Athletic and the CIAC announced that the Boys and Girls Soccer State Championships will be held at Trinity Health Stadium through 2024. This year's eight championship matches will take place on November 19th and 20th with four matches happening on each day. Trinity Health Stadium hosted the 2021 Boys and Girls Soccer State Championships as well and all 2021 State Champions were invited back to the stadium for Hartford Athletic's first ever "Champions Night" on May 14th and were honored for their achievements in front of a sold out crowd.
Hartford Athletic, in conjunction with the Connecticut Department of Labor, the Connecticut Department of Transportation, Eversource, Enjet Aero, and Citizens Bank, hosted its second annual Hiring Expo, at Trinity Health Stadium on September 21st. In 2021, over 300 job-seekers were connected with over 60 potential employers. This year, the hiring expo grew to new heights as 115 employers and over 800 job-seekers filled the stadium.
The club also hosted its first ever STEM & Soccer Education Day on Wednesday, May 18th, at Trinity Health Stadium. Over 1,500 students participated in the day featuring a pregame STEM project contest. There were 20 unique projects from a dozen schools, partners and non-profits. Thanks to all of the schools for coming up with inspiring and groundbreaking projects. Congratulations to the winners of the project contest who each received grant money for their amazing achievement.
1st Place: CREC Innovation – Solar Cooker
2nd Place: Highville Charter School – Seeing Ourselves in STEM
3rd Place: CREC Two Rivers – Coding with Project STEM
Thank you to our partners CGI, Connecticut Department of Transportation, ConnectiCare, Hanwha Aerospace USA, Marcum, and Travelers for their support of our STEM and Soccer Education program. We look forward to expanding the program next season.