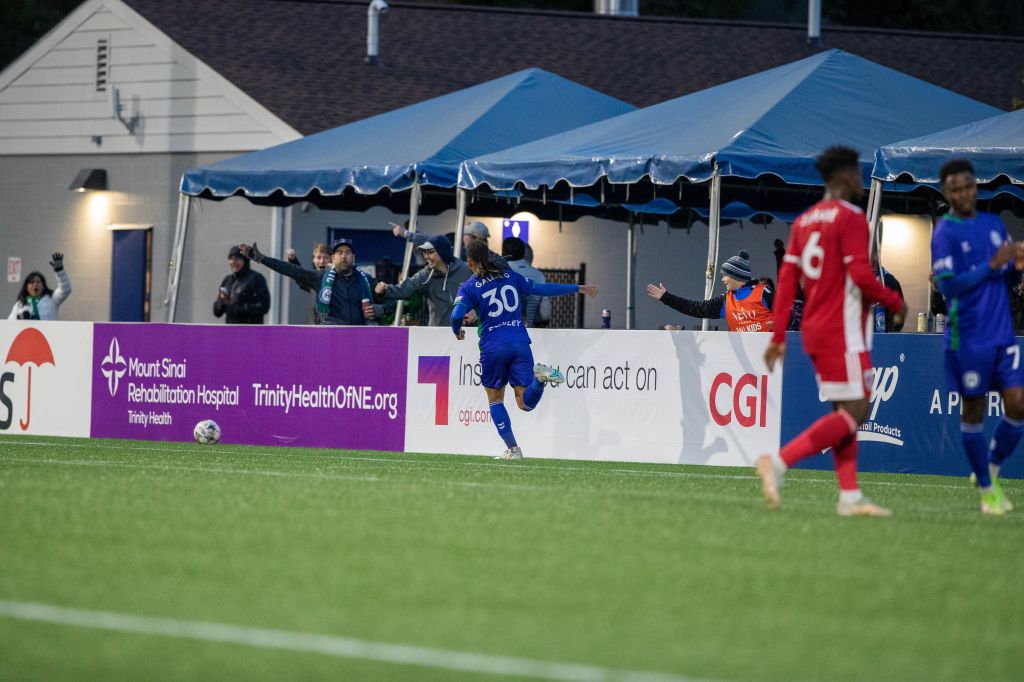 A 41st minute goal from Joel Johnson capped off a quality first half of soccer for Hartford Athletic, and it was enough to secure the club's first USL Championship win of the season. 
The Boys in Blue were energized from the opening kickoff, applying suffocating pressure to Loudoun and finding themselves in the attacking third often. They had three shots on target in the first 15 minutes, which topped their season average of 2.4 per game. In the 16th minute, Andre Lewis and Joel Johnson had back to back shots on target, and it was Johnson who was awarded with a goal later in the half. Corey Hertzog played a long through ball that Johnson took in stride and made a long run into Loudoun's box, finishing a goal with his right foot on the run. It was a brilliant connection between two USL Championship veterans. Hartford finished the half with five shots, all five of them going on target.
The match became very physical in the second half, as there were 14 total fouls and four yellow cards handed out. Hartford remained aggressive while playing with the lead, recording three shots in the first 15 minutes of the half. While Loudoun had the upper hand in possession (61.5% to 38.5%), Hartford's back line did not falter. They had 12 clearances, won 15 tackles, and allowed just one big chance. Jimmy Slayton only faced one shot on target, which came in stoppage time and was Loudoun's best chance of the half. Jace Clark headed a shot from just a few yards out, and Slayton came up big on a quick reaction save to secure the win for Hartford. 
Hartford Athletic will be back at home next Saturday, May 14th to take on the New York Red Bulls II.
FAST STATS:
Shots (On-Target): Hartford 13 (6) – Loudoun 6 (1)
Corners: Hartford 4 – Loudoun 2
Fouls: Hartford 13 – Loudoun 12
Offsides: Hartford 2 – Loudoun 3
Possession: Hartford 41.8% – Loudoun 58.2%
Passing Accuracy: Hartford 73.5% – Loudoun 79.8%
Saves: Hartford 1 – Loudoun 5
SCORING SUMMARY:
41′ – Johnson (Hertzog)
DISCIPLINARY SUMMARY:
24′ – Tom Brewitt (Yellow)
68′ – Grant Lillard (Yellow)
69′ – Corey Hertzog (Yellow)
82′ – Jace Clark (Yellow)
HARTFORD ATHLETIC STARTING LINEUP:
31 (GK) Jimmy Slayton, 2 (DF) Younes Boudadi, 5 (DF) Tom Brewitt, 11 (MF) Luka Prpa, 10 (MF) Danny Barrera, 12 (FW) Corey Hertzog (Tulu, 84′); 14 (DF) Ash Apollon, 23 (DF) Modou Jadama, 28 (MF) Conor McGlynn, 30 (DF) Joel Johnson (Curry, 89′); 77 (MF) Andre Lewis (Saydee, 62′)
LOUDOUN UNITED STARTING LINEUP:
50 (GK) Luis Zamudio, 2 (DF) Rio Hope-Gund (C. Steeg, 45′); 5 (DF) Grant Lillard, 20 (DF) Hayden Sargis, 6 (MF) Gaoussou Samake, 19 (MF) Houssou Landry, 15 (MF) Nicky Downs (I. Espinal, 68′); 3 (MF) Jacob Greene, 21 (MF), Sami Guediri (M. Gamble 45′); 12 (FW) Zoumana Diarra (A. Zanne, 58′); 8 (FW) Skage Lehland (J. Clark, 81′)