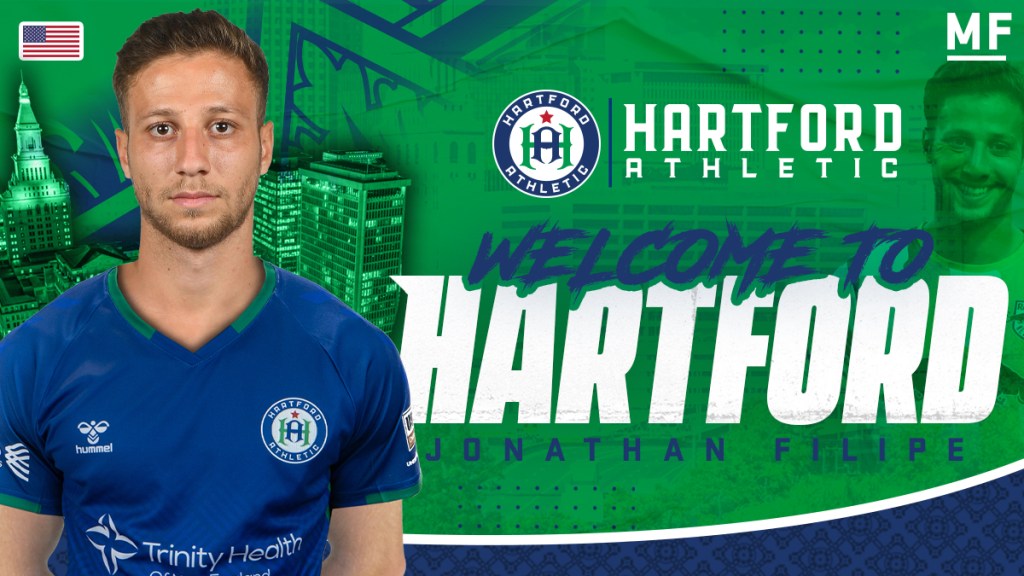 Hartford Athletic have signed Danbury native and former Fairfield University midfielder Jonathan Filipe, pending league and federation approval. Filipe was offered a contract after attending open tryouts in December.
"It's really exciting for me to sign with my hometown club," said Filipe. "I have a lot of support here in Connecticut, and I am excited to be able to play in front of my family and friends each week. I want to thank Coach Ramos for the opportunity, and I look forward to being a part of Hartford Athletic in 2023."
Filipe becomes the fourth player in five seasons to earn a contract from open tryouts, joining fellow midfielder Conor McGlynn, who will start his fourth season with the club in February. Filipe is one of four players who advanced from open tryouts with three other players, Duga Dambelly, Joel Quist, and Evan Southern, receiving invites to the club's invitational combine which took place on January 9th and 10th.
Filipe made his professional debut with New York Red Bulls II last season in the USL Championship. The 23 year old saw consistent playing time, making 21 starts in 31 appearances and totaled over 2,000 minutes. Filipe scored two goals in a thrilling match against Hartford Athletic at MSU Soccer Park on August 31, which ended in a 3-3 tie. 
"Jonathan is a talented young player," said Head Coach Tab Ramos. "He is comfortable playing in between lines and can be dangerous with his ability to pass or by finding his own shot. He is a good addition to this roster with lots of potential."
Filipe played collegiately at Fairfield University, where he played for four years. Over 59 matches and 4,546 minutes, he scored 19 goals and tallied nine assists. Filipe earned a spot on the All-MAAC Rookie team his freshman year, and received All-MAAC second team honors his senior year. The youngster has a knack for finding the back of the net when it matters most, with six game-winning goals scored in his collegiate career.
"Jonathan really impressed us at our open tryouts," said Technical Director Ray Reid. "It is great to be able to sign a player who is from Connecticut. He has a great engine and will help our team."
Filipe emerged through the New York Red Bulls Academy as a youth player. He played for the Under-23 squad during the 2021 USL League Two season, where he scored four goals and collected two assists in eight matches.
Forwards: Elvis Amoh, Jeciel Cedeño, Kyle Edwards, Antoine Hoppenot, Prince Saydee
Midfielders: Danny Barrera, Jonathan Filipe, Kembo Kibato, Andre Lewis, Conor McGlynn
Defenders: Ash Apollon, Triston Hodge, Robin Lapert, Niall Logue, Tulu
Goalkeepers: Richard Sanchez
More player announcements will be announced in the coming weeks. Tickets for Hartford's home opener are available now at hartfordathletic.com/single.