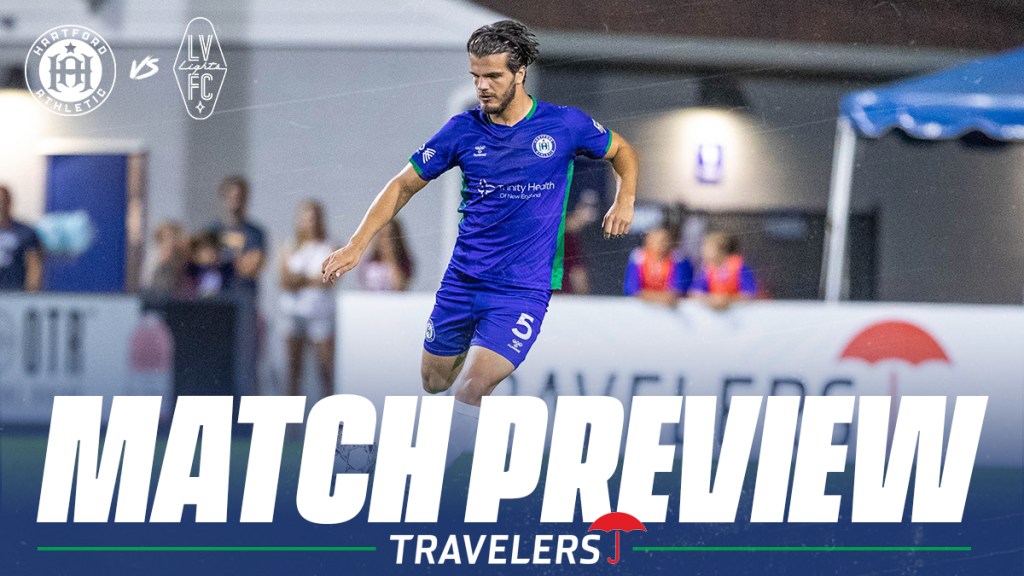 PRESENTED BY TRAVELERS
Date: Saturday, September 17th, 2022
Time: 7:00 PM ET
Location: Trinity Health Stadium, Hartford, CT
Tickets: HERE
Promotion: $2 Beer/Soda $1 Hot Dog
Local TV: WCTX MyTV9
Streaming: ESPN+ or hartfordathletic.com/watch
HARTFORD ATHLETIC (8-15-6) vs Las Vegas Lights FC (10-11-7)
Hartford Athletic are at home for the second week in a row, aiming to complete a three-game winning streak and extend their undefeated streak to five games.
LAST TIME OUT
Hartford Athletic are coming off an impressive 3-2 win over FC Tulsa last Saturday night. In Tab Ramos's debut as Head Coach, the Green and Blue came out of the gate on fire. They dominated the game's opening minutes, generating four corner kicks and scoring three goals before the 25-minute mark. In the ninth minute, Tulu received a perfect low cross from Danny Barrera and tapped in the opening goal past Tulsa's Austin Wormell. The Tulsa keeper mistakenly punched the ball into his own net seven minutes later on a Hartford corner kick, giving Hartford a 2-0 lead. The icing on the cake for the home side was a highlight-reel goal from Prince Saydee in the 24th minute. The left-footed striker cut inside the top of Tulsa's box and lofted a pristine shot passed Wormell, uncontested. Tulsa scored two goals late in the 90th minute and at the 90+4:16' mark, spoiling an otherwise stellar performance by the Green and Blue.
A SIGN OF GOOD THINGS TO COME
It has been a difficult second half of the season for Hartford Athletic, having gone without a full-time head coach from the halfway point (June 25th) until September 1st. A club that has now had four head coaches over four seasons, the signing of Tab Ramos brought a hope for steadiness for a club that has lacked consistency. Hartford's first performance under Ramos last Saturday certainly provided a breath of fresh air and a sign that good things are coming to the club, as it was arguably the best they've looked all season. Post game, Coach Ramos said, "We've got to keep grinding and growing. I give the players a lot of credit because they've taken in a lot of information this week. If we're going to build something bigger down the road, we've got to keep throwing everything at (the players)."
A PERFORMANCE FIT FOR A PRINCE
With his highlight-reel goal last Saturday, Prince Saydee joined three teammates as a co-goal scoring leader this season. Saydee was an attacking threat throughout the match, leading the team in touches in the opponent's box (3), passes in the final third (8), successful dribbles (3), and duels won (6). The Liberian has become a mainstay in Hartford's Starting XI, starting the last seven matches. Saydee has 34 shots and four assists as well thus far this season, placing him in 1st and 2nd on the team in each respective category.
BY THE SKIN OF THEIR TEETH
In a tightly-contested Western Conference, Las Vegas Lights FC have done just enough to retain the 7th-place playoff spot. They've scored just 31 goals while conceding 42 on the season, and out of their 10 wins, the club has won eight by a one-goal margin. The majority of Vegas's success has come in low-scoring affairs; they're 2-7 when their opponent scores two or more goals. To contrast, nine out of The Lights' eleven losses have come when they've failed to score, indicating a correlation between offensive and defensive success.
FROM THE GAFFER
PLAYERS TO WATCH
Hartford Athletic, Tom Brewitt DF #5
Tom Brewitt has been a key part of Hartford's defense, totaling a team-leading 28 starts. The defender has played in the midfield recently, showcasing his flexibility and leadership role on the squad. Brewitt assumed a central defensive role in Athletic's last game, proving to be integral in stopping Tulsa's attack and starting Hartford's. The Scouser won possession four times, including one aerial duel, and he completed 93% of his passes. Brewitt's defensive presence and distribution will be something to keep an eye on as Hartford look to end the season strong, beginning when Las Vegas Lights visit the Green and Blue on Saturday.
Las Vegas Lights FC, Cal Jennings FW #26
Cal Jennings has stood out in Vegas' attacking play this season, leading the current roster in goals scored by a significant margin. He has nine goals and two in the side's last five matches on the season. In comparison, the next most goals scored on the team is two. Jennings leads the team in shots with 35 and accounts for nearly one-third of the team's total goals, while also leading active players in assists (5).
ABOUT THE OPPONENT
Las Vegas Lights FC enter Saturday's match after a lengthy break. Their previous game, scheduled for September 10th, was postponed when their field became waterlogged and unplayable. As a result, they haven't played since September 3rd and haven't won since August 20th. They're 1-3-1 in their last five games, and are coming off back-to-back five-goal margins of defeat. They lost 5-0 to RGV on August 27th, and 6-1 most recently at the Rowdies. Despite the recent run of poor form, Vegas are on track for their best finish in their fifth year as a club.
INJURY REPORT
Hartford Athletic:
Out: Ash Apollon (Groin)
Las Vegas Lights FC:
Out: None
JOIN THE CONVERSATION: For live updates, follow along on Twitter using the hashtag #HFDvLV