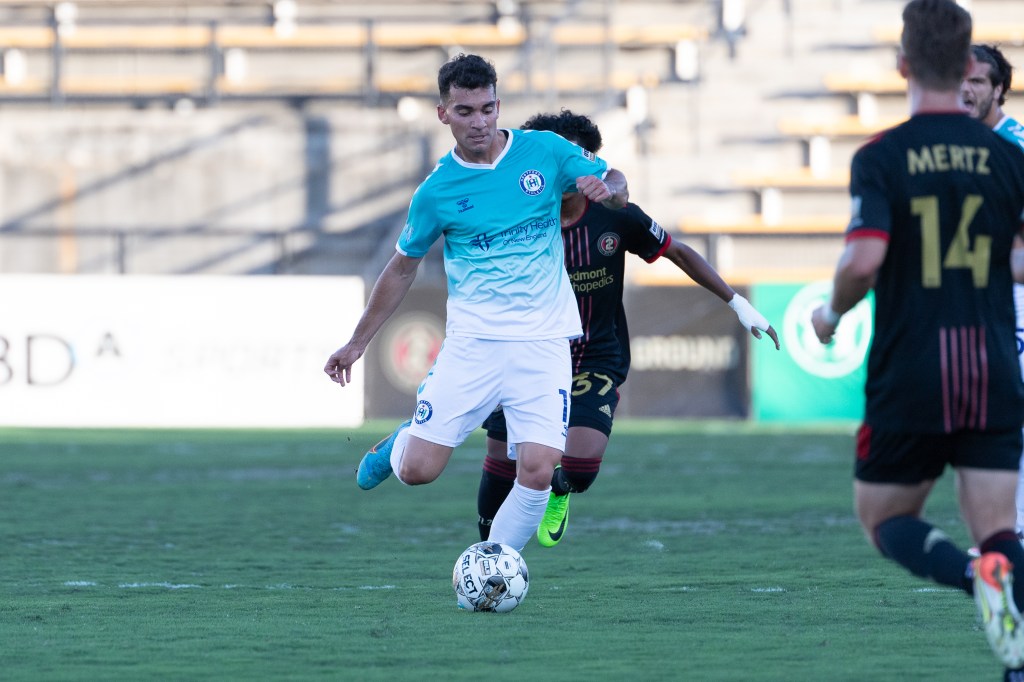 Hartford Athletic extended a one goal lead to a 3-0 final score in the second half tonight, earning them three points on the road and a season split with Atlanta United 2.
Hartford Athletic kept their wits about them in the first half after a surprising missed penalty kick from Corey Hertzog in the 33rd minute. A golden opportunity to take an early 1-0 lead was denied by Atlanta keeper Justin Garces, who made the save on the perennial goal scorer. The Green and Blue kept their foot on the gas, however, and were rewarded with a goal from Luka Prpa in the 42nd minute. Atlanta had three shots on target in the half, with their strongest chance coming on a shot from Jackson Conway that forced Yannik Oettl to make a save at the near post.
Hartford stayed on the front foot in the second 45, holding Atlanta without a shot for the first 20 minutes of the half and recording four shots of their own while doing so. Rashawn Dally and Joel Johnson came on in the 61st and 66th minutes for Hartford, and the two made an impact quickly. Dally gained possession of the ball at midfield and did well to escape two Atlanta defenders and lay the ball off to Johnson, who played a ball forward for to Prince Saydee, and he found Andre Lewis on the left side of Atlanta's box. Lewis crossed a ball to Dally, who was able to save the ball from going beyond the end line and tap a pass to an open Johnson in the center of the box. The veteran defenseman finished with his left foot past Garces, giving Hartford a 2-0 lead in the 75th minute. Six minutes later, it was Dally who fired a shot that was saved by Garces, and defender Tom Brewitt cleaning up the rebound and tapping in Hartford's third goal.
The Green and Blue recorded a season high in shots (22), putting nine of them on target. On the other side of the ball, they held Atlanta to four shots on target and allowed just 12 touches in the Hartford box. Yannik Oettl stepped in for Jimmy Slayton nicely, making four saves and keeping a clean sheet in his Hartford Athletic debut.
Hartford Athletic will play again next Saturday, June 25th at 1:00 PM at Trinity Health Stadium against Louisville City FC. The game will be nationally televised on ESPN.
FAST STATS:
Shots (On-Target): Hartford 22 (9) – Atlanta 10 (4)
Corners: Hartford – Atlanta
Fouls: Hartford 7 – Atlanta 6
Offsides: Hartford 1 – Atlanta 0
Possession: Hartford 49.3% – Atlanta 50.7%
Passing Accuracy: Hartford 73% – Atlanta 71.9%
Saves: Hartford 4 – Atlanta 6
SCORING SUMMARY:
42′ – Prpa (Brewitt)
75′ – Johnson (Dally)
81′ – Brewitt
DISCIPLINARY SUMMARY:
8′ – Mejia (Yellow)
35′ – Lewis (Yellow)
53′ – Juan Carlos Obregón Jr. (Yellow)
65′ – Gdula (Yellow)
90+2:12′ – McGlynn (Yellow)
HARTFORD ATHLETIC STARTING LINEUP:
13 (GK) Yannik Oettl, 2 (DF) Younes Boudadi, 3 (DF) Logan Gdula, 5 (DF) Tom Brewitt, 7 (FW) Prince Saydee (Apollon, 86′); 9 (FW) Juan Carlos Obregon Jr. (Johnson, 66′); 11 (MF) Luka Prpa (Barrera, 86′); 12 (FW) Corey Hertzog (Dally, 61′); 23 (DF) Modou Jadama, 28 (MF) Conor McGlynn, 77 (MF) Andre Lewis
ATLANTA UNITED 2 STARTING LINEUP:
25 (GK) Justin Garces, 6 (DF) Orji Nelson Chukwuma, 35 (MF) Efraín Morales, 39 (DF) Noah Cobb, 12 (DF) Raimar, 29 (MF) Nick Firmino, 34 (MF) Brendan Lambe (Matheus, 45′); 11 (MF) David Mejía (Centeno, 45′);14 (MF) Robbie Mertz, 36 (FW) Jackson Conway (Nwogu, 84′); 37 (MF) Jonantan Villal (Trager, 64′)