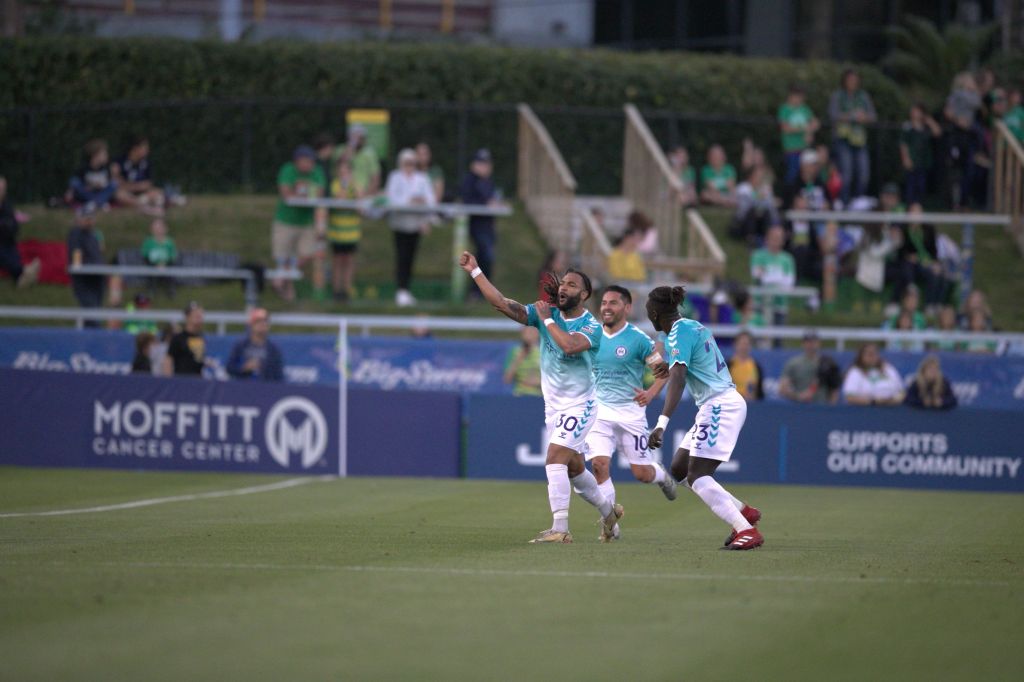 Hartford Athletic take a point back home with them after a 1-1 draw with the Tampa Bay Rowdies in St. Petersburg.
A key to tonight's match for Hartford was to start strong and get out to an early lead after playing from behind for the majority of last week's match, and they did just that with a highlight reel goal from Joel Johnson in the 6th minute. The USL Championship veteran took one touch from a few yards outside the box and booted a brilliant strike into the top right corner of the net to give his club a 1-0 lead. Hartford was steady as a unit through the rest of the half until the Rowdies equalized off a deflected pass from Austin Pack to Conor McGlynn. Pack was pressured after receiving a pass outside the 18-yard box and tried get the ball to McGlynn, but Rowdies forward Jake LaCava got a foot on the ball that took a high bounce towards the open net and trickled in.
Hartford spent the majority of the second half defending in their end, as Tampa Bay owned just under 70% of the possession and fired off seven shots, four coming from inside the box. A defensive half made for some defensive substitutions, as Tulu and Luka Prpa came on in the 53rd minute and helped contain Tampa's front line. The two combined for six clearances. Austin Pack made three saves and was an active keeper all night, leaving his feet for several brave punches on deliveries into the box from the Rowdies. A resilient effort, Hartford survived an onslaught of tries from Tampa in the final minutes.
Hartford Athletic will play their home opener at Trinity Health Stadium next Saturday, April 2nd, against Atlanta United 2.
FAST STATS:
Shots (On-Target): Hartford 5 (1) – 11 (4) Tampa Bay
Corners: Hartford 7-10 Tampa Bay
Fouls: Hartford 16-9 Tampa Bay
Offsides: Hartford 4-2 Tampa Bay
Possession: Hartford 35.9%-64.1% Tampa Bay
Passing Accuracy: Hartford 77.5%-86.2% Tampa Bay
Saves: Hartford 3-0 Tampa Bay
SCORING SUMMARY:
6′ – Joel Johnson 1-0 (Prince Saydee)
39′ – Jake LaCava
DISCIPLINARY SUMMARY:
52′ – W. Antley (Yellow)
56′ – Y. Boudadi (Yellow)
79′- A. Pack (Yellow)
88′ – J. Johnson (Yellow)
90′ – D. Barrera (Yellow)
90+1′ – M. Curry(Yellow)
HARTFORD ATHLETIC STARTING LINEUP:
1 (GK) Austin Pack; 2 (DF) Younes Boudadi, 5 (DF) Tom Brewitt, 23 (DF) Modou Jadama, 30 (DF) Joel Johnson 20 (MF) Christian Gomez (Luka Prpa, 53′); 28 (MF) Conor McGlynn (Tulu 53′); 77 (MF) Andre Lewis; 10 (FW) Danny Barrera 9 (FW) Juan Carlos Obregón Jr. (Rashawn Dally, 77′); 7 (FW) Prince Saydee (Mitchell Curry, 65′)
TAMPA BAY ROWDIES STARTING LINEUP:
1 (GK) C. Cochran, 33 (DF) A. Guillén, 2 (DF) W. Antley, 5 (DF) J. Scarlett, 11 (MF) Leo Fernandes, MF (4) L. Hilton, MF (6) B. Etou (L. Wyke, 77′); MF (23) S. Dalgaard (D. Harris, 65′); FW (13) S. Guenzatti, FW (19) J. LaCava, FW (L. Mkosana, 77′); (10) Duba (J. Tejada, 65′)