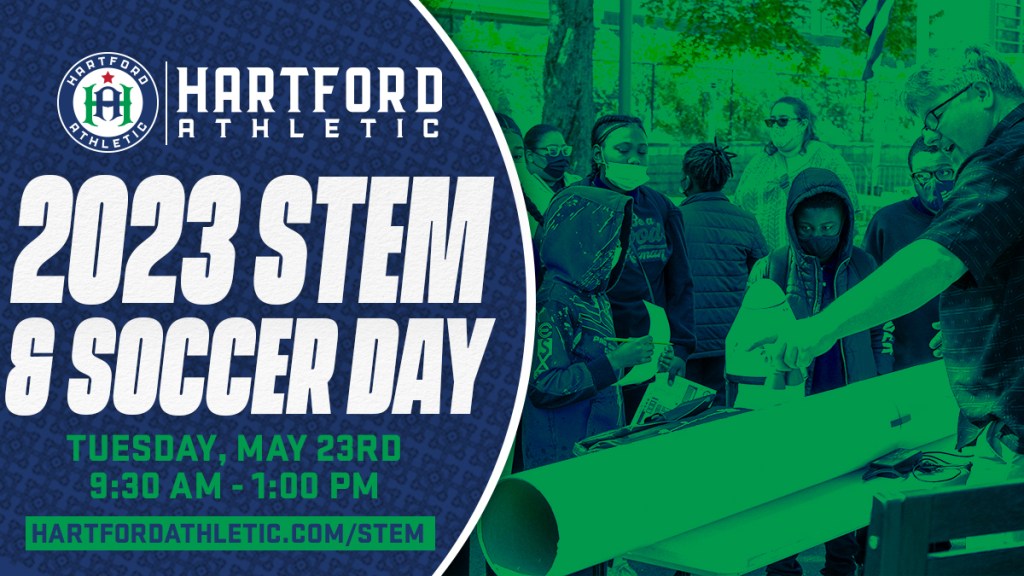 Hartford Athletic STEM & Soccer Education Day is an official interactive field trip opportunity for students and youth. We are excited to announce that STEM & Soccer Education Day 2023 will be held on May 23, 2023, from 9:30am – 1pm at Trinity Health Stadium. Scroll down for details!
• Where & When?
– STEM & Soccer Education Day will take place on May 23, 2023 from 9:30 AM – 1 PM at Trinity Health Stadium (250 Huyshope Ave, Hartford, CT 06106) the home of Hartford Athletic.
• Who Can Attend?
-STEM & Soccer Education Day is intended for any and all students in grades 6-8.
• What To Expect?
-FUN! After entering Trinity Health Stadium, students are encouraged to walk the concourse to visit all the project displays by peers from throughout Connecticut. Projects will be displayed by students as well as our corporate partners from 9:30 – 10:45 AM. At 10:45 AM, we encourage all attendees to be seated in the stands to watch the end of player warmups. 10:45 is also when project displays can be broken down and returned to buses. Students will then enjoy a Hartford Athletic match kicking off at 11:00 AM!
Thank you to our partners: CGI, Connecticut Department of Transportation, ConnectiCare, Hanwha Aerospace USA, Marcum, Central Connecticut State University, and Travelers.
STEM and Soccer Education Day 2022 Recap
In May 2022, Hartford Athletic hosted the inaugural STEM & Soccer Education Day, an educational and fun field trip experience for over 1,500 students & teachers. Students from schools throughout Connecticut displayed & presented STEM projects on the concourse at Trinity Health Stadium to peers from other schools. Following the STEM presentations, students enjoyed a Hartford Athletic game – check out the video below!
FAQs
How can my school express interest in attending STEM & Soccer Education Day?
What will we receive when we commit to participate? 

Tickets, Workbooks, & $100 Grant:

All schools in attendance that are eligible for Green and Blue Foundation funding will receive one $100 grant to cover the cost of supplies related to project displays. 
All schools in attendance will receive a delivery of tickets and STEM & Soccer Education Day Workbooks prior to May 17, 2023. The STEM & Soccer Education Day Workbook highlights STEM concepts in soccer & stadium engineering and is targeted at Grades 6-8. Tickets & Workbooks are not required for entry – each are a memento for students. In 2022, some schools brought the Workbooks to STEM & Soccer Education Day and some did not.
How many projects can our school display? 

Each school is welcome to display one project from each grade in attendance, with a maximum of 3 projects.
Are there guidelines or an assessment rubric for project displays? 

No! STEM & Soccer Education Day 2023 is a showcase and celebration of STEM, not a competition. We would like for your school to display projects that you are most proud of. Last year saw a wide variety of projects including poster displays, robotics, solar powered projects, Lego displays, and more!
Can our project display utilize electricity? 

Yes! Please ensure you let us know if your project display will require electricity when submitting your project information.
When do we have to commit by? 

Final numbers (students & guardians) must be received no later than April 26, 2023.  Full payment is due no later than May 3rd, 2023. *Please ensure any required school permission slips go home in time to meet this deadline.* 
How can my school obtain financial support to attend STEM & Soccer Education Day? 

Hartford Athletic, in partnership with the Green & Blue Foundation, is pleased to offer financial support for qualifying schools. In order to be eligible to receive financial support, at least 50% of a school must receive free or reduced lunch. Funding is limited – please contact Jessie Oram (joram@hartfordathletic.com) to inquire about the availability of support from the Green & Blue Foundation.
What if it rains?

In the event of inclement weather, STEM & Soccer Education Day will take place at a nearby indoor venue on May 23, 2023 from 9:30 – 11:30 AM. Students will display their projects and explore their peers' projects, but will not watch a live match. Instead, all attendees will receive tickets to a future game valid for use during the 2023 regular season.
Will concessions be open?

Yes! Concessions will be open for attendees to make purchases. While concession stands will be open, please note that all schools are encouraged to bring their own lunches. Hartford Athletic will not be offering a bag lunch option.
When Should We Arrive? 

-Setup begins at 9:00 AM and is *only* open to students who are displaying projects. Students must be accompanied by their teacher(s). For Setup, please arrive to Gate E.

-ENTIRE SCHOOL GROUPS: Your entire school group may enter Trinity Health Stadium at Gate A beginning at 9:30 AM.
Where do we park?

Parking is located in Lot 2, directly across from Trinity Health Stadium.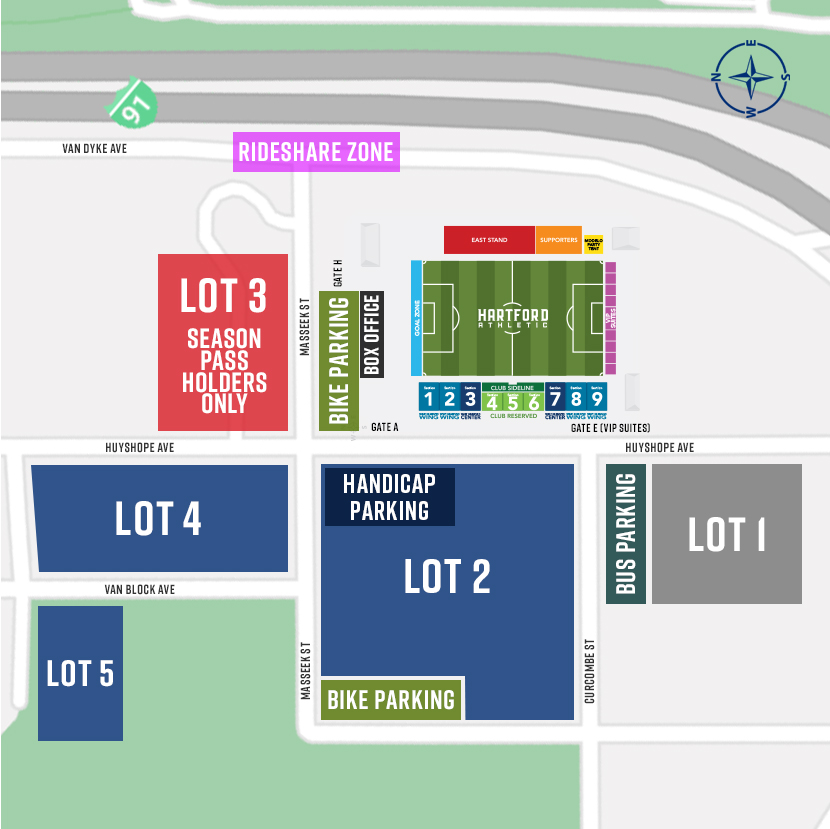 Interest Form