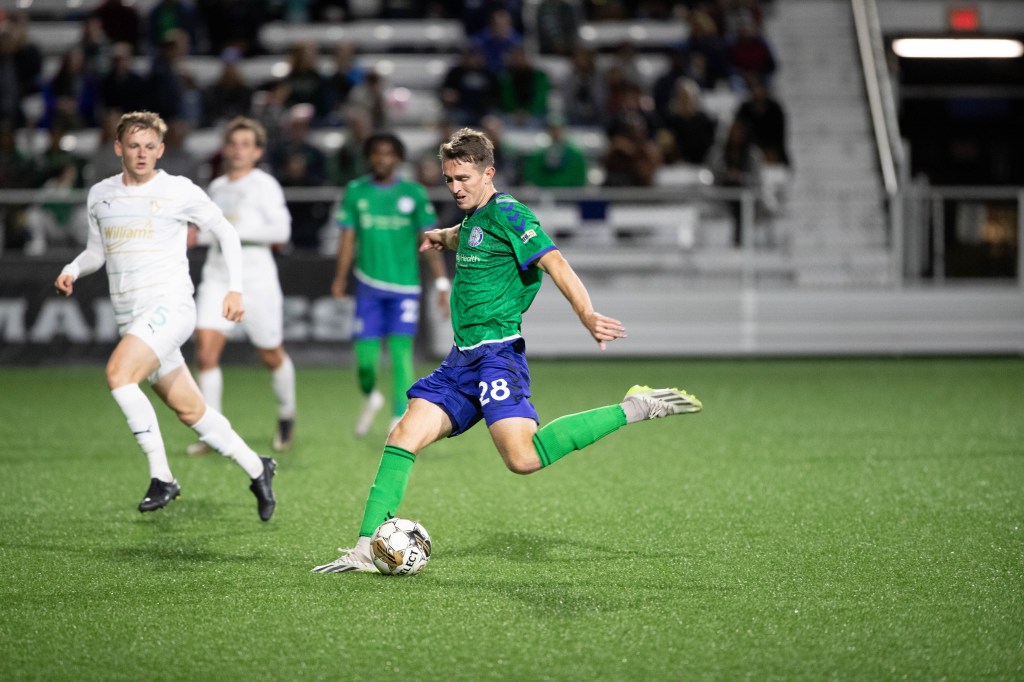 Hartford Athletic were unable to recover after three early goals from FC Tulsa tonight, dropping the season finale 5-2 at home. The season came to a close in front of a sold out, standing room only home crowd of 5,500. A historic night for the club, as it was the first time a sellout was announced in advance of kickoff.
The visitors shot out of a cannon at the start of tonight's match, scoring three goals before the 20th minute. Tommy McCabe connected with Marcus Epps for the first goal in the fifth minute, then Epps was the assist man on the second goal four minutes later. He made a dazzling run up the left side as a three-on-two-chance developed for Tulsa in transition, and he fed Blaine Ferri for the tap in right in front of the net.
Tulsa continued to run rampant, adding another goal in the 17th minute. Epps and Ferri were involved again, connecting passes to create and easy goal for Moses Dyer. Ferri played a quality diagonal ball into the box for Epps, who one-touched a pass across to Dyer, and Dyers buried his shot past Joe Rice from close-range.
Down 3-0, Prince Saydee helped Hartford put a dent into the Tulsa lead in the 30th minute. Kembo Kibato made a fantastic defensive play to deflect a pass from Tulsa keeper Austin Wormell deep in the visitors' end. Saydee scooped up the turnover, and fired a shot that deflected off the hands of Wormell and into the net.
Neither team threatened to score the rest of the half, leaving the score at 3-1 after 45 minutes.
Hartford had a much brighter start to the second half, taking three shots and hitting the post through the first 15 minutes. Edgardo Rito forced a save from Wormell at the near post, Antoine Hoppenot put a header from inside the box just off target, and Kembo Kibato drilled a shot off the crossbar in the 56th minute. Despite an onslaught of chances, it was Tulsa who struck first in the half. Moses Dyer added an assist to his goal on the night, heading a ball to Angel Bernal for the goal.
Athletic stayed determined on the comeback trail, creating four more shots, but failing to score before Tulsa added another. Nathan Worth joined the party, tapping in a goal after an excellent run and pass from Patrick Seagrist.
The Green and Blue gave the home crowd one last goal to cheer about before the season came to a close, as Robin Lapert recorded his first goal of the season in the 89th minute. Dren Dobruna lofted a perfect ball into the box, and Lapert elevated to power a header past Wormell. The assist from Dobruna was his first as a professional, a massive accomplishment for the 18 year old from Waterbury, Connecticut playing for his hometown club.
The final whistle blew after four minutes of stoppage time, leaving 5-2 as the final score. 
FAST STATS
Shots (On-Target): Hartford 23 (10) Tulsa 12 (7)
Corners: Hartford 7 Tulsa 3
Fouls: Hartford 11 Tulsa 13
Offsides: Hartford 5 Tulsa 1
Possession: Hartford 59.8% Tulsa 40.2%
Passing Accuracy: Hartford 90.1% Tulsa 85.4%
Saves: Hartford 2 Tulsa 8
SCORING SUMMARY:
Tulsa: 5' – Epps (McCabe)
Tulsa: 9′ – Ferri (Epps)
Tulsa: 17' – Dyer (Epps)
Hartford: 30'- Saydee
Tulsa: 62'- Bernal (Dyer)
Tulsa: 82' – Worth (Seagrist)
Hartford: 89' – Lapert (Dobruna)
DISCIPLINARY SUMMARY:
Tulsa: 30'- Worth (Yellow)
Tulsa: 65' – McCabe (Yellow)
Tulsa: 71' – Ruxi (Yellow)
Tulsa: 90+2' – Yosef (Yellow)
HARTFORD ATHLETIC STARTING LINEUP
13 (GK) Joe Rice, 6 (MF) Beverly Makangila, 19 (DF) Luke Merill (Rito, 29'), 21 (MF) Kembo Kibato (Sheldon, 80'), 28 (MF) Conor McGlynn, 8 (MF) Juan Pablo Torres (Lapert, 29'), 10 (MF) Danny Barrera, 77 (MF) Andre Lewis, 7 (FW) Prince Saydee, 9 (FW) Elvis Amoh (Apollon, 80'), 29 (FW) Antoine Hoppenot (Dobruna, 65').
TULSA STARTING LINEUP
1 (GK) Austin Wormell, 21 (DF) Patrick Seagrist (Bromstedt, 83'), 4 (DF) Ruxi, 22 (DF) Bradley Bourgeois, 15 (DF) Keegan Hughes (Tetteh, 45'), 6 (MF) Blaine Ferri (Fernandez, 67'), 5 (MF) Tommy McCabe, 18 (MF) Nathan Worth, 26 (DF) Angel Bernal (Yosef, 67'), 7 (FW) Marcus Epps, 77 (FW) Moses Dyer (Haji, 78').