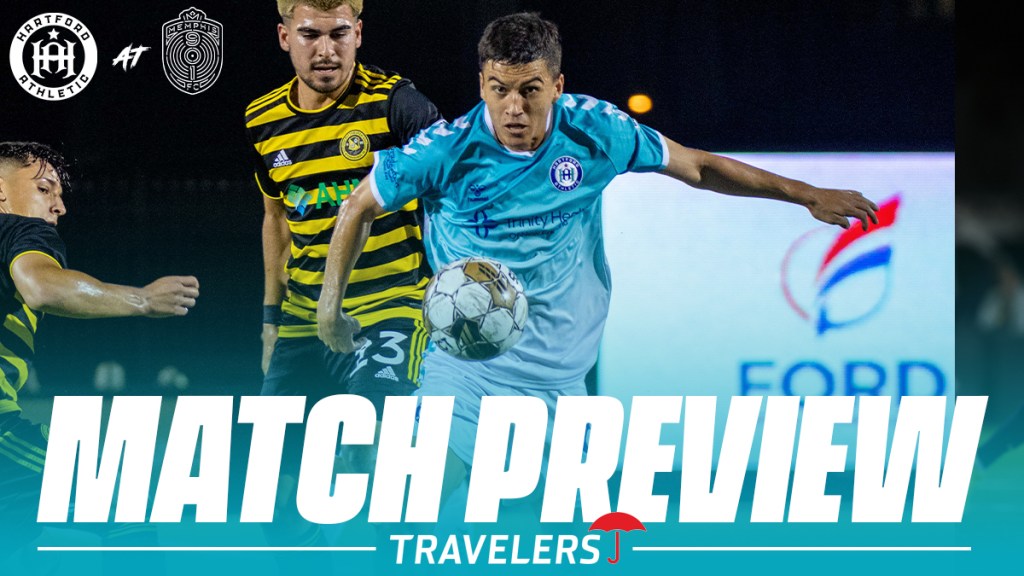 PRESENTED BY TRAVELERS
Date: Saturday, September 16th, 2023
Time: 8:00 PM ET
Location: AutoZone Park, Memphis, Tennessee
Streaming: ESPN Plus or WTNH.com
HARTFORD ATHLETIC (4-19-4) at MEMPHIS 901 FC (11-8-9)
Hartford Athletic begin a two-game road trip with a matchup against Memphis 901 FC at AutoZone Park, looking to get back on track after falling into a five-game slide.
LAST TIME OUT
Hartford Athletic's match last Saturday against RGV Toros was postponed after a three-hour lightning delay. The match kicked off at 7:00 PM as scheduled, but only made it to the ninth minute before being interrupted by a thunderstorm. The match will be restarted on October 4th at 7:00 PM.
Hartford's last full game was on September 2nd, as they fell 2-1 to the Tampa Bay Rowdies on the road. The Green and Blue got out to a great start, as Elvis Amoh scored a fantastic goal in the 13th minute. Cal Jennings responded with a goal for Tampa Bay in the final minutes of stoppage time. In the second half, Hartford put just one shot on target and ended up conceding the game winner to former Hartford striker Ariel Martínez in the 90th minute.
FAMILIAR FACES ON BOTH SIDES
Hartford defenseman Niall Logue spent the 2021 and 2022 seasons with Memphis before signing with Athletic this year. In 2021, the Irishman made 22 appearances, led the club in blocked shots (32), and registered 93 clearances as Memphis earned a place in the USL Championship Playoffs for the first time in its history. On the other side, 901 FC's Rashawn Dally played for Hartford in 2022. The Bloomfield, CT native scored three goals and tallied five assists for his hometown club.
MATCHUP HISTORY
Hartford Athletic are 0-4-1 against Memphis 901 FC all-time, dating back to 2019. 901 FC won the first matchup between the two clubs this year back on May 6th, a commanding 2-0 victory for the visitors. Laurent Kissiedou and Rashawn Dally scored the two goals. In 2022, Hartford were able to draw Memphis 1-1 at home, but fell 3-1 in their last visit to AutoZone Park last August.
FINISHING STRONG
With only seven games left in the regular season, Hartford look to finish the season strong. In the club's history, they've done just that, finishing the final seven games of each season with a record of:
2019: 3-3-1
2020: 5-1-1, with a five-game undefeated streak
2021: 3-2-2
2022: 4-3, with a three-game winning streak
ABOUT THE OPPONENT
Memphis 901 FC currently sit at fifth in the Eastern Conference standings. With six games left in the season, they have the chance to host a home match in the first round of playoffs if they get positive results down the stretch. In their last matchup against Monterey Bay, Memphis recorded a season high 23 shots and forced seven saves, but were unable to convert and fell to the Union 1-0. Memphis have been a strong offensive team all season, recording 44 goals in the Championship (fifth overall).
PLAYERS TO WATCH
Hartford Athletic: Luke Merrill, DF #19
Luke Merrill has proven to be a consistent force on both sides of the ball for Hartford Athletic. The defensive midfielder is excellent at gaining possession of the ball and is quick to win it back and move it forward for Hartford. Merrill has been a talented tackler for Athletic as well, as he sits in the top three in tackles attempted and tackles won. With a quality first touch and strong dribbling capabilities, Merrill has also shown his ability to get the ball downfield and into a scoring position.
Memphis 901 FC: Rodrigo Da Costa, MF #10
Rodrigo Da Costa is a veteran of the USL Championship who finds himself on the scoring sheet consistently. Acquired in May of this year from FC Tulsa, Da Costa has made an impact on the offensive end with three goals and an assist in 10 matches. Known for his creativity as a striker and distributor, the Brazilian is a dangerous player and integral piece to an already fearsome Memphis attacking side. Not only a threat to score but to also distribute and create chances, Da Costa is second for the team in chances created with 30.
INJURY REPORT
Hartford Athletic
Questionable: Hodge (Groin)
Memphis 901 FC
Out: Buckmaster (lower body), Hyndman (lower body)