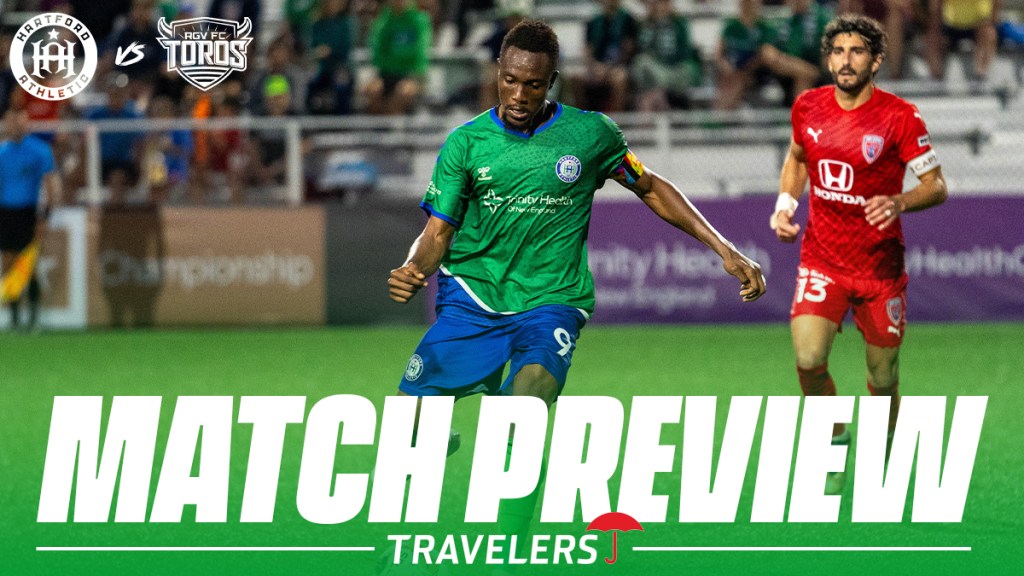 PRESENTED BY TRAVELERS
Date: Saturday, September 9th, 2023
Time: 7:00 PM ET
Location: Trinity Health Stadium, Hartford, Connecticut
Streaming: ESPN Plus or WTNH.com
HARTFORD ATHLETIC (4-19-4) vs RIO GRANDE VALLEY FC TOROS (7-10-11)
Hartford are back to full strength at home after 10 players missed last week's match due to positive COVID-19 tests. They host Rio Grande Valley FC and look to snap a five-game losing streak.
LAST TIME OUT
Hartford Athletic are coming off 2-1 loss to the Tampa Bay Rowdies last Saturday. The Green and Blue got out to a great start, as Elvis Amoh scored a fantastic goal in the 13th minute. Hartford defended well after scoring, but couldn't hold on to their lead before the end of the half. Cal Jennings scored for Tampa Bay in the final minutes of stoppage time. In the second half, Hartford put just one shot on target and ended up folding to the consistent attacking pressure from Tampa Bay in the 90th minute. Former Hartford striker Ariel Martínez buried the game winner after receiving a well-fed cross in the box.
GAINING REINFORCEMENTS
Hartford were forced to play with a roster of just 13 players last Saturday, as 12 players were ruled out of last Saturday's match due to positive COVID tests. This week, the Green and Blue are back to full health. This includes the return of defender Modesto Méndez, who had missed the last three games due to a concussion. 
FORMER TOROS IN HARTFORD
Three of Hartford's own will be facing their former team this weekend. Forwards Elvis Amoh and Kyle Edwards both had successful seasons with the Toros in 2021, and midfielder Kembo Kibato began his professional career with RGV in 2020. Amoh made a substantial impact, as he broke their regular season franchise scoring record with 13 goals. Edwards was also an important piece, scoring six goals and recording three assists in 23 appearances. Kibato introduced himself to the USL Championship with 12 appearances and nine starts for the Toros before being loaned to FC Tulsa.
ABOUT THE OPPONENT
Rio Grande Valley FC enter Saturday with a 7-10-11 record, and hold the most ties in the league. They are currently fighting for a playoff spot, sitting at 11th in the Western Conference and just three points below the playoff line. The Toros are a strong defensive team, letting in just 1.5 goals per game on average, along with a successful tackle rate of 68%. With a loss in their last game to Phoenix Rising FC and a record of 1-3-1 the past five games, Rio Grande Valley FC will look to turn things around and get back in the win column against Hartford.
Check the Pulse
PLAYERS TO WATCH
Hartford Athletic: Elvis Amoh, FW #9
Elvis Amoh netted one of Hartford's best goals of the season last week against the Tampa Bay Rowdies. After receiving a pass at center field from midfielder Andre Lewis Amoh made a wonderful turn and run letting the shot go from outside the box, rifling the ball into the top corner. This season, Amoh has been second in scoring with five goals in 20 games played. With his tall and lanky frame combined with his speed and finishing ability, Amoh will be an integral piece of the Hartford attack as they try to finish the season strong.
Rio Grande Valley: Alexis Monis, FW #30
Alex Monis was recently acquired on loan from Major League Soccer club Chicago Fire FC. From 2020-2022, the forward spent most of his time with Forward Madison FC of USL League One, but most recently played for Chicago Fire II. He recorded 11 goals and two assists in 40 appearances with the MLS Next Club. Monis made his MLS debut on November 7th, 2021 and scored his first and only MLS goal on October 9th, 2022 against the New England Revolution. Although young, Monis is a seasoned and proven player who can help the Toros improve their form as they strive towards a playoff spot.
INJURY REPORT
Hartford Athletic
Out: None
Rio Grande Valley FC Toros
Out: None
JOIN THE CONVERSATION
For live updates, follow along on twitter using the hashtag #HFDvRGV