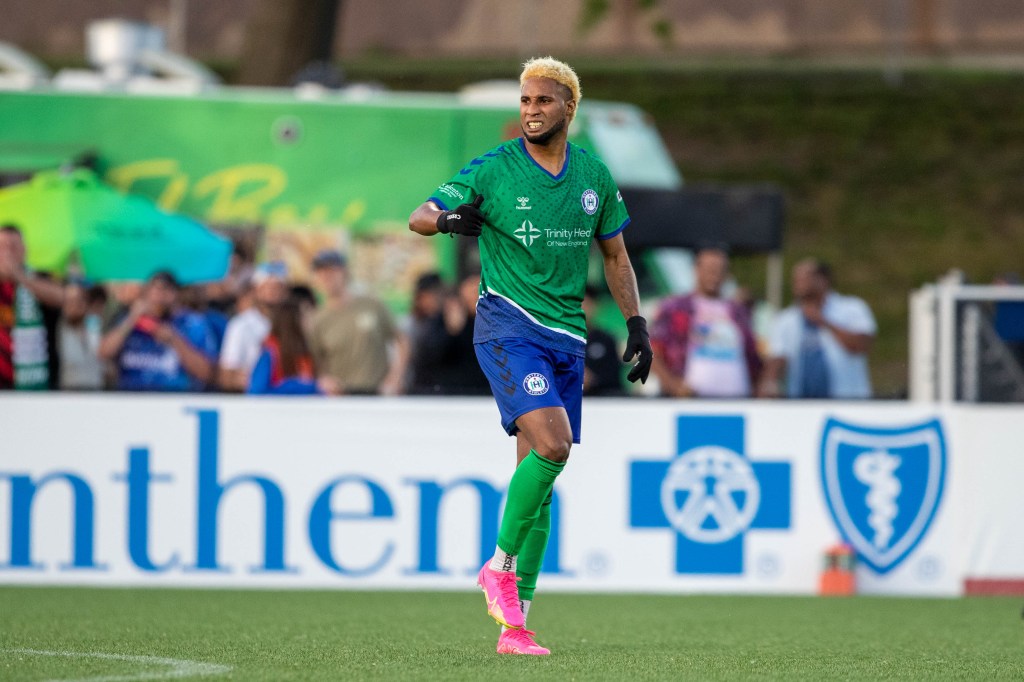 Hartford Athletic were able to equalize after going down early in the first half, but were outmatched by two Sacramento goals in the second 45 minutes of the match. 4-1 was the final.
The first half of tonight's match was physical and action-packed, with a penalty kick given to each team and three goals scored. After struggling to generate chances in the first part of the game, Sacramento's Russell Cicerone tapped a ball into the bottom left corner of the net to grab the early lead in the 19th minute. The goal was Cicerone's fifth against Hartford in six matches against the club in his career, continuing his streak of burning the Green and Blue. It was also his ninth of the season, putting him atop the USL Championship.
Hartford bounced back quickly by drawing a penalty in the 21st minute. Danny Barrera lobbed a quality ball into the box for Elvis Amoh, and the striker was tripped by Sacramento keeper Danny Vitielle. Kyle Edwards converted the penalty kick to knot the match 1-1. It was Athletic's tenth goal of the first half this season, only Sacramento have more (16).
17 minutes later, a penalty was given to the visitors. After a cross was looped into the box, Jack Gurr got tangled with Antoine Hoppenot and drew the penalty. Sebastian Herrera converted from the spot, gaining the lead back for Sacramento. The score would stay at 2-1 going into half time.
Sacramento came out of the locker room in attack mode, burying a goal almost immediately. Aldair Sanchez made a run to the Hartford end line and crossed a ball to the top of the box for Jack Gurr, who's shot bounced off defender Niall Logue and past the reach of goalkeeper Richard Sanchez. Throughout the next 20 minutes of the half, Republic FC maintained dominance of the possession battle winning it 65% to Athletic's 35%.
Athletic created some chances towards the end of the half, but could not find a second goal. The best chance for the Green and Blue was a Elvis Amoh header into the left post, one of 14 touches inside the box for Hartford, double that of Sacramento.
Republic FC added a fourth score in the 85th minute, the seventh goal that Athletic have conceded in the last 15 minutes of play, the most such goals in the USL Championship.
The match included several bookings and fouls going both ways, but definitely played a role in the temperament of the game. Both teams were rewarded and connected on penalty kicks as results of these infractions.
Hartford falls to 2-7-2 and looks to get back in the win column Saturday, June 3rd against Louisville City FC who sits third in the Eastern Conference of the USL Championship.
FAST STATS
Shots (On-Target): Hartford 4 Sacramento 5
Corners: Hartford 4 Sacramento 2
Fouls: Hartford 13 Sacramento 11
Offsides: Hartford 3 Sacramento 2
Possession: Hartford 55.2% Sacramento 44.8%
Passing Accuracy: Hartford 88.5% Sacramento 83.1%
Saves: Hartford 1 Sacramento 3
SCORING SUMMARY:
19' – Cicerone (Fernandes)
23' – Edwards
38' – Herrera
51' – Gurr
85' – Archimede (Herrera)
DISCIPLINARY SUMMARY:
28' – Edwards (Yellow)
38' – Cedeno (Yellow)
42' – Herrera (Yellow)
47' – Sanchez (Yellow)
48' – Logue (Yellow)
77' – Amoh (Yellow)
HARTFORD ATHLETIC STARTING LINEUP:
1 (GK) Richard Sánchez, 50 (DF) Niall Logue, 28 (DF) Conor McGlynn, 3 (DF) Kaveh Rad, 16 (DF) Matt Sheldon (Merrill, 78′); 5 (DF) Triston Hodge, 8 (MF) Juan Pablo Torres (Torres, 78′); 29 (MF) Antoine Hoppenot, 10 (MF) Danny Barrera (Lewis, 78′); 9 (FW) Elvis Amoh, 17 (FW) Kyle Edwards
SACRAMENTO REPUBLIC FC STARTING LINEUP:
31 (GK) Danny Vitiello, 6 (DF) Shane Wiedt (Desmond, 67′); 24 (DF) Conor Donovan, 5 (DF) Jared Timmer, 40 (DF) Aldair Sanchez (Damià Viader, 67′); 2 (DF) Jack Gurr (Sousa, 77′); 19 (MF) Nicholas Ross, 96 (MF) Luis  Felipe Rodrigues, 29 (MF) Arnold López, 11 (FW) Russell Cicerone (Archimède. 77′); 9 (FW) Sebastian Herrera (Lewis, 86′)