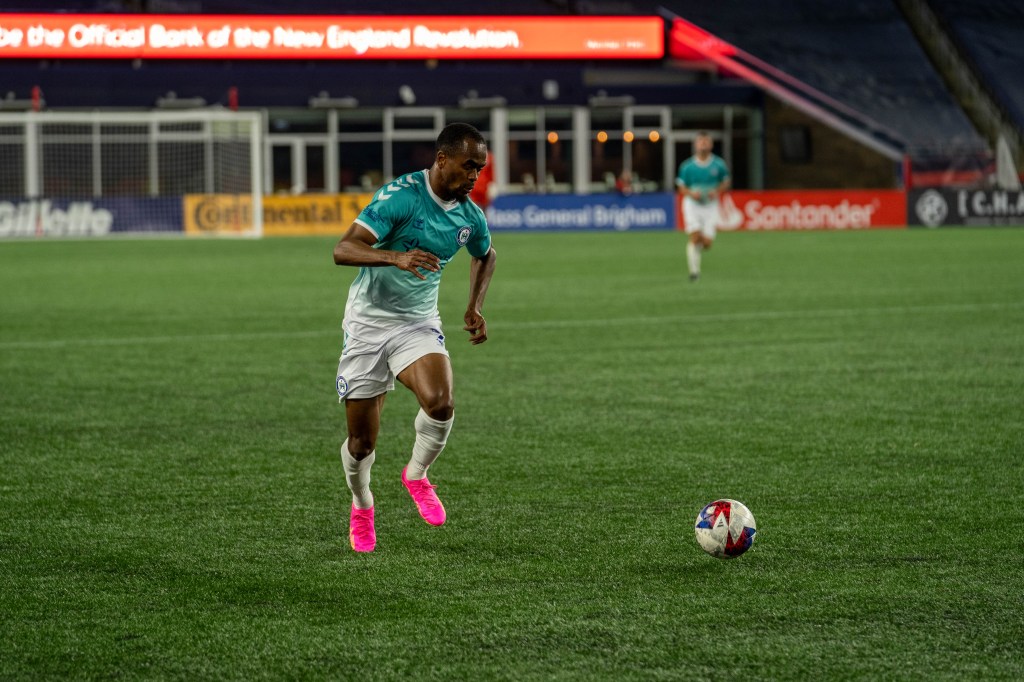 A great night from Prince Saydee and a second half equalizer from Antoine Hoppenot was not enough for Hartford against the New England Revolution tonight, despite a quality showing overall. They fell 2-1 and are out of the U.S. Open Cup.
Tonight's match got off its feet in a hurry. After a steady opening for both teams, Hartford had a major scoring chance on the counterattack that came inches away from giving them a lead in the seventh minute. After a clearance from Robin Lapert, Juan Pablo Torres lobbed a ball across midfield that was misplayed by Ben Sweat, opening up the counterattack for Hartford. Antoine Hoppenot gained possession and immediately attacked the New England third with Jeciel Cedeño and Prince Saydee sprinting with him, developing a three-on-two opportunity. Hoppenot pin-pointed a low pass across the box to Saydee, who took a one-timed left-footed shot that rang off the post. A golden opportunity for Hartford and a wonderful connection between Hoppenot and Saydee, but no goal to show for it. 
The Revolution answered Hartford's early threat in the thirteenth minute, scoring off of a corner kick. With his back to the net, Justin Rennicks headed Damián Rivera's cross to the near post and past Richard Sánchez. A creative play from Rennicks, he was able to put enough power on his header from a sharp angle to bounce it off Sánchez's hands and into the net.
Hartford did not falter after falling down 1-0, creating another scoring chance just a minute later. Jeciel Cedeńo connected with Prince Saydee, who booted a shot just above the New England crossbar. In the 17th minute, Saydee dashed into the Revolution box and put a shot on target. Conor McGlynn challenged Edwards in the 35th minute, forcing a diving save on a shot from about 10 yards outside of the box. In the 39th minute, Hartford had another massive scoring chance that came up short. Prince Saydee made a dazzling run to chase down a ball from Kaveh Rad, and squared a low cross that was deflected by Edwards and bounced off of Antoine Hoppenot. With the ball loose in front of the net, Joshua Bolma's clearing attempt deflected off of Omar González and off of the post, fell to Jeciel Cedeño, whose shot was blocked by Bolma. Another prime scoring chance for Hartford that was denied by the post.
Hartford took nine total shots, five inside the box, three of them on target, including two that hit the post in the first half. An impressive 45 minutes of play that left them going into the locker room down 1-0.
The Green and Blue stayed on the front foot at the start of the second half and broke through seven minutes in, tying the match at 1-1. Prince Saydee received a pass from Matt Sheldon just ahead of midfield and bursted past two Revolution defenders into their attacking third. He crossed a front spinning pass to the charging Antoine Hoppenot, who tapped the ball past Edwards with his right knee into the bottom right corner of the net. A massive lift for Hartford, they had equalized and scored a long-awaited goal.
Scoring chances thinned for both teams after the Hoppenot goal. Cedeño put a shot on target from just outside the box in the 56th minute, and Matt Sheldon missed the target on a shot in the 66th minute. The Revolution took four shots, only one of which forced a save from Richard Sánchez. In the 76th minute, however, the home side re-gained the lead. Carles Gil made a quick move from right to left and played a ball across the box to Dave Romney, who tapped the ball in from the doorstep. The goal gave New England a 2-1 lead after an extended spell of possession in Hartford's third. Hartford would take one more shot before the end of the match, but New England's lead would hold until the final whistle.
Prince Saydee and Antoine Hoppenot led Hartford tonight, combining for seven chances created and connecting on Hoppenot's first goal of the season. Saydee was outstanding in the attacking third, getting himself open for five shots and beating New England defenders consistently. Richard Sànchez made four saves, and Hartford's defense totaled 15 clearances. Hartford Athletic return to their USL Championship schedule and wrap up their road trip this Sunday in Birmingham at 5:00 PM ET.
FAST STATS
Shots (On-Target): Hartford 12 (5) New England 17 (6)
Corners: Hartford 3 New England 5
Fouls: Hartford 6 New England 13
Offsides: Hartford 4 New England 4
Possession: Hartford 47% New England 53%
Passing Accuracy: Hartford 79.6% New England 83.9%
Saves: Hartford 4 New England 4
SCORING SUMMARY:
13′ – Rennicks (Rivera)
52′ – Hoppenot (Saydee)
76′ – Romney (Gil)
DISCIPLINARY SUMMARY:
30′ – Torres (Yellow)
36′ – Cedeño (Yellow)
86′ – Gil (Yellow)
HARTFORD ATHLETIC STARTING LINEUP
1 (GK) Richard Sánchez, 5 (DF) Triston Hodge (Lewis, 58′); 50 (DF) Niall Logue, 3 (DF) Kaveh Rad, 29 (FW) Antoine Hoppenot, 11 (FW) Jeciel Cedeño (Edwards, 84′); 22 (DF) Robin Lapert, 8 (MF) Juan Pablo Torres (Barrera, 70′); 28 (MF) Conor McGlynn,16 (DF) Matt Sheldon, 7 (FW) Prince Saydee
NEW ENGLAND REVOLUTION STARTING LINEUP
36 (GK) Earl Edwards Jr., 44 (DF) Ben Sweat (Romny, 70′); 3 (DF) Omar González, 6 (DF) Christian Makoun, 16 (DF) Joshua Bolma (Bye, 70′); 29 (MF) Noel Buck, 22 (MF) Jack Panayotou, 11 (MF) Dylan Borrero (Farrell, 86′); 47 (MF) Esmir Bajraktarevic (Gil, 72′); 72 (MF) Damián Rivera (Boateng, 70′); 12 (FW) Justin Rennicks