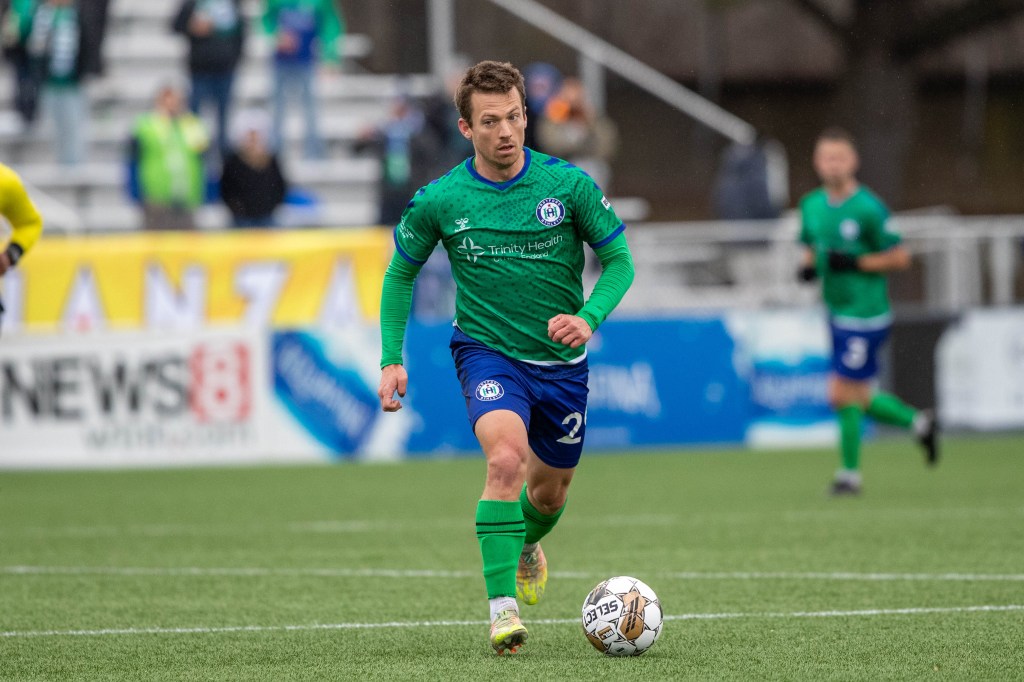 After falling behind in the first half, Hartford Athletic were unable to find an equalizer against Birmingham Legion at home. They fell 1-0 in the low scoring affair.
The opening 45 minutes of today's match were played with high intensity, as both teams ended the half at an even 50/50 in possession. Hartford saw three shots and a corner kick through the first 20 minutes, but it was Birmingham who found the back of the net first. In the 23rd minute, Birmingham's Tyler Pasher sent a lateral ball to Gabriel Alves about 25 yards out. Alves received the ball with his left foot, took a touch and fired a shot lower right 90 past Richard Sánchez to put Birmingham up 1-0.
Hartford began the comeback trail immediately after the Legion put up a goal with a massive chance in the 40th minute. Prince Saydee took on a defender changing his pace at the goal line and sent a ball across the six yard box. Elvis Amoh got a touch, but Birmingham's goalkeeper Trevor Spangenberg was able to deflect the ball and deny the Green and Blue the opportunity to level the game.
Central Midfielder Beverly Makangila proved his discipline and ability to defensively guide the middle in his first start for Hartford. He played directly in front of the back line alongside Kembo Kibato and connected with players on the outside.
During the first half, the Green and Blue seemed to have maintained an attacking mindset trying to create problems for the Legion's back line with flank players Matt Sheldon and Robin Lapert advancing forward to create chances. In the first half alone, Hartford had a total of 12 crosses to Birmingham's two and six corner kick opportunities to Birmingham's one, but they were unable to capitalize on these chances. The home side entered the locker room at the half down 1-0.
The 57th minute brought Hartford's first big chance of the second half. Kembo Kibato received a ball from Elvis Amoh in the 18 yard box and crossed it into Antoine Hoppenot who sent it high and wide of the goal. Following this missed opportunity, Birmingham controlled 73% of possession for the next 15 minutes.
As the game dwindled down, Hartford inched closer to an equalizer. In the 90th minute, second half substitute Jeciel Cedeño received a pass at the top of Birmingham's box and fired a well-struck shot on net, but Spangenberg came up with a diving save to keep Hartford off the board. Elvis Amoh would take one more shot for Hartford in stoppage time, but it was off target. Hartford ended the game with 14 shots, 10 corners won, and 21 total crosses.
The Green and Blue return home next Saturday to face Orange County SC at 2:00 PM. 
Shots (On-Target): Hartford 14 (4) Birmingham 16 (4)
Corners: Hartford 10 Birmingham 10
Fouls: Hartford 15 Birmingham 12
Offsides: Hartford 1 Birmingham 2
Possession: Hartford 45.6% Birmingham 54.4%
Passing Accuracy: Hartford 69% Birmingham 76.4%
Saves: Hartford 2 Birmingham 4
SCORING SUMMARY:
24′ – Alves (Pasher)
DISCIPLINARY SUMMARY:
42′ – Kibato (Yellow)
Stoppage Time – Agudelo (Yellow)
70' – Luke Merrill (Yellow)
Stoppage Time – Logue (Yellow)
HARTFORD ATHLETIC STARTING LINEUP
1 (GK) Richard Sánchez, 50 (DF) Niall Logue, 3 (DF) Kaveh Rad, 16 (DF) Matt Sheldon, 22 (DF) Robin Lapert (79' Barrera); 6 (MF) Beverly Makangila (79' Cedeño); 21 (MF) Kembo Kibato (65' Filipe); 29 (MF) Antoine Hoppenot, 14 (FW) Ashkanov Apollon (65' Merril); 7 (FW) Prince Saydee, 9 (FW) Elvis Amoh
BIRMINGHAM LEGION STARTING LINEUP
18 (GK) Trevor Spangenberg, 3 (DF) Phanuel Kavita, 4 (DF) Collin Smith, 21 (DF) Alex Crognale, 16 (DF) Gabriel Alves (74' Mensah); 6 (MF) Anderson Asiedu, 17 (MF) Matthew Corcoran, 19 (MF) Enzo Martinez, 11 (FW) Neco Brett (74' Nweegbo); 9 (FW) Juan Agudelo, 15 (FW) Tyler Pasher (84' Kasim)