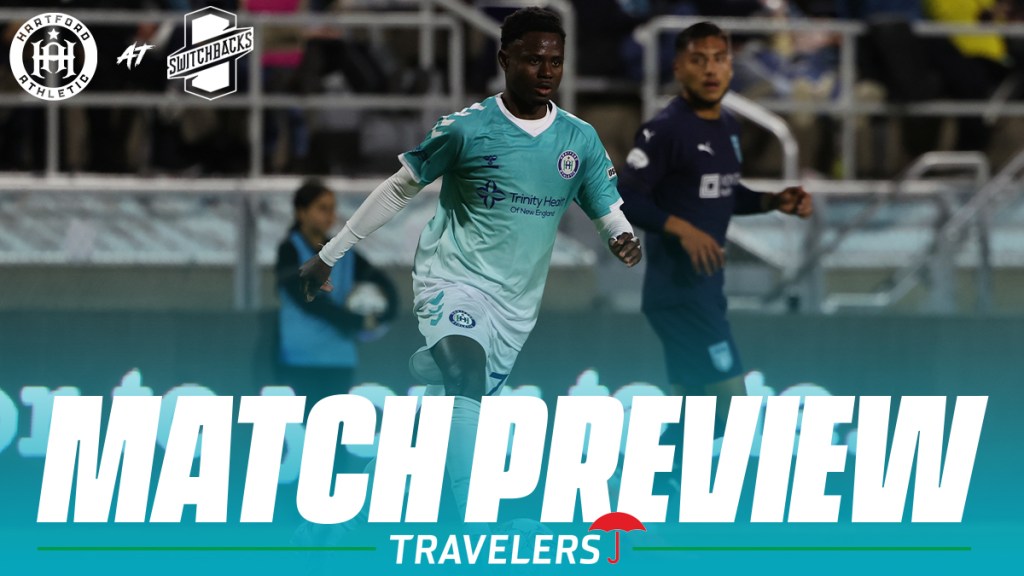 PRESENTED BY TRAVELERS
Date: Saturday, March 18th, 2023
Time: 8:00 PM ET
Location: Weidner Field, Colorado Springs, Colorado
Local TV: WCTX MyTV9
Streaming: ESPN+ or hartfordathletic.com/watch
HARTFORD ATHLETIC (0-1-0) vs. COLORADO SPRINGS SWITCHBACKS FC (1-0-0)
LAST TIME OUT
Hartford Athletic are coming off a 5-3 loss at Monterey Bay FC last week. In the high scoring affair, it was a number of defensive lapses that hurt Hartford. They gave up four goals in the first half, the first one coming in just the second minute after an unfortunate bounce in their box gave Alex Dixon an easy scoring chance. The third goal came on a PK, and the fourth goal of the half was an own goal that deflected off of Kaveh Rad and into his own net. Hartford fought to stay in the match, equalizing twice at 1-1 and at 2-2 in the first half. However, they were forced to chase the game after a slow start, and Monterey Bay's five goals were too much in the end. 
TAKE THE POSITIVES
After giving up five goals in the season opener, it would be easy to forget the positives Hartford showed on the offensive side of the ball. They scored three goals on the road, two of which came from well-executed set pieces, and never looked like they were out of the game. They out-possessed Monterey Bay, had 70 final third entries, and equalized twice after conceding early goals. "Overall, I'm not completely unhappy with the team," said Coach Ramos. "We made some mistakes, that's what happens early in the season. We're a work in progress and I think we're moving in the right direction."
GREAT START FOR THE PRINCE
Hartford striker Prince Saydee got off on the right foot last Saturday, earning himself USL Championship Team of the Week honors for recording a brace and playing with great energy through 90 minutes. The left-footed Liberian put his incredible speed on full display to score his first goal, timing a run perfectly to burst past the Monterey back line and receive a well-placed ball from Andre Lewis. His second goal came in the 76th minute when he headed a well-fed corner kick from Danny Barrera down and across the goal line, cutting Hartford's deficit to two.
FROM THE SPRINGS TO THE NUTMEG STATE
This offseason, Hartford signed three former Switchbacks: Elvis Amoh, Triston Hodge, and Beverly Makangila. They combined for 5,992 minutes for Colorado in 2022 and helped lift the club to a Western Conference Semifinal appearance. Amoh and Hodge were both in Hartford's starting 11 in week one, each of them playing the entire 90 minutes. Hartford midfielder Andre Lewis was also a member of the Switchbacks during the 2021 season, and he enters his second year with the Green and Blue. He scored against his former club last year, when Hartford bested Colorado 2-0 at Trinity Health Stadium. Lewis also picked up his first assist of the season last week, slipping a perfectly weighted through ball to Prince Saydee, who opened up the scoring for the Green and Blue early. 
Check the Pulse
ABOUT THE OPPONENT
The Switchbacks are coming off a dramatic season opening 2-1 win over El Paso Locomotive FC this past Wednesday night, scoring a game winning goal in stoppage time to get the 2-1 victory on the road. Their first goal came just two minutes in to the match from Jairo Henriquez, a blast into the top right corner of the net. El Paso would equalize in 47th minute, but Colorado's Duke Lacroix provided the game winner for his side in the 92nd minute.
Colorado finished third in last year's competitive Western Conference, earning 55 points and making it to the Western Conference Semifinals. They have added 10 men to their roster this season including former forward New Mexico United forward Romario Williams, who has scored 50 goals in the last eight years of his MLS and USL Championship career. This is the Switchbacks first season being led by Stephen Hogan, the fourth Head Coach in club history. 
PLAYERS TO WATCH
Hartford Athletic, Andre Lewis MF #77:
Andre Lewis is one of Hartford's most creative players with consistent ability to create scoring chances for himself and his teammates. He picked up his first assist of the season last week, placing a perfect ball just behind the Monterey Bay back line to find Prince Saydee in the open field. Lewis, who played for the Switchbacks in 2021, burned his former club last year when he scored a late goal to give Hartford a 2-0 lead at home that would seal the victory for the Green and Blue. This will be his first time returning to Weidner Field.
Colorado Springs, Jairo Henríquez, MF #17:
Jairo Henríquez was all over the pitch for Colorado Springs in their 2-1 win this Wednesday. He scored their first goal, finished with three total shots, created two chances, and fed three crosses. He was acquired by the Switchbacks midway through the 2022 season, recording four goals and four assists in just 15 appearances for an efficient showing. Both Henríquez and Lewis will be vital to their respective teams' ability to possess in the attacking third and create chances on Saturday night.
INJURY REPORT
Hartford Athletic
Out: None
Colorado Springs
Out: Chapman (Lower extremity)
Questionable: Musa (Lower extremity)
JOIN THE CONVERSATION: For live updates, follow along on twitter using the hashtag #COLvHFD