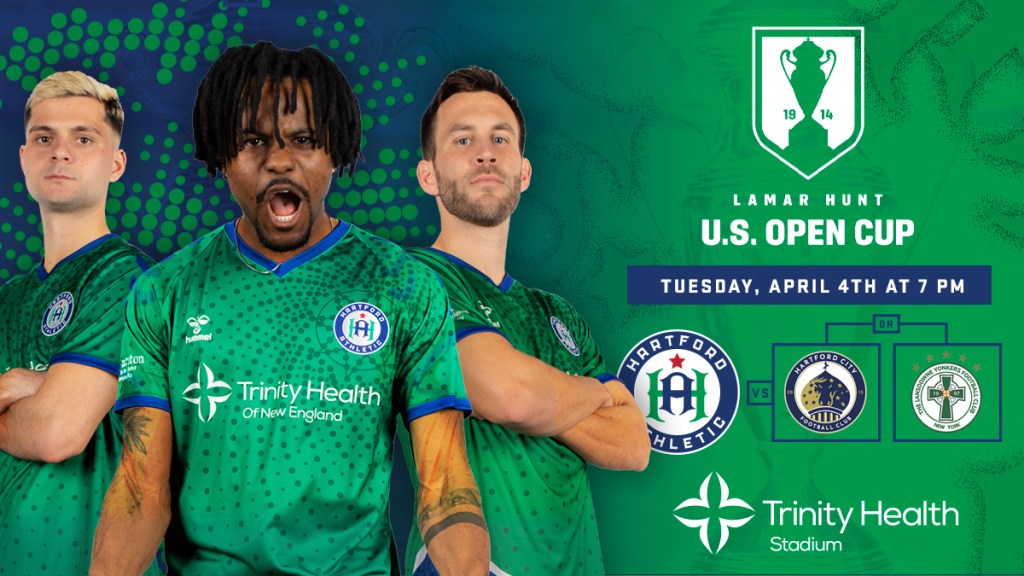 Hartford Athletic are back in the Lamar Hunt U.S. Open Cup in 2023 and will host a second round match on Tuesday, April 4th, at Trinity Health Stadium at 7:00 PM. They will face the winner of a first round matchup between NPSL side Hartford City FC and EPSL club Landsdowne Yonkers FC. Tickets for the match are on sale now at hartfordathletic.com/single.
This will be Hartford's fifth ever Open Cup match, four of which have come at home. Most recently, Athletic welcomed MLS side New York Red Bulls to Trinity Health Stadium in April of 2022 in front of a sold out home crowd. The Green and Blue hosted their first ever Open Cup match in 2019 when New York Cosmos B visited Al Marzook Stadium at the University of Hartford. Hartford's 2-1 victory was the club's first win in an official competition.
Dating back to 1913, the Lamar Hunt U.S. Open Cup is the oldest cup competition in United States soccer and is among the oldest in the world. Open to all affiliated amateur and professional teams in the United States, the U.S. Open Cup is very similar to domestic cup competitions popular throughout Europe, South America and the rest of the world. Cup competitions, which usually run concurrent with a country's league season, are open in the early stages to any club that can qualify, giving local amateur teams a chance to compete against the best teams a country has to offer. The winner of each country's domestic cup competition, in addition to taking home the prize money, is automatically placed into a tournament to compete against neighboring countries' cup winners.