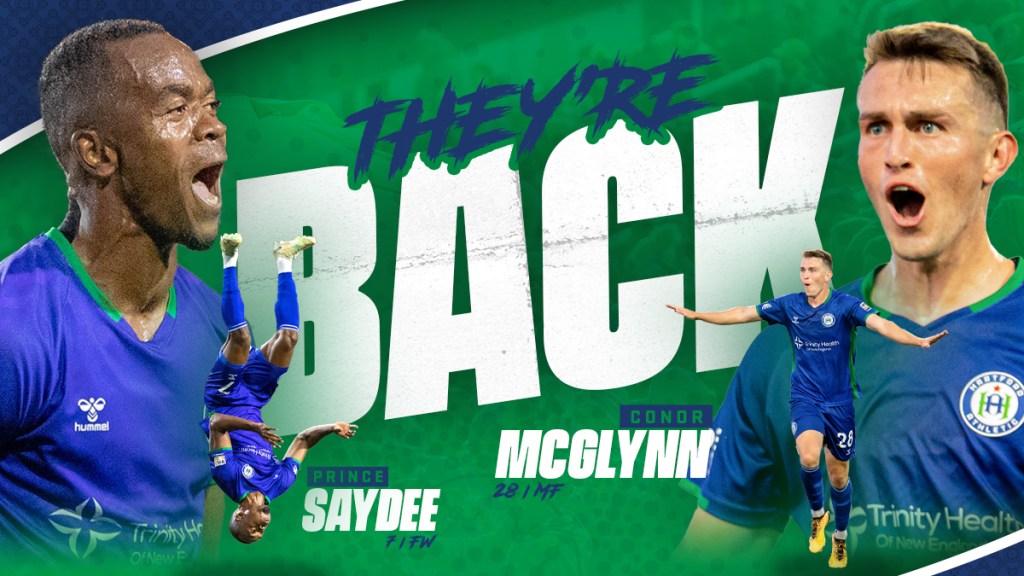 Hartford Athletic announced today that midfielder Conor McGlynn and forward Prince Saydee will return for the 2023 season, pending league and federation approval. Conor and Prince are the first two players to officially be named part of next season's squad.
"I'm so thankful the club and the fans have embraced me the way they have over the years, and I'd like to thank my family for their endless support. I am thrilled to be representing the club on the pitch for a fourth season,"said McGlynn. "I am very excited about the direction of the club under this Technical Staff and I can't wait to get this club back to the playoffs next season."
McGlynn's 70 appearances are the second most in club history behind only Danny Barrera (101). Across three seasons, the midfielder has scored seven goals and recorded three assists while totaling over 4,000 minutes in Green and Blue. He has a collection of eye-popping goals from distance, proving to be a dangerous threat to score if given space in the attacking third. Five of his seven goals have come from outside the box, including an incredible boot from his own half against the New York Red Bulls II in 2021, one of his many goals that made Sportscenter's Top 10 Plays. The Middle Village, New York native signed his first professional contract with Hartford in 2020 after participating in the club's open tryouts.
"There are few players in this league who have stayed with one club for four seasons, and Conor is one of them not only because of his performance on the field, but also because of his attitude in training and in the locker room. He is a prime example of the combination of player and personality we want on this team," said Tab Ramos. "Conor is a solid, dependable player who has a knack for scoring goals and I look forward to seeing him help us on the pitch next season."
"Conor has put together an impressive resume over three seasons, and we're grateful to have him back for a fourth," said Technical Director Ray Reid. "His ability to score goals from distance makes him a valuable weapon. He's a good young player who can make an impact for our club."
Prince Saydee turned in the best season of his professional career with Hartford Athletic in 2022. After accumulating 12 starts in his first two USL Championship seasons, the Liberian forward started 25 matches for Hartford and tallied 2,120 minutes in 32 total appearances. Saydee was a key piece in generating offensive opportunities for the Green and Blue, using his blistering speed in the attacking third to find space for both himself and his teammates. He recorded a team-leading eight assists and contributed four goals with his powerful left foot, including a stunning strike from 18 yards out against FC Tulsa that will live in Hartford Athletic's all-time highlight reel.
"I'm happy to be with Hartford Athletic for a second year," said Saydee. "Last season had a number of incredible moments and I want to build off the momentum we created at the end of the year. We want to compete at the top of this league, and I know that we can do that under Coach Ramos' leadership."
"Prince is such an exciting player," said Tab Ramos. "I think his performance last season was just a glimpse of what he can do for this club. With his speed, distribution, and scoring ability, he can be one of the most dynamic players in this league. We're thrilled to have him back for 2023."
"Prince is an extremely gifted player who is so fun to watch," said Ray Reid. "We loved what we saw from him in 2022, and we think he'll only get better with the talent alongside him in 2023."
More updates on player re-signings and new player signings will be announced over the coming weeks.