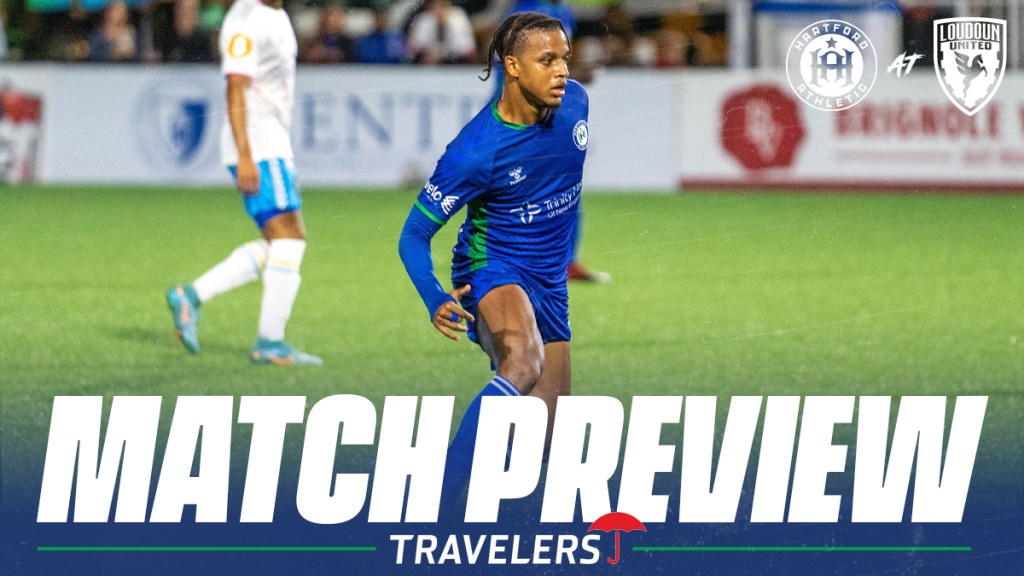 PRESENTED BY TRAVELERS
Date: Wednesday, September 21st, 2022
Time: 7:00 PM ET
Location: Segra Field, Leesburg, Virginia
Local TV: WCTX MyTV9
Streaming: ESPN+ or hartfordathletic.com/watch
HARTFORD ATHLETIC (9-15-6) at Loudoun United FC (7-19-3)
LAST TIME OUT
Hartford Athletic are coming off an impressive 3-0 victory over Las Vegas Lights FC at home last Saturday night. Two first half goals from striker Ariel Martínez got things started for the home side, one coming in the 12th minute and the other coming in the 28th minute. Their defensive effort was also notable, as they limited the dual-threat Las Vegas attack of Danny Trejo and Cal Jennings to just 19 and 11 touches, respectively. Late in the second half, Hartford sealed three points with their third goal. Tom Brewitt charged into the box to meet a corner kick feed from Danny Barrera, and perfectly placed his header past Vegas's Abraham Romero. Hartford's 3-0 lead would hold the rest of the way, securing three points and a clean sheet. They have now won three straight, and have extended their undefeated streak to five games.
DREAM START TO THE NEW ERA
The arrival of Tab Ramos has made an immediate positive impact on Hartford Athletic. It's a small sample size so far, but the Green and Blue have been in top form through their first two games under the new Gaffer. They haven't trailed in either game and have scored multiple first half goals in both fixtures, a feat they had yet to achieve this season. Plus, they earned a clean sheet against Vegas last week; just their fifth of the season. Overall, both wins have been commanding and the beginning of the Tab Ramos Era has gotten off to a promising start for Hartford.
STAYING HOT
Hartford have completed a three-game winning streak and have extended their undefeated streak to five games. They're 4-0-1 in the five-game stretch and have scored 14 total goals across those matches. The Green and Blue have a chance to tie their longest undefeated streak with a win or tie on Wednesday night against Loudoun.
MATCHUP HISTORY
There is a fascinating history between Hartford Athletic and Loudoun United. Both clubs played their inaugural seasons in 2019 and have faced each other 11 times over three seasons. To say that the Green and Blue have had Loudoun's number would be an understatement. Hartford have never lost to Loudoun, sporting a 10-0-1 record against the familiar Eastern Conference foe. They snapped a five-game losing streak and picked up their first win of the season against Loudoun back on May 5th, recording a 1-0 victory on a Joel Johnson goal. Going into Wednesday night, not only are Hartford looking to extend their current five-game undefeated streak, but they're also trying to keep their incredible streak against Loudoun alive.
PLAYERS TO WATCH
Hartford Athletic, Peter-Lee Vassell MF #8
Peter-Lee Vassell has cracked the starting 11 consistently over Hartford's last three games, and has been a dynamic piece of Hartford's attacking success as of late. He's dangerous in the middle of the pitch, showing great ability to get the ball forward quickly for Hartford. The Jamaican midfielder assisted Prince Saydee's goal against Tulsa two weeks ago when he played a quality ball into the attacking third, and he assisted Ariel Martínez's second goal against Las Vegas last week. Vassell made an interception at midfield and led a two-on-one with Martínez, eventually laying off a pass to the striker for the easy finish.
Loudoun United, Kristian Fletcher, FW #45
Kristian Fletcher is promising young talent for Loudoun United, scoring four goals on the year so far. He earned an honorable mention on USL Championship Team of the Week in week 22, as he recorded his first professional brace against LA Galaxy II. The U19 U.S. international is an explosive midfielder with strong ability to create chances and finish individually as well.
ABOUT THE OPPONENT
Loudoun United are coming off a 4-2 loss to Louisville City last Saturday, and are 1-4-0 in their last five games. One of Loudoun's biggest bright spots is in net, as keeper Luis Zamudio has made some highlight-reel saves throughout the season and has recorded six clean sheets. Most recently, he earned USL Championship Team of the Week for his nine-save shutout of Memphis in Week 26. Offensively, Loudoun are led by Tyler Freeman, who has six goals and an assist on the year.
INJURY REPORT
Hartford Athletic:
Out: None
Loudoun United:
Out: Michael Gamble, Grant Lillard, Hassan Aqboub