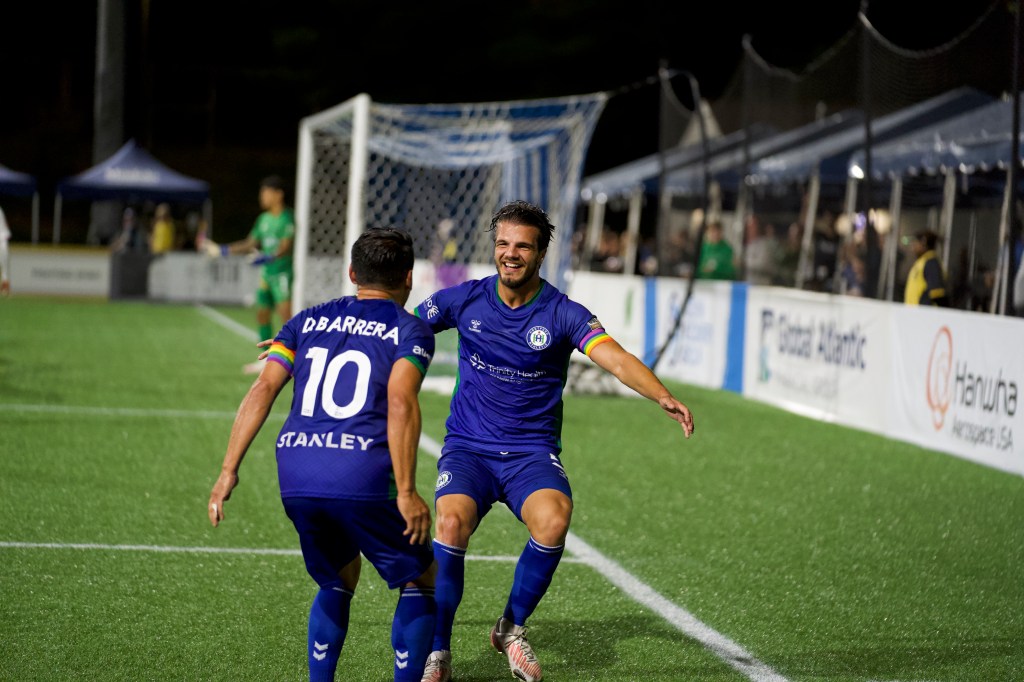 Hartford took slightly longer to get the scoring started compared to last week. A 12th-minute through ball to Younes Boudadi resulted in a dangerous low cross towards Prince Saydee in the Las Vegas six-yard box. On the visitor's doorstep, the midfielder's shot ricocheted off his own knee and back into the area. The rebound fell kindly to Ariel Martinez, who made no mistake and put the ball home to give the hosts a 1-0 lead in the 12th minute.
Martinez struck again in the 26th minute and extended Hartford's lead to two. Peter-Lee Vassell beat defender Dekel Keinan to a loose ball, starting a two-on-one counter-attack. His cutback found an unmarked Martinez with only the keeper Abraham Romero to beat. The red-hot striker successfully got around Romero to double the Green and Blue's lead, scoring his sixth goal of the year and securing a first half brace.
Athletic would hold their two goal lead heading into the locker rooms. They were able to accomplish their goal of controlling possession by keeping the ball for 56% of the first half. Crucially, the defense limited the dual-threat Las Vegas attack of Danny Trejo and Cal Jennings by holding them to 19 and 11 touches, respectively. These numbers were also the least amount of touches taken by any outfield player in the first 45 minutes.
Hartford started the second half sloppily, allowing Las Vegas plenty of possession in their box. In the 48th minute, Trejo received a cross and headed it point-blank towards Yannik Oettl's goal. The German keeper reacted instinctively, blocking the attempt well enough to stop the attack. Through the first 10 minutes of the half, the Lights registered 8 touches in Hartford's box.
Hartford continued to concede possession and held the ball only 41.2% of the time through the 75th minute. Athletic also totaled 59 passes in the attacking half compared to Vegas's 80 passes.
After withstanding Las Vegas' attacking efforts, the Green and Blue sealed the victory with a third goal from Tom Brewitt. Team Captain Danny Barrera delivered the side's third corner of the half into the six-yard box. Brewitt started his run at the top of the box, charging in and heading the cross past a stranded Romero. The goal was the defender's third of the year and the Captain's fifth assist.
The result would stand as Hartford secured all three points on the night. After last week's stoppage time goals conceded, Athletic were able to keep the match a shutout. The win sees Hartford improve to a three-game winning streak and a 9-15-6 record on the season. The Green and Blue will look to extend their unbeaten streak to six when they visit Loudoun United next week on Wednesday, September 21st.
FAST STATS
Shots (On-Target): Hartford 10 (4) Las Vegas 14 (5)
Corners: Hartford 7 Las Vegas 8
Fouls: Hartford 9 Las Vegas 8
Offsides: Hartford 2 Las Vegas 2
Possession: Hartford 49.4% Las Vegas 50.6%
Passing Accuracy: Hartford 80.3% Las Vegas 82.2%
Saves: Hartford 5 Las Vegas 1
SCORING SUMMARY:
12′ – Martínez (Barrera)
28′ – Martínez
79′ – Brewitt (Barrera)
DISCIPLINARY SUMMARY:
6′ – Keinan (Yellow)
35′ – Oettl (Yellow)
72′ – Jadama (Yellow)
80′ – Brewitt (Yellow)
HARTFORD ATHLETIC STARTING LINEUP
13 (GK) Yannik Oettl, 30 (DF) Joel Johnson (Lapert, 86′); 23 (DF) Modou Jadama, 4 (DF) Tulu, 2 (DF) Younes Boudadi, 10 (MF) Danny Barrera, 5 (MF) Tom Brewitt, 7 (MF) Prince Saydee (Gdula, 85′); 8 (MF) Peter-Lee Vassell (Dally, 68′); 77 (MF) Andre Lewis (Prpa, 86′); 6 (FW) Ariel Martínez (Obregón, 69′)
LAS VEGAS STARTING LINEUP
1 (GK) Abraham Romero, 3 (DF) Mohamed Traore, 42 (DF) Dekel Keinan (Quezada, 73′); 4 (DF) Alejandro Lara, 17 (DF) Christopher Jaime (Mallé, 62′); 28 (DF) Tony Leone, 15 (MF) Daniel Crisostomo (Almaguer, 81′); 20 (MF) Frank Daroma (Gaines, 72′); 14 (MF) Darón Iskenderian (Dueñas, 62′); 10 (FW) Danny Trejo, 26 (FW) Cal Jennings