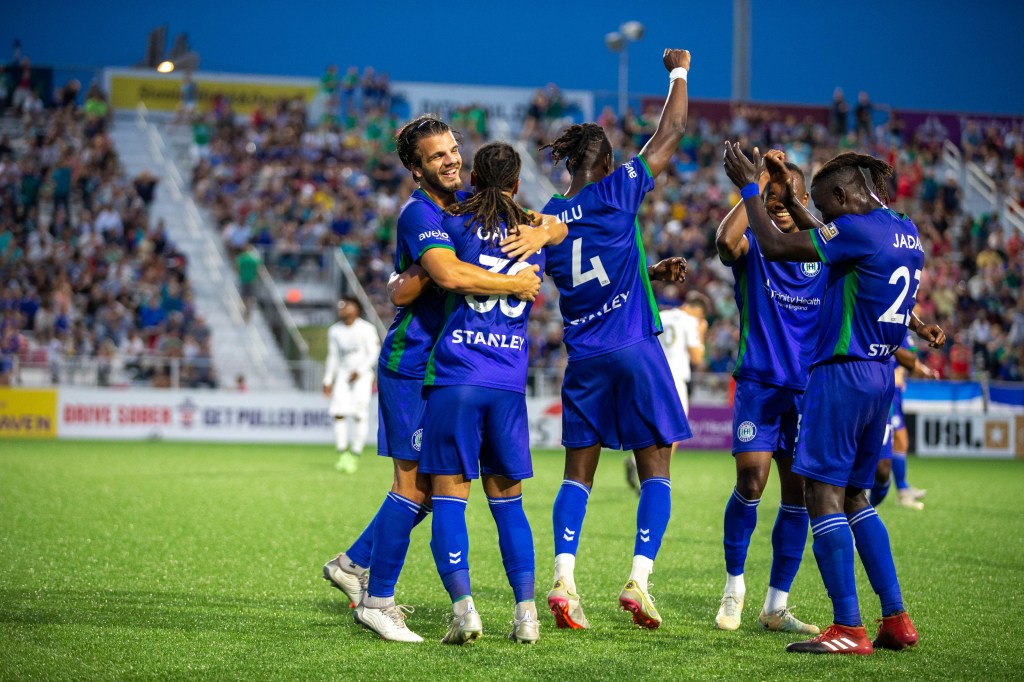 Hartford Athletic turned in their best performance of the season under their new gaffer tonight, scoring three goals in the first half in front of sold out home crowd.
Eight minutes into the match, the first Hartford goal under Tab Ramos was scored. On his fourth consecutive corner taken, Danny Barrera played the ball short, receiving the ball once again behind Tulsa's line. The captain flashed the ball across the six-yard box to Tulu, who struck the ball home for his first goal of the season and Barrera's fourth assist.
Athletic's lead would double in the 15th minute, coming from yet another corner. Joel Johnson floated the ball into a dangerous area, where Tulsa keeper Austin Wormell made an attempt to punch the ball to safety. The ball careened off his outstretched fists into his own goal, giving Hartford a 2-0 lead and energizing the home crowd.
Through 18 minutes, Hartford was in control with 60% possession, winning all five of the match's corners, and completing 80% of their passes in the attacking third.
Hartford's revamped attack struck again in the 24th minute, courtesy of Prince Saydee. Peter-Lee Vassell found the forward on the wing, who did the rest of the work. Saydee drove at his defender, cutting just inside the 18-yard-box and curling in a beautiful uncontested shot into the far corner, extending the Green and Blue lead to three goals.
The hosts went into the break ahead 3-0, on track to record Tab Ramos' first win as a USL manager. The half's possession was split evenly but Hartford were able to control the ball when it mattered. Athletic completed 82% of their passes made in the opposing half and an astounding 92% of passes made in the attacking third.
The second half got off to a much slower start than the first, but Tulsa had the majority of control. Despite tallying 70% possession, six crosses, and two corners in the first 15 minutes, the visitors were unable to capitalize.
Eventually, Tulsa's continuous efforts were rewarded in the 90th minute. Possession in the box led to a shot pushed onto the post by a diving Yannik Oettl. The rebound fell kindly to Dario Suarez, who tapped in for his 7th goal of the year. With the game seemingly out of reach, Tulsa clawed back yet another goal in the 90+5 minute. The visitors sent in a cross that was redirected back towards goal and met by Rodrigo Da Costa for his team-leading 9th goal on the season.
Hartford held on to their 3-2 lead the rest of the way, capping off a nerve-wracking final minutes of an otherwise dominant performance. Athletic are now unbeaten in their last four matches and play back at home next Saturday, hosting Las Vegas Lights at 7 PM for $2 beer, $1 hot dog night at Trinity Health Stadium.
FAST STATS
Shots (On-Target): Hartford 7 (4) Tulsa 19 (4)
Corners: Hartford 5 Tulsa 5
Fouls: Hartford 8 Tulsa 11
Offsides: Hartford 1 Tulsa 1
Possession: Hartford 42.7% Tulsa 57.3%
Passing Accuracy: Hartford 83.5% Tulsa 87.6%
Saves: Hartford 2 Tulsa 1
SCORING SUMMARY:
9′ – Tulu (Barrera)
16′ – Own Goal (Wormell)
24′ – Saydee (Vassell)
90′ – Suárez
90:00+5′ – Da Costa (Bourgeois)
DISCIPLINARY SUMMARY:
25′ – Lewis (Yellow)
45:00+3′ – Brewitt (Yellow)
60′ – Bourgeois (Yellow)
66′ – McGlynn (Yellow)
78′ – Diz (Yellow)
84′ – Powder (Yellow)
HARTFORD ATHLETIC STARTING LINEUP
13 (GK) Yannik Oettl, 30 (DF) Joel Johnson, 23 (DF) Modou Jadama, 4 (DF) Tulu, 2 (DF) Younes Boudadi, 10 (MF) Danny Barrera (Cedeño, 60′); 5 (MF) Tom Brewitt (McGlynn, 59′); 7 (FW) Prince Saydee, 8 (MF) Peter-Lee Vassell (Prpa, 77′); 77 (MF) Andre Lewis, 6 (FW) Ariel Martínez (Curry, 37′, Obregón, 77′)
FC TULSA STARTING LINEUP
31 (GK) Austin Wormell, 17 (DF) Noah Powder, Bradley Bourgeois, Adrián Diz, Sean McFarlane (Fenwick, 45′) Gabi Torres (Epps, 56′); Kembo Kibato (Pearson,70′); Abuchi Obinwa (Bird, 45′); Darío Suárez, Marlon Ramírez (Moloto, 45′); Rodrigo da Costa