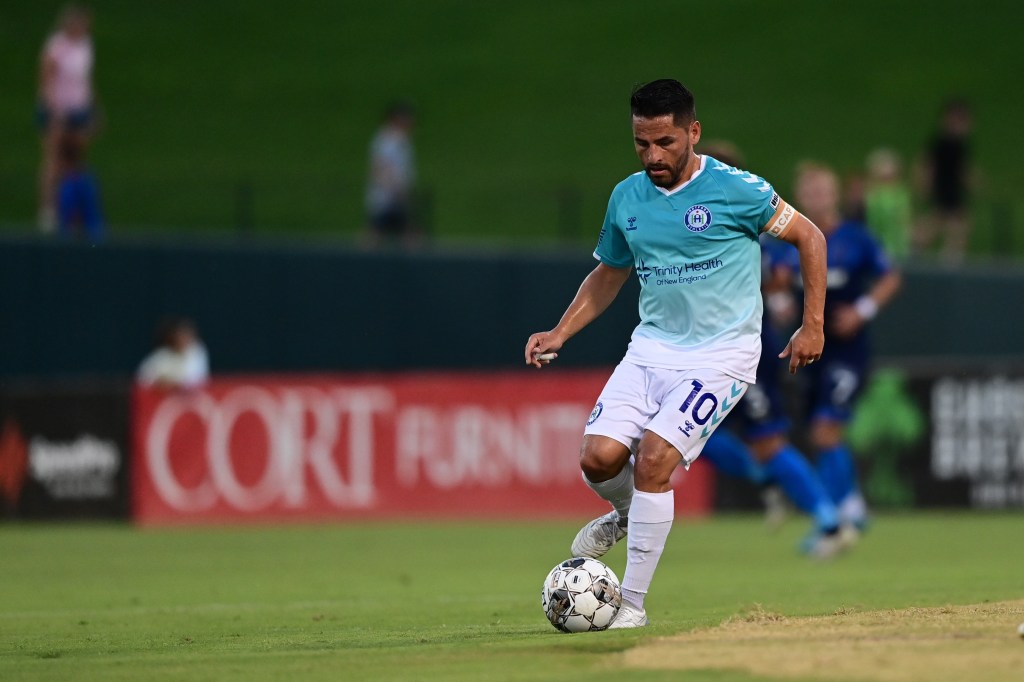 Hartford Athletic scored first in tonight's contest, but the 901 FC comeback resulted in a 3-1 loss for the Green and Blue.
Both clubs were offensively quiet through the opening 15 minutes, with the only action coming from shots on goal from Andre Lewis for Hartford and Luiz Fernando for Memphis. 901 FC had the upper hand through the next 20 minutes, taking seven shots to Hartford's one and spending time in the Green and Blue third. They found the back of the net in the 36th minute, but David Egbo was marked just barely offside after tapping in a strong feed from Patrick Seagrist. Hartford quickly pounced on the counter attack just a minute later. Younes Boudadi lofted a quality ball to Rashawn Dally towards the Memphis box, and the striker pin-pointed a low cross to Prince Saydee who found the roof of the net. Hartford's 1-0 lead was short-lived, as Aaron Molloy responded with a half volley goal from outside of Hartford's box in the 41st minute. Just three minutes later, Molloy was involved again when he looped in a free kick to Zach Carrol, who headed in a goal to give Memphis a 2-1 lead before the half.
The home side remained on the front foot in the second half, as 40% of the action was spent in Hartford's third up to the 60th minute. Despite the possession numbers favoring Memphis, the Green and Blue had their chances. They took 10 shots in the half and three on target, with their best chance coming in the 62nd minute. Second half substitute Ash Apollon got behind the Memphis back line and received a quality feed from Luka Prpa, but Apollon's shot went wide. 901 FC kept the pressure on and broke through for another goal in the 87th minute when Nighte Pickering played a deflection perfectly, bicycle-kicking in a goal from just a few yards in front of Yannik Oettl to give his squad a 3-1 lead. This score would remain through the final minutes.
Hartford Athletic are back in action next Saturday at home against Indy Eleven.
FAST STATS
Shots (On-Target): Hartford 10 (3)– Memphis 21 (5)
Corners: Hartford 3 – Memphis 13
Fouls: Hartford 13 – Memphis 8
Offsides: Hartford 3 – Memphis 2
Possession: Hartford 53.2% – Memphis 46.8%
Passing Accuracy: Hartford 80.8% – Memphis 83.3%
Saves: Hartford 2 – Memphis 2
SCORING SUMMARY:
37′ – Saydee (Dally)
41′ – Molloy (Paul)
44′ – Carroll (Molloy)
87′ – Pickering
DISCIPLINARY SUMMARY:
11′ – Allan (Yellow)
51′ – Barrera (Yellow)
58′ – Kelly (Yellow)
71′ – Gdula (Yellow)
83′ – Martinez (Yellow)
90′ – Curry (Yellow)
HARTFORD ATHLETIC STARTING LINEUP:
13 (GK) Yannik Oettl, 2 (DF) Younes Boudadi, 3 (DF) Logan Gdula, 4 (DF) Tulu, 5 (DF) Tom Brewitt, 30 (DF) Joel Johnson (Curry, 80′); 10 (MF) Danny Barrera (Obregon, 84′); 28 (MF) Conor McGlynn (Prpa, 45′); 77 (MF) Andre Lewis, 7 (FW) Prince Saydee (Apollon, 60′); 18 (FW) Rashawn Dally (Martinez, 60′)
MEMPHIS 901 FC STARTING LINEUP:
25 (GK) Trey Muse, 3 (DF) Zach Carroll, 16 (DF) Graham Smith, 19 (DF) Rece Buckmaster, 7 (DF) Patrick Seagrist, 23 (MF) Leston Paul, 6 (MF) Aaron Molloy, 18 (MF) Jeremy Kelly (Turci, 85′); 8 (MF) Chris Allan (Kissiedou, 62′); 12 (FW) David Egbo (Pickering, 62′); 9 (MF) Luiz Fernando (Myers, 89′)