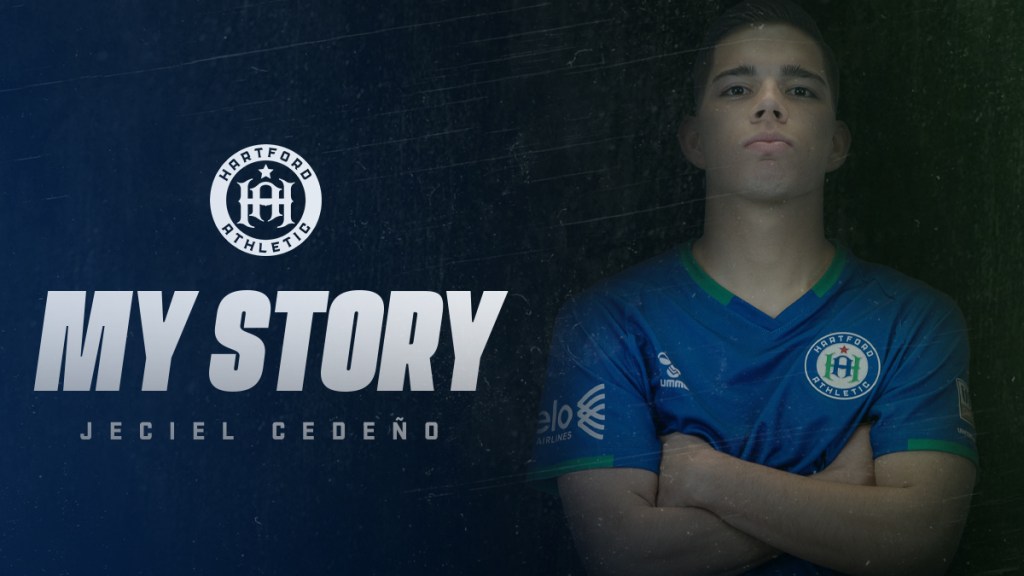 "I was mesmerized by it."
My name is Jeciel Cedeño, I was born on March 4th, 2000 in Guayaquil, Ecuador. I grew up in a hugely passionate soccer community, but my family didn't have any soccer players. I was introduced to the sport by watching the pickup games that were frequently played in my neighborhood streets. I was four or five years old and I didn't want a phone or a computer, I just wanted to sit and watch the people play. I was mesmerized by it. Eventually, I joined in those pickup games on the streets, and I have been in love with soccer ever since.
I got noticed playing in a school tournament by a coach from the Alfaro Moreno Academy when I was seven years old, one of the best academies in Ecuador. He invited me to come try out for their U9 team, but my Mom did not let me go. She thought I was too small at the time and that I would get hurt playing with the older kids. A year later, I got invited to try out for the same team and I convinced my Mom to let me go. I promised her I would not get hurt.
The Alfaro Moreno Academy trained about an hour and a half away from Guayaquil, so I had to take two buses to get there after school every day. I played for the academy for two years and we were one of the best teams in the country, winning tournaments in several different cities in Ecuador.
"I wanted to be in an environment of 100% soccer."
While my Mom and much of my family were in Ecuador, my Dad lived in the United States. When I was 12 years old, my Mom told me that we were going to move there to be with him in New Jersey. I was not happy about this because I was going to have to stop playing soccer while we moved. I thought that I was on the right path to become a professional while playing for the Alfaro Moreno Academy, but my Mom assured me that I could find a team to play for in America.
I had a hard time warming up to life in America at first because I started to see so many different sports. I was used to seeing everyone playing only soccer in Ecuador. When I got to New Jersey, I saw people playing basketball, baseball, football, etc. and I wasn't happy to see people playing other sports. I wanted to be in an environment of 100% soccer.
I also had to deal with the most apparent challenge of living in a new country: the language barrier. The only English sentence I knew how to say when I started school was, "My name is Jeciel." I was put in classes with teachers to help me learn English every day. However, I knew I had to learn the language quickly if I wanted to start playing soccer in the area, so I worked hard to learn on my own. Every word that I saw or heard, I would write it down and search it on Google to learn what it meant. I wrote down at least 100 words every day, and combining that with my classes, I was a fluent English speaker after one year.
I started playing soccer in New Jersey when I was thirteen for a local club called Fairview FC, then I played my freshman year high school season for Union City High School. I was unable to get into an academy system in the area, and I still had dreams of playing professionally. When I turned 16, I told my Mom that I was going to move back to Ecuador to try out for Barcelona SC's academy. I had family to live with in Ecuador, so my Mom supported my decision and let me go back. 
"You have to be a killer."
I made the U16 academy team for Barcelona and played the next three years for them up through U18. It was an amazing experience playing for the best club in Ecuador, one that I grew up idolizing. I had some great coaches, and one that I will always remember is Ronald Sanchez. He was my U16 coach at Barcelona and was the first person to explain to me what it took to play at that level. I wasn't as big or strong as many of the kids I was playing with in that first year, and he told me, "You have to be a killer if you want to stay here," and it stuck with me as I climbed the ranks up to the U18 team. It was a high level of play, and I needed to hear that kind of advice.
I had just graduated from high school and finished my U18 season with Barcelona when I got a call from the New York Red Bulls Academy. They had seen my highlight videos of my three seasons with Barcelona, and they invited me to try out for their U19 team. I saw that there could be a pathway to professional soccer for me through the Red Bulls, and I had just become an American citizen through my Mom. She was still living in New Jersey and had recently passed her citizenship test while I was a minor, so I became a citizen as well. I decided that it would be best for me to go try out for the Red Bulls.
"I can do this."
I was much more optimistic going to the United States the second time around, having lived there once before and knowing that I'd be playing soccer right away this time. Also, I had gotten used to South American football and it prepared me to play well with the Red Bulls. I had tasted some hard moments in Ecuador, so I was ready to face any competition in America. I made the Red Bulls U19 team for the 2019 season, and I was asked to start training with the second team just a few weeks in. This was when everything started to change for me.
The first day that I trained with the New York Red Bulls II (NYRB II), I didn't play very much. They mostly used me as a mannequin or a token defender, but they continued to ask for U19 players to come up to train and I was available to do so every day. Many of the other U19 players were still attending high school, but I had just graduated. I was not only available, but willing to play with both the U19s and the second team, and that's what I ended up doing every day. I would train with NYRB II from 12:00-2:00, stay there for five hours, then train with the U19s from 7:00-9:00. The more time I spent with the second team, the more I thought to myself "I can do this. I can play professionally." About a month and a half into the season, I found myself in the 18 man roster with NYRB II on April 17th, 2019 for a match against, coincidentally, Hartford Athletic. I made my professional debut in the 78th minute and we won the game 4-0.
I continued to train with both teams through that whole season, and I made my first professional start in June against Atlanta United II. It was a life changing year for me, and I am forever grateful for the time I had with the Red Bulls organization. At the end of the 2019 season, I did not get offered a contract with the club, so I decided to move on and pursue other opportunities.
"It was one of the proudest moments of my life."
A wrench got thrown into my plans when COVID-19 hit in 2020. The lockdown made it extremely difficult to find any opportunities with other clubs, so I had to train on my own and reach out to coaches myself. A few months into the pandemic, I was connected to School of Elite Football Training (or SEFT FC), a semi-professional club that plays in the Eastern Premier Soccer League. They still weren't playing games at the time, but I was offered to train in private sessions among players of very high quality. This eventually helped me get my name out to clubs as the 2021 season approached. David Cardenas was one of the SEFT FC coaches who made a huge impact on me. He would pick me up and take me to training every day, and his passion for the game was contagious. Bonny Londono is the owner of the club, and I'll never forget when he told me that I belonged on a professional team. After about eight months of playing and training with them, I had the opportunity to go to Hartford Athletic's 2021 open tryouts.
This was an exciting time for me because after months of training and struggle to grab the attention of a club, I finally had the opportunity to impress a coaching staff and earn a professional contract. I was invited to Hartford's preseason after playing in two tryouts, and I scored three goals over the two exhibition matches. I was playing some of my best soccer at the right time. A few weeks before the season started, I signed my first professional contract. It was one of the proudest moments of my career and life so far.
Ever since I saw those pickup games being played in the streets in Ecuador, all I've wanted to do is play soccer. It's been an incredible journey for me and my career, and I am far from finished. I was brought back to Hartford for a second season at the beginning of 2022 and I am very happy to be here. We've had our ups and downs over two seasons, but I stay positive every day and I am a firm believer that this club will do great things.