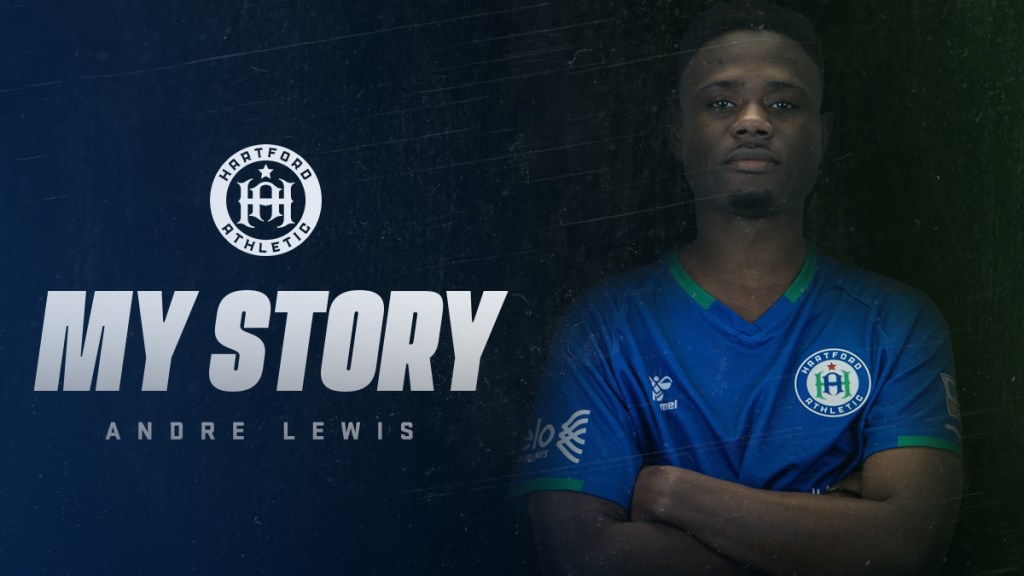 "From there, it has been my passion ever since."
My name is Andre Lewis and I was born on August 12, 1994 in Spanish Town, Jamaica. Despite being born in a hospital in Spanish Town, my true hometown was Portmore, a settlement that neighbor's Spanish Town on Jamaica's south east coast. Football is one of Jamaica's most popular sports today and it was no different when I was growing up.
I would play pickup games with my friends all the time. Whenever we were not in the classroom at school, we were outside kicking the ball around. It was always just for fun and never something I placed any significance on until I made my first organized team.
Everyday when I finished school, I would have to wait for my older brother before I could leave. One day when I was in third grade, my class ended for the day and I went to wait outside his classroom as usual. While I was waiting, a man walked into the room and I overheard him telling my brother's class that he was starting a football team at the school and encouraging them to join. On his way out, I asked him if I could be on the team. He could see I was small and younger than the other kids, but said that my skills on the field were all that mattered. Shortly after, I returned to the school with my brother for tryouts and made the fifth-grade team. As the season went on, I started playing more than some of my teammates, including my brother, who were two years older than me. Up until this point football had just been a hobby of mine. From there, it has been a passion of mine ever since.
I played on that team for the next few years, continuing to improve, until I reached first form, which is the equivalent to seventh grade in America. I started playing for my high school and community parish teams as well. I started out on the Under 14 and 16 squads before moving on to the highest level of Jamaican high school soccer: The Manning Cup.
"It was an unbelievable experience to represent my country on the world stage."
I played at Waterford High School before transferring to St. Georges College Secondary School for third form. At that point, word of my on-field aptitude had spread throughout the community. In my eyes, I was still just a kid playing a sport that I loved. However by that time, I had already been labeled as a young, talented prospect. That year, I was on St. Catherine's, my parish team, and we had an amazing year culminating in us winning the championship. The U-17 National team coaches watched us throughout the season and I impressed them enough to receive an invitation to camp. I was determined to make the team and play for my country.
The camps became increasingly more serious and the competition grew in turn. First they were local, then regional, and finally national. After each combine, the best players would be selected to move on to the next tryout. In Jamaica, Kingston and Saint Andrew typically produce the best players. When I reached the camp where I was competing against those players, I continued to succeed and proved to myself that I belonged on the team.
I made the Jamaican U-17 team in 2010 and we traveled to Brazil for a three-week training camp. We competed against Brazilian players and it was one of the first times in my life that I struggled on the field. For us in Jamaica, soccer was secondary to school, an activity that had to fit around our academic schedule. The Brazilians we competed against were part of an academy team, meaning they lived and breathed football. It was their priority before anything else and as a result they were more professional than us.
The camp got extended for another three weeks and playing there did wonders for both my own and my team's development. Playing against the Brazilian academy taught us so much and I saw tremendous growth in myself, both in my skills on the field and my attitude toward the game entirely. When we left after six weeks, I was a far better player than when I arrived and I remain extremely thankful for that opportunity.
When we returned home, we played in the CONCACAF Qualifiers for the U-17 World Cup, where I scored a goal in a match against Trinidad and Tobago. Our performance in the qualifiers earned us a spot in the World Cup itself and that was an amazing achievement. We were actually the first Jamaican team to ever qualify for the U-17 World Cup. I tallied a goal in our game against France and though we did not advance far, it was still an unbelievable experience to represent my country on the world stage.
"That was when I really started to take football seriously and see it as a realistic career."
Once I reached fifth form, I received a call-up to the Jamaican senior team and that was when my outlook on the sport changed. Despite winning championships and being able to play for my country, I never had a definite vision of football as a career path. These were all awesome experiences, but when they were over I returned to school and became a normal kid again. In Jamaica, we do not play in academies as young kids with intentions to play in the future, we play because we love football. I wanted to be a footballer when I grew up, but it was just a loose plan. I had no idea what that entailed or if it was truly possible.
When I got called up, the vague vision of myself as a professional footballer became much clearer. The senior team gave me true role models that I could relate to, learn from and use as examples of how to make soccer my career. I played with great players, such as Rudolph Austin, Luton Shelton, Donovan Ricketts, Jobi McAnuff, and many more. They all played football in Europe or the U.S. I saw their lifestyle first-hand, and knew that I wanted to be like them. That was when I really started to take football seriously and see it as a realistic career.
At this point, I had finished fifth form but I thought it was in my best interest to repeat and play for my school's Manning Cup team for another year. We were dominant the season prior in 2011. I captained the team and led us to an undefeated season where we won every tournament, including the Manning Cup itself. The following year, my repeat year, we were once again a top team and made our school back-to-back Manning Cup champions.
I was finished with high school and had played well enough to earn multiple scholarship opportunities to play at American colleges. They were very intriguing and I was going to accept one when my agent introduced me to the New York Cosmos. They wanted me to come train with them in the U.S. and it was the best route for me at the time. I traveled to New York and lived 100% football for the first time. There was no school or grades to worry about, my only focus was becoming a better player. Unfortunately, my time training with the Cosmos did not amount to a roster spot, but I still think of it as a very beneficial experience for me as both a player and person.
Though there was no roster spot with the Cosmos, the coach liked me and he, along with my agent, secured me a spot in the MLS Combine as an international invitee. I had been on holiday in Jamaica when I got the call from my agent. I was still deciding if I would go to college and had not been training, instead relaxing and spending time with my family. He asked me if I was in shape and I answered honestly, telling him I was not in playing shape as I had been enjoying my time off. He told me I better get in shape fast because in two weeks, I would be competing at the combine.
"There was not much hype around me to begin with, but it did not take long for coaches to start asking who I was."
I had been signed up as a left midfielder, but the coach at the combine did not have our position assignments, so he was asking us what positions we played. When he called center-mid, I looked around and nobody had raised their hand. Even though I was not registered as a center-mid, I raised my hand. Other players then followed suit and raised their hands too. The bold choice paid off because I was given the starting spot for the first game we played. I was the best player on the field for the first day. There was not much hype around me to begin with, but it did not take long for coaches to start asking who I was.
There was one day where we were invited to meet with teams and I was fortunate enough to receive interviews with 16 or 17 MLS clubs. They all told me they wanted me on their squad, but one team made an especially intriguing preposition. My family watched every game growing up and this team said my family would be able to come with me, but there was a catch: they wanted me to play left-mid. As a young kid, I really wanted to have my family there so on the last day of the combine I raised my hand to play left-mid.
One of the coaches pulled me aside and told me to look around at all the teams here to watch me with how well I had done at center-mid. He warned me that I was jeopardizing all those opportunities for just one. He was right, and I am so thankful he taught me this important lesson and saved me from making a grave mistake. I do not know what his name was, but I would still thank him to this day for being so kind and helpful.
"I finally achieved my dream of playing professionally."
Carl Robinson was the Vancouver Whitecaps coach at the time, and when I met with them, he said they were going to pick me and to tell every other team I was with Vancouver. He told me the truth,and when I watched the 2014 MLS Superdraft, I heard my name called with the Whitecaps seventh overall pick. I finally achieved my dream of playing professionally and it is still one of the happiest moments of my life.
My first year as a pro, I started on loan with the Charleston Battery. After a few months, I had been performing very well and I got a call from Coach Robinson. He congratulated me on my strong play and told me that he wanted to call me back to Vancouver to begin playing on the MLS side. Unfortunately, I tore my ACL shortly after this conversation, and I was sidelined for a long 11 months.
I returned to play midway through the next season and was sent on loan to bounce back from the injury. This time I went to the Whitecaps 2 team and did very well once again, succeeding both in games and fitness testing. I thought I deserved a shot in the MLS, but it was not in the cards for me at Vancouver, so I called my agent and told him I wanted to go to another team.
I signed with Portland Timbers 2 the next season and again performed very well. We missed the playoffs by one goal and after the year ended, I was invited to train with the first team prior to the 2017 season. I did great during preseason and continued this success into the regular season with Timbers 2. Coaches on the MLS side insisted that I was close to making the jump to the first team throughout the year. However, history repeated itself and I suffered another poorly timed injury, taking me off the field for six months.
In 2018, I returned to Timbers 2 for my third season with them. I had the second most appearances on the team and helped lead us to the playoffs. I was one of the best players on the team and was nearing a call up towards the end of the season, but disaster struck for a third time as I hurt my meniscus. After that season, the coaches had a talk with me and said they did not see me going up to the first team in the future.. Being in that organization was a fantastic football experience, but it was time for me to move on to something else. I did not have anymore to prove and did not want to settle for the second team.
"I proved to myself that I belonged."
By this time, the Gold Cup was approaching and I had not received calls from the Jamaican team. They had not seen much of me since I was far from home, so I decided to return to my roots and come back to play for Portmore United in 2019, my youth club. It proved to be the right decision, as we accomplished nearly everything we could that season, winning the Caribbean Cup and competing in the CONCACAF Champions League. This was also my first introduction to Hartford Athletic, as I played in and scored in a friendly between Portmore and Hartford during the inaugural 2019 season.
I also succeeded in my goal, as I was invited to compete for Jamaica in the CONCACAF Gold Cup and my first ever appearances for the Jamaican senior team, another dream come true. After working through many injuries and setbacks the past few seasons, this was very important to me. I proved to myself that I belonged and that I was meant to be a professional footballer.
I had accomplished what I set out to do, so I returned to the U.S. for 2020 and signed with Colorado Springs Switchbacks FC. Our team began the season strong, but we were interrupted by COVID-19 and did not have the same mojo when the year resumed. The next year, everything clicked. We played to the level we knew we were capable of and should have performed at throughout the Covid year. In fact, possibly my best game of that entire season came when we faced off against Hartford. I scored two goals in our 4-2 victory, just a knack for scoring against the Green and Blue. We qualified for playoffs and should have gone much further than we did. Orange County knocked us out in the first round and went on to win the tournament. We were the better team and could have won the championship, but they were the better team that day.
Now, I am in Hartford and excited about the team we have. There have been ups and downs, but there is still much more work to be done. One of my personal highlights was scoring in our 2-0 win over the Switchbacks. It was one of our best games all season and one of the moments I think we showed how talented a squad we are. Plus, it always means a bit more to triumph over your former club. The first portion of the season has not been easy, but I know this group is more than capable of finishing strong.