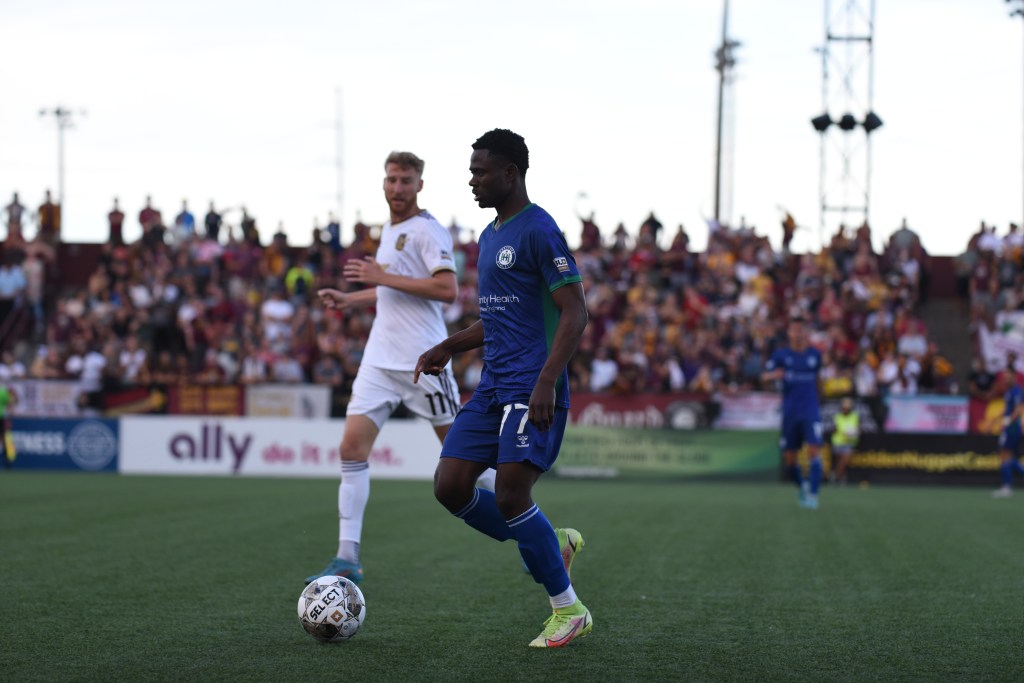 Hartford Athletic picked up their 16th point of the season after a 1-1 draw with Detroit City FC on the road.
Tonight's match started with consecutive scoring chances from both teams. In the fifth minute, Detroit forward Antoine Hoppenot faked a shot that fooled Conor McGlynn, found himself with space in Hartford's box and took his chance, just missing wide of the near post. In the following minute, Prince Saydee stayed onside for a pass from Andre Lewis and blasted a shot from just inside Detroit's box that forced Nathan Steinwascher to make a quality save. The pace of play slowed for a brief period, but Detroit struck first with a goal from Pato Batello Faz. It was a beautiful build up from Detroit, as Michael Bryant led a ball towards the Hartford end line for Antoine Hoppenot, who made a cross to Deklan Wynne, and he made the final pass to Botello-Faz at the doorstep.
Hartford found themselves retreating into their own third frequently after the Detroit goal, but their patience was rewarded with scoring chances at the end of the half. They generated their strongest chance in the 37th minute, when Younes Boudadi lobbed a cross into Detroit's box that fell to Prince Saydee, but he was dispossessed by a Detroit defender before getting a shot off. Danny Barrera tried his luck in stoppage time, looping a well-struck shot from about 25 yards out that challenged Steinwascher, and Andre Lewis headed a cross from Conor McGlynn that forced the Detroit keeper to make another save before the half.
The Green and Blue came out aggressively in the second half, sending more bodies and long balls forward immediately, and they got what they were looking for in the 57th minute. Peter-Lee Vassell, a half time substitute, chased down a high-arching ball from Andre Lewis in Detroit's third. Vassell staved off two Detroit defenders as he entered the box, fell to his back side, kept possession and found Lewis on the other side of the box, who tapped a goal into the bottom left corner of the net. A brilliant display from the Jamaican teammates, Vassell for having the presence of mind to find Lewis across the box after losing his footing, and Lewis for hustling into the box after making the initial pass to Vassell. It was Lewis' second goal of the season, and his second in as many weeks.
Detroit quickly responded, creating a three-shot scoring chance in the 59th minute, with one of those shots being blocked by Conor McGlynn, another by Tulu, and the final one being saved by Oettl. Hartford took just one more shot after the Vassell goal, but they controlled second half possession (57.2% to 42.8%) and defended well in their third, making 23 total clearances. Tulu led the team with 10 of those clearances, Brewitt had 7, and the two of them stood strong on the Hartford backline while blocking multiple shots as well.
Pato Batello-Faz had a chance to record a brace, but he missed a game-winning opportunity in the 89th minute. A deflection fell to him for his second doorstep opportunity of the night, but he didn't strike the ball well enough and his shot went wide of the net.
Detroit took 14 shots after the Vassell goal, three of them on target and six of them blocked by Green and Blue defenders. Yannik Oettl made three saves, his best one coming in the 73rd minute when Devon Amooh-Mensah struck a ground shot towards the near post. Oettl was well-positioned and made a quality diving save with his right hand.
Hartford Athletic return home for a matchup with the Tampa Bay Rowdies this Saturday, July 9th at Trinity Health Stadium at 7:00 ET.
FAST STATS:
Shots (On-Target): Hartford 9 (4) – Detroit 20 (4)
Corners: Hartford 6 – Detroit 6
Fouls: Hartford 16 – Detroit 7
Offsides: Hartford 0 – Detroit 1
Possession: Hartford 56.4% – Detroit 43.6%
Passing Accuracy: Hartford 84.5% – Detroit 75.4%
Saves: Hartford 3 – Detroit 3
SCORING SUMMARY:
20′ – Botello-Faz (Wynne)
57′ – Lewis (Lee-Vassell)
DISCIPLINARY SUMMARY:
16′ – Tulu (Yellow)
89′ – Martínez (Yellow)
HARTFORD ATHLETIC STARTING LINEUP:
13 (GK) Yannik Oettl, 2 (DF) Younes Boudadi, 4 (DF) Tulu, 5 (DF) Tom Brewitt, 30 (MF) Joel Johnson 10 (MF) Danny Barrera, 11 (MF) Luka Prpa (Martínez, 70′); 28 (MF) Conor McGlynn, 77 (MF) Andre Lewis (Dally, 82′); 7 (FW) Prince Saydee (Vassell, 45′); 9 (FW) Juan Carlos Obregón Jr. (Hertzog, 67′)
DETROIT CITY FC STARTING LINEUP:
1 (GK) Nathan Steinwascher, 30 (DF) Devon Amoo-Mensah, 5 (DF) Stephen Carroll (Williams, 42′); 22 (DF) Karl Ouimette, 20 (DF) Deklan Wynne, 8 (MF) Abdoulaye Diop, 6 (MF) Brad Dunwell (Rodríguez, 67′); 12 (MF) Michael Bryant, 11 (MF) Connor Rutz, 19 (FW) Pato Botello Faz, 29 (FW) Antoine Hoppenot (Atuahene, 67′)