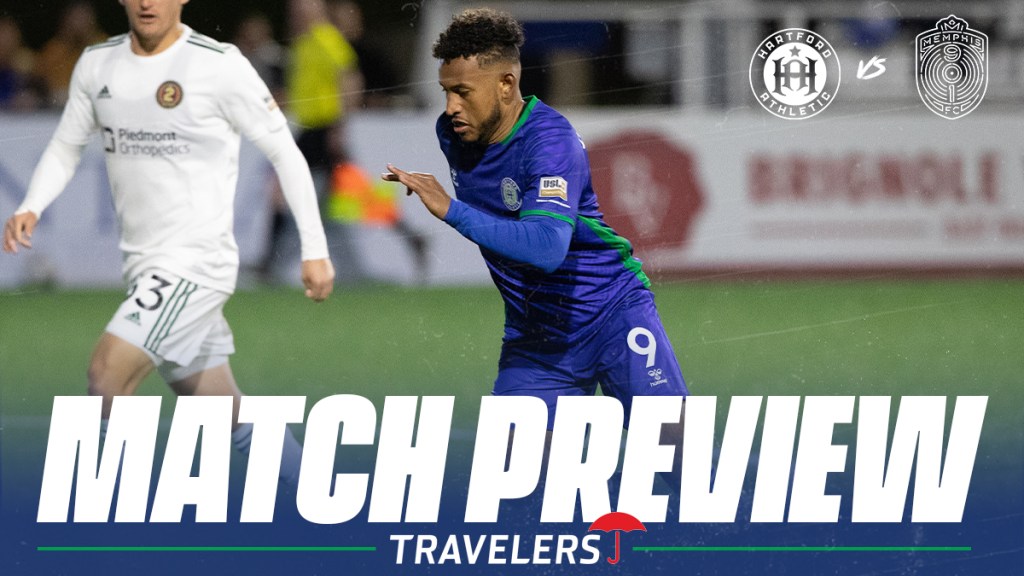 Returning home after a long trip to San Diego, Hartford Athletic will face off with Memphis 901 FC on Wednesday night.
PRESENTED BY TRAVELERS
Date: Wednesday, June 15th, 2022
Time: 7:00 PM ET
Location: Trinity Health Stadium, Hartford, Connecticut
Tickets: Here
Local TV: WCTX MyTV9
Streaming: ESPN+ or hartfordathletic.com/watch
HARTFORD ATHLETIC (2-8-2) vs MEMPHIS 901 FC (9-3-1)
LAST TIME OUT
Hartford Athletic are returning home after two long road trips. On June 4, they ventured to El Paso, TX to grab one point in a 1-1 tie with El Paso Locomotive FC. Most recently, Hartford made the cross-country haul this past Saturday to face off against San Diego loyal SC. They suffered a 3-0 loss, as San Diego controlled play in their attacking third from the start of the game and broke the tie with a strike from Charlie Adams in the 29th minute. Loyal added to their lead in the 44th minute when Thomas Amang chased down a long ball from Alejandro Guido. They'd score one more time on an own goal, as a ball deflected off of Rashawn Dally and into Hartford's net in the 83rd minute. Hartford had seven shots and 45 final third entries, but were unable to ruin San Diego's clean sheet.
GOOD TO BE HOME
Wednesday's contest will mark Hartford's first home game since they suffered a 2-1 loss to Phoenix Rising FC at Trinity Health Stadium on May 28. The past two weeks were two difficult road trips, long flights and strong opponents. They earned a 1-1 tie in the Lone Star State with El Paso Locomotive FC on June 4 and then suffered a 3-0 defeat at San Diego this past Saturday. Returning home will be a welcome change for the team, as both of Hartford's wins have come at Trinity Health Stadium this season.
FROM THE GAFFER
FROM THE SKIPPER
PLAYERS TO WATCH:
Hartford Athletic, Juan Carlos Obregón Jr., FW #9
Juan Carlos Obregón Jr. has returned for Hartford Athletic after missing two months with a knee injury that required surgery. He made his first appearance since April 7th in last Saturday's 3-0 loss to San Diego, playing 17 minutes. His absence was significant for Hartford, as the Honduran striker had 10 goals for the Green and Blue in 2021 and scored in the first game of this season against Pittsburgh. Back at home, Obregón will have a chance to help his squad pull off an upset against top seeded Memphis.
Memphis 901 FC, Phillip Goodrum, FW #10
Phillip Goodrum currently leads Memphis with seven goals and two assists. He's been a consistent goal scorer, putting together an impressive three game stretch from May 18th to June 4th in which he scored in each game, bagging four goals total. In week 11, he earned Player of the Week honors for a two goal and two assist performance across two games.
ABOUT THE OPPONENT
Memphis 901 FC's last outing was a 1-0 loss to the Birmingham Legion on Wednesday, June 8. It was only the second shutout Memphis has suffered in USL Championship league play, with the other coming in a 3-0 loss to the Pittsburgh Riverhounds in their first match of the season. Memphis is skilled on the offensive side of the ball, tied for third in the USL Championship with 27 goals on the season. They are led by forward Phillip Goodrum who is also tied for third in the USL Championship with 7 goals. Despite being among the league leaders in goals, Memphis is in the middle of the pack in shots with 162, proving that they convert their scoring chances at a high rate.
INJURY REPORT:
Hartford Athletic:
Out: Ariel Martinez (Achilles), Damon Rouse (Concussion), Tulu (Hip
Memphis 901 FC:
Out: Matt Brucker (L Knee/ACL), John Berner (R achilles), Luarent Kissiedou (R adductor)
JOIN THE CONVERSATION:
Follow along on twitter @hfdathletic and #HFDvMEM