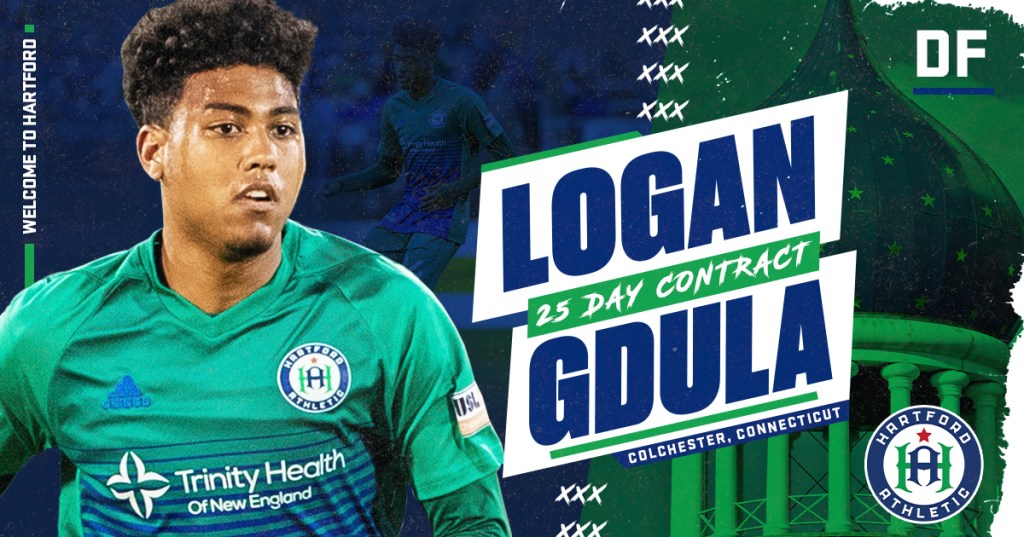 Hartford Athletic have signed Connecticut native Logan Gdula to a 25-day contract. The 25-year old defender was the 13th overall pick in the 2019 MLS SuperDraft.
This is the second time that Gdula will play for the Green and Blue. He was acquired by the club on loan from FC Cincinnati in 2019. He totaled 1,281 minutes across 14 starts for Hartford, taking six shots and scoring a goal.
"As we continue our pursuit of top local talents, we're very happy that we're able to bring Logan in and have him compete with our group of defenders," said head coach Harry Watling. "Logan has a great opportunity to prove himself on the pitch and earn his way into the squad for the remainder of the season. He is incredibly talented and can be another quality addition to our back line. I'm looking forward to seeing what he brings us."
Gdula spent the last two seasons with the Charleston Battery, where he played just under 3,000 minutes across 36 appearances. He helped the club to the Eastern Conference semifinals in 2020.
"I'm excited to be back in Hartford playing close to home again," said Gdula. "I had a great experience here in 2019, and I've seen how the club and organization has grown over four years. I'm looking forward to getting out on the pitch with this group and playing in front of the Hartford fans."
A native of Colchester, Connecticut, Gdula played for Oakwood Academy and went on to play at Wake Forest University, where he helped the Demon Deacons post 46 shutouts across four seasons.
Hartford Athletic return to action on Saturday night, May 14th, when they host New York Red Bulls II at 7 PM at Trinity Health Stadium. Tickets are on sale at hartfordathletic.com/tickets.
ABOUT HARTFORD ATHLETIC
Hartford Athletic is Connecticut's professional soccer team competing in the United Soccer League. Our mission is to provide a world-class professional soccer experience and build community through the beautiful game.
Go to HartfordAthletic.com for more information and follow on Instagram, Twitter, and Facebook for exclusive content and updates.