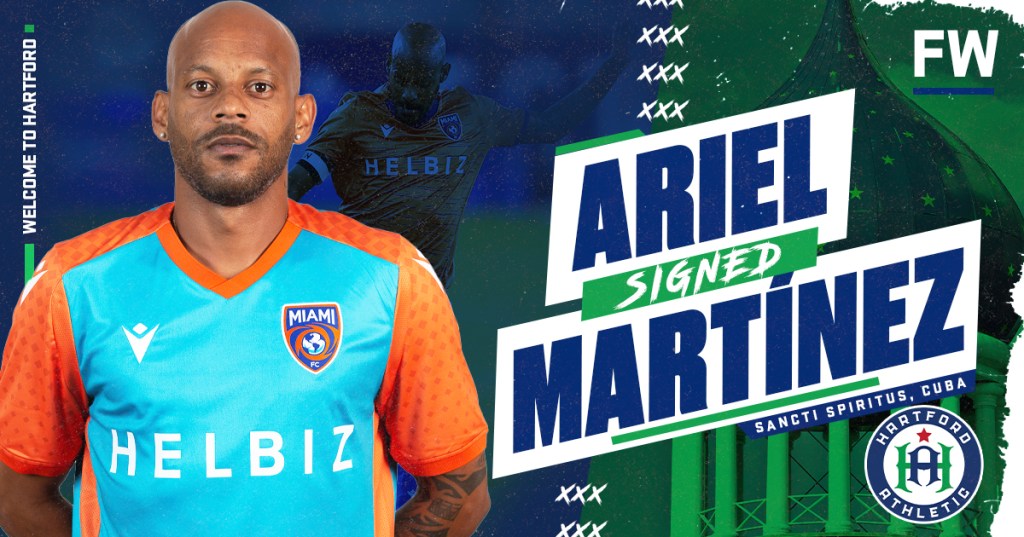 Hartford Athletic have signed forward Ariel Martínez for the remainder of the 2022 season, pending league and federation approval.
Martínez has played in the USL Championship with the Charleston Battery, FC Tulsa, and most recently with Miami FC in 2021. The Cuban forward tallied six goals and seven assists in a quality 2021 campaign. 
Born in Sancti Spíritus, Cuba, the 35-year-old is one of the most experienced international players of his generation, collecting 34 goals across 58 starts for Cuba on the international stage. Martínez made his American soccer debut with the Charleston Battery in 2015 after defecting from Cuba during the 2015 Gold Cup. From 2016 up to 2020, he played four seasons with Miami FC as they transitioned from the NASL, NPSL, and NISA before becoming a USL Championship club in 2020. Across those four seasons, Martínez had 23 goals with 16 assists, and helped lead the club to an NISA Eastern Conference Championship in 2019.
Hartford Athletic will host the New York Red Bulls in the third round of the U.S. Open Cup on Wednesday, April 20 at 7:00PM.
ABOUT HARTFORD ATHLETIC
Hartford Athletic is Connecticut's professional soccer team competing in the United Soccer League. Our mission is to provide a world-class professional soccer experience and build community through the beautiful game.
Go to HartfordAthletic.com for more information and follow on Instagram, Twitter, and Facebook for exclusive content and updates.