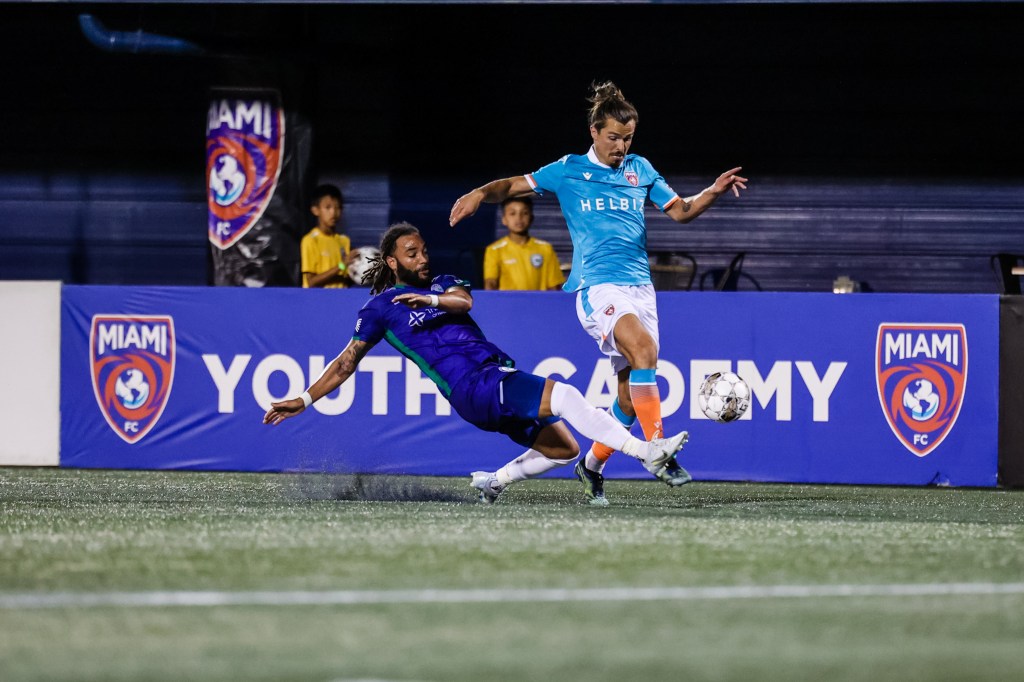 Hartford Athletic showed great determination for an equalizer after conceding early, but their second half scoring woes continued as they fell to Miami FC 2-0 on the road.
Despite having the upper hand in possession in the first half of tonight's match, Miami FC were able to generate more chances than Hartford, and it showed early on. Jimmy Slayton, making his first start in USL Championship play this season, made a high quality save in the 13th minute off a shot from Kyle Murphy from inside the box. Just two minutes later, it was Murphy getting in behind Hartford's back line, scampering past Slayton, and tapping in an easy finish into the open net to give Miami an early lead. Hartford had a strong response despite not scoring, as they generated four corner kicks. Their biggest chance came on an ambitious strike from Ash Apollon, who was given space from about 30 yards out and fired a shot on target that was saved by Connor Sparrow and deflected off the post. Defensively, Modou Jadama played a major role in keeping Miami's lead at just one, as he made four clearances and shut down several offensive opportunities.
Behind some admirable determination from Joel Johnson, the Green and Blue got to work immediately in the second half. Not even a minute in, Johnson created a chance for Rashawn Dally on a strong cross from outside the box, but Dally's header was well contested and went just wide of the net. In the 58th minute, Johnson found Dally for another header that was saved. Hartford would go on to out shoot Miami seven to three in the second half and record 12 touches in their box, but the effort was not enough to find a goal. In the 87th minute, Romeo Parks provided the knockout blow to Hartford with Miami's second goal.
Hartford Athletic come back home for two matches next week. They'll host one of the biggest matches in club history against the New York Red Bulls in the third round of the U.S. Open Cup on Wednesday, and take on Detroit City FC on Saturday, April 23rd at 7:00PM.
FAST STATS:
Shots (On-Target): Hartford 9 (2) – Miami 9 (5)
Corners: Hartford 9 – Miami 3
Fouls: Hartford 14 – Miami 8
Offsides: Hartford 2 – Miami 1
Possession: Hartford 56% – 44% Miami
Passing Accuracy: Hartford 87.7 % – 83.5% Miami
Saves: Hartford 3 – 2 Miami
SCORING SUMMARY:
16′ – Murphy (Craig)
87 – Parkes (Walker)
DISCIPLINARY SUMMARY:
6′ – Vassell (Yellow)
10′ – Valot (Yellow)
HARTFORD ATHLETIC STARTING LINEUP:
31 (GK) Jimmy Slayton, 4 (DF) Tulu (Boudadi, 71′); 5 (DF) Tom Brewitt, 7 (FW) Prince Saydee (O'Brien, 84′); 8 (MF) Peter-Lee Vassell (Prpa, 71′); 10 (MF) Danny Barrera (McGlynn, 71′); 14 (DF) Ash Apollon, 18 (FW) Rashawn Dally (Curry, 61′); 23 (DF) Modou Jadama, 30 (DF) Joel Johnson, 77 (MF) Andre Lewis
MIAMI STARTING LINEUP:
24 (GK) Connor Sparrow, 12 (DF) Aedan Stanley (Othello, 61′); 5 (DF) Paco Craig (Junior Palacios, 46′); 22 (DF) Benjamin Ofeimu, 96 (DF) Mark Segbers, 30 (MF) Boluwatife Akinyode, 80 (MF) Devon Williams, 98 (MF) Pierre da Silva, 10 (FW) Florian Valot (Dowouna, 86′) 7 (FW) Josh Perez (Walker, 69′) 9 (FW) Kyle Murphy (Parkes, 69′)