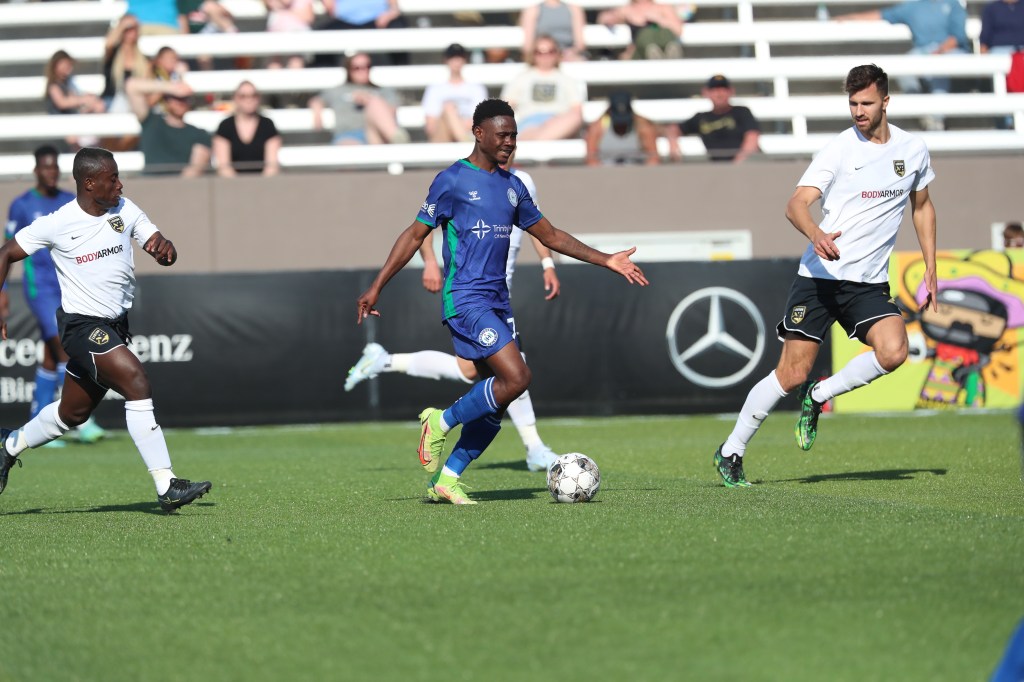 Anderson Asiedu's goal in stoppage time sealed three points for the home squad despite Hartford's strong second half effort.
Hartford Athletic spent the majority of the first half of tonight's match defending in their own end, as 42% of the game's possession was spent in Hartford's third through the first 15 minutes. The Legion hit woodwork twice early on, as Juan Agudelo headed a cross off the left post and Anderson Asiedu floated a backspinning shot off the crossbar from about 20 yards out. A defensive unit that was bending eventually broke for Hartford in the 37th minute, when Mikey Lopez was awarded a penalty inside Hartford's 18 after taking some contact from Ash Apollon. Juan Agudelo took the penalty and converted it calmly, giving Birmingham a well-deserved 1-0 lead. Conceding seemed to spark the Green and Blue, as Hartford answered just six minutes later after several touches in Birmingham's box. After a run from Joel Johnson and a touch pass from Rashawn Dally, Andre Lewis made a brilliant cross to the back post for Apollon, who struck the ball perfectly into the bottom left corner of the net. After nearly 40 minutes of playing on the back foot and being outshot 12 to three, Hartford was able to carry a tie game and some momentum into the locker room.
The second half was played more on Hartford's front foot, as they fired six shots and nearly tripled their final third entries compared to the first half (9 in the first half, 26 in the second). Unfortunately, the effort was not enough to find a second goal. The game stayed tied into stoppage time, and Austin Pack made an incredible save with his right hand to keep Hartford's hopes of earning a point alive. However, on the following corner kick, Anderson Asiedu found space and headed home the game winning goal for Birmingham in the 93rd minute.
A frustrating loss for Hartford, they'll look to bounce back next Saturday as they go back on the road to face Miami FC.
FAST STATS:
Shots (On-Target): Hartford 9 (2) – Birmingham 19 (5)
Corners: Hartford 5-0 Birmingham
Fouls: Hartford 14-8 Birmingham
Offsides: Hartford 4-2 Birmingham
Possession: Hartford 35.9%-64.1% Birmingham
Passing Accuracy: Hartford 84.8% – Birmingham 82.8%
Saves: Hartford 3 – Birmingham 1
SCORING SUMMARY:
38′ – Juan Agudelo
43′ – Ash Apollon (Andre Lewis)
93′ – Anderson Asiedu (Enzo Martinez)
DISCIPLINARY SUMMARY:
24′ – Thomas Vancaeyezeele (Yellow)
30′ – Andre Lewis (Yellow)
31′ – Prosper Kasim (Yellow)
36′ – Ash Apollon (Yellow)
53′ – Juan Agudelo (Yellow)
88′ – Younes Boudadi (Yellow)
90+5′ – Matt Van Oekel (Yellow)
HARTFORD ATHLETIC STARTING LINEUP:
1 (GK) Austin Pack, 5 (DF) Tom Brewitt, 23 (DF) Modou Jadama, 30 (DF) Joel Johnson, 14 (MF) Ashkanov Apollon (Younes Boudadi 86′); 77 (MF) Andre Lewis, 10 (FW) Danny Barrera, (FW), 7 (FW) Prince Saydee (Mitchell Curry, 76′); 4 (DF) Tulu, 18 (FW) Rashawn Dally (Conor McGlynn, 61′) 11 (MF) Luka Prpa (Peter-Lee Vassell, 41′)
BIRMINGHAM LEGION STARTING LINEUP:
1 (GK) Matt Van Oekel, 3 (DF) Phanuel Kavita, 27 (DF) Thomas Vancaeyezeele, 21 (DF) Alex Crognale, 24 (DF) Jonathan Dean, 6 (MF) Anderson Asiedu, 19 (MF) Enzo Martinez, 5 (DF) Mikey Lopez, 8 (Ryan James, 74′); (MF) Bruno Lapa (Marlon, 66′) (Grayson Dupont, 90+7′); 99 (FW) Juan Agudelo (Edi Horvat, 66′); 10 (FW) Prosper Kasim (Amadou Diop, 83′)