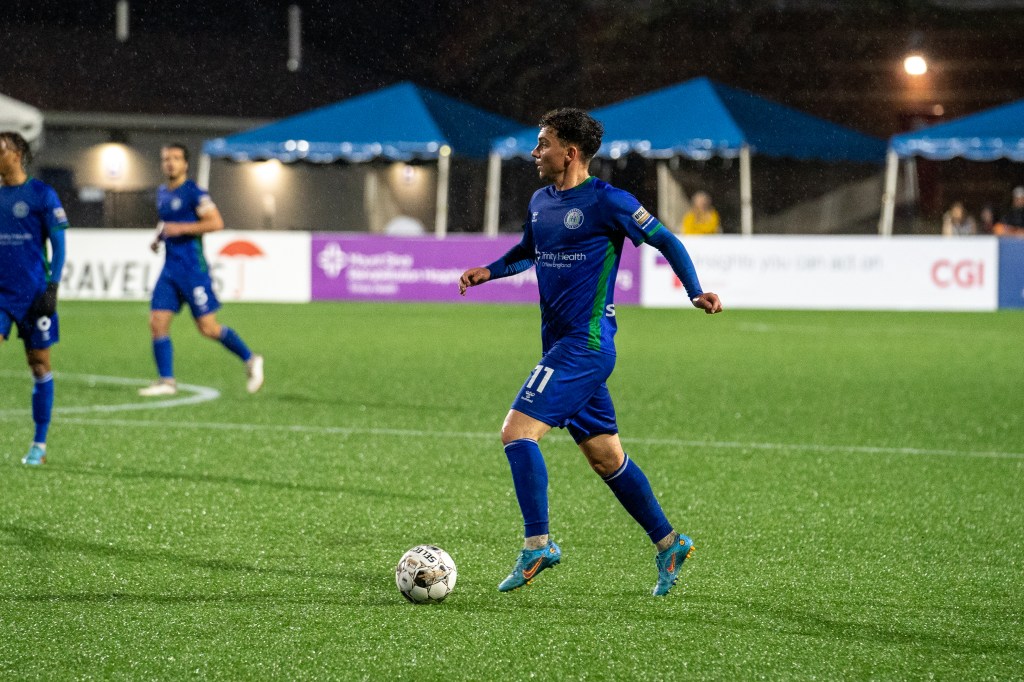 Hartford Athletic netted three goals in the second half to record their first home win of 2022 and advance to the round of 32 in the U.S. Open Cup.
Neither team had a clear edge in the first half of tonight's matchup. Hartford outpossessed Oyster Bay in the first 45, 59% to 40%, but saw few quality offensive opportunities. A key blocked shot was made by Modou Jadama to keep the score tied early on, but no shots were put on goal for either team. Mitchell Curry had Hartford's most threatening opportunity of the half in stoppage time, after a ball deflected off of an Oyster Bay defender and right to Curry's feet, but his shot was off target.
A quiet first half made for an eventful second half as rain began to come down harder at Trinity Health Stadium. Hartford got on the board with a Joel Johnson goal off a brilliantly executed corner kick in the 50th minute. Luka Prpa fed a perfect ball to Johnson, who finished with a header into the bottom left corner of the goal. Just seven minutes later, Oyster Bay's Sebsatian Ruiz was awarded a penalty inside Hartford's box, and Junior Rosero scored the penalty kick. 
Hartford responded well to conceding the penalty, as their offense remained aggressive. Tom Brewitt had a quality chance in the 68th minute on yet another well executed corner kick for Hartford, as he found space and headed a feed from Danny Barrera just over the crossbar. In the 70th minute, Luka Prpa came to the rescue for the Green and Blue. After a cross from Ash Apollon that Oyster Bay's keeper dove off his line to deflect, Prpa took advantage of the opportunistic rebound and gave Hartford a 2-1 lead, adding a goal to his assist earlier in the match. Prince Saydee added the icing on the cake for Hartford, slotting a goal from the right side of the box after a long run and a lead pass from Rashawn Dally, who picked up the assist.
A much needed win for Hartford at home, they'll look to carry some momentum into Birmingham this Sunday, where they'll continue their USL Championship schedule.
FAST STATS:
Shots (On-Target): Hartford 14 (5) – Oyster Bay 13 (3)
Corners: Hartford 8 Oyster Bay 1
Fouls: Hartford 10 Oyster Bay 6
Offsides: Hartford 5 Oyster Bay 0
Possession: Hartford 59.3% Oyster Bay 40.7%
Passing Accuracy: Hartford 89.3% Oyster Bay 81%
Saves: Hartford 2 Oyster Bay 2
SCORING SUMMARY:
50′ Joel Johnson (Luka Prpa)
59′ Junior Rosero
70′ Luka Prpa
DISCIPLINARY SUMMARY:
19′ – Peter-Lee Vassell (Yellow)
55′ – Tulu (Yellow)
83′ – Joel Johnson (Yellow)
90′ – Jimmy Slayton (Yellow)
HARTFORD ATHLETIC STARTING LINEUP:
31 (GK) Jimmy Slayton, 4 (DF) Tulu, 5 (DF) Tom Brewitt, 23 (DF) Modou Jadama, 30 (DF) Joel Johnson, 8 (MF) Peter-Lee Vassell (Conor McGlynn, 60′); 11 (MF) Luka Prpa, 14 (DF) Ash Apollon, 25 (Damon Rouse, 94′); (MF) Pearse O'Brien (Danny Barrera, 60′); 9 (FW) Juan Carlos Obregón Jr. (Rashawn Dally, 45′); 17 (FW) Mitchell Curry (Prince Saydee, 60′)
ATLANTA UNITED 2 STARTING LINEUP:
1 (GK) Jean Perez, 2 (DF) Milorod Sabot, 8 (DF) Akeem Morris, 7 (FW) Sebastian Ruiz, 9 (FW) Junior Rosario, 14 (MF) Franco Paz, 15 (FW) Delwin Hernandez (J. Jameis, 53′); 17 (MF) Wilber Gomez (R. Saybolt, 78′); 37 (DF) Jeison Solano, 13 (DF) Dillon Woods, 21 (MF) Said Giorgini