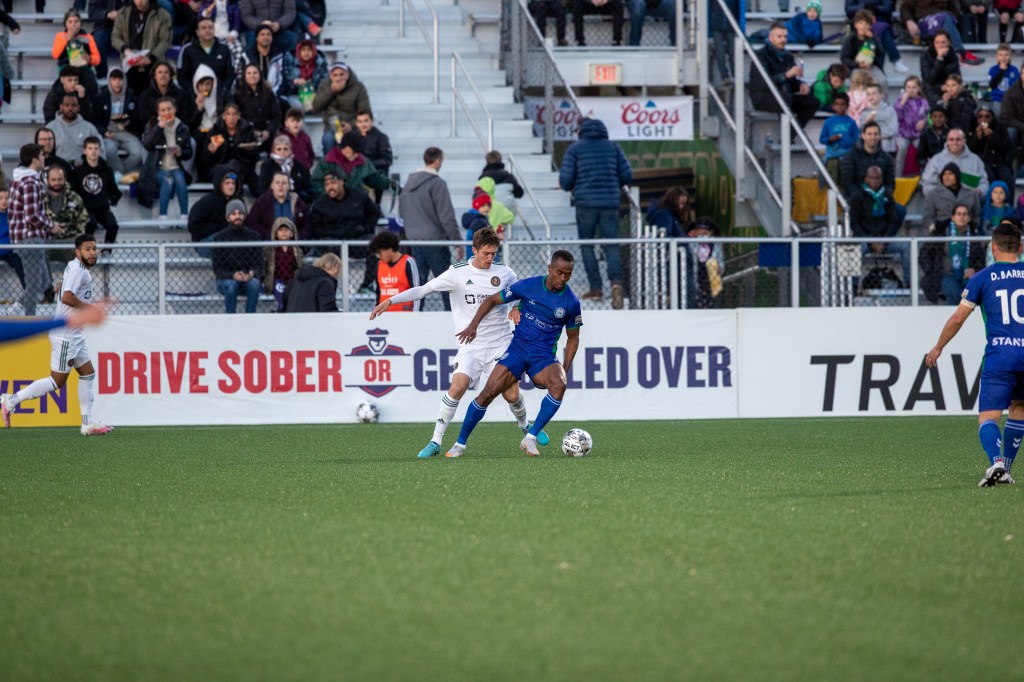 Hartford Athletic dropped their home opener to Atlanta United 2, losing 2-1 after going down 2-0 early in the second half.
Despite conceding in stoppage time, Hartford looked very comfortable and on the front foot in the first half. They outshot Atlanta nine to four, putting three on target and consistently working Atlanta goalkeeper Justin Garces. Two of their most threatening opportunities came from Juan Carlos Obregón Jr. who put a header on net off a feed from Andre Lewis, and fired a shot that required a diving save from Garces in the 33rd minute. There were several quality balls delivered into Atlanta's half, as Hartford had 29 first half final third entries and 10 touches inside their 18. The final action and finishing ability was just not executed, and Atlanta capitalized on that in stoppage time when Nick Firmino buried a header past Austin Pack, deflating Hartford's home crowd just before the half.
A frustrating end to the first half carried over into the second 45 for Hartford when Nick Firmino found the back of the net for a second time in the 57th minute, this time assisted by Erik Centeno. He fed a long ball across from a difficult angle near Hartford's end line and found Firmino at the far post who buried yet another header past Austin Pack. Hartford brought the lead down to one on an own goal that was deflected off an Atlanta defender and over Justin Garces after Younes Boudadi delivered a ball into the box. Hartford out-possessed Atlanta in the second half (56.9% to 43.1%) and even had a near equalizer from Austin Pack in stoppage time. The goalkeeper was brought up as a 12th man for Hartford's final free kick and put a header on target that was saved by Garces. The Green and Blue outshot Atlanta in total as well (18 to 8), but the offensive effort was not enough.
Hartford Athletic will host Oyster Bay United FC on Thursday, April 7th next week in Lamar Hunt U.S. Open Cup play. They'll go back on the road to Birmingham Legion on Sunday to finish out a two-game week.
FAST STATS:
Shots (On-Target): Hartford 18 (5) – 8 (3) Atlanta
Corners: Hartford 5-0 Atlanta
Fouls: Hartford 14-8 Atlanta
Offsides: Hartford 4-2 Atlanta
Possession: Hartford 35.9%-64.1% Atlanta
Passing Accuracy: Hartford 50% – 50% Atlanta
Saves: Hartford 1-5 Atlanta
SCORING SUMMARY:
45+1′ – Nick Firmino (Robbie Mertz)
58′ – Nick Firmino (Erik Centeno)
70′ – Own goal
DISCIPLINARY SUMMARY:
23′ – Brendan Lambe (Yellow)
45′ – Tom Brewitt (Yellow)
74′ – Aiden McFadden (Yellow)
78′ – Robbie Mertz (Yellow)
87′ – Ash Apollon (Yellow)
88′ – G. Howard (Yellow)
HARTFORD ATHLETIC STARTING LINEUP:
1 (GK) Austin Pack ,2 (DF) Younes Boudadi, 5 (DF) Tom Brewitt, 23 (DF) Modou Jadama, 30 (DF) Joel Johnson 20 (MF) Christian Gomez (Ashkanov Apollon, 56′) 28 (MF) Conor McGlynn 77 (Luka Prpa, 45′); (MF) Andre Lewis, 10 (FW) Danny Barrera 9, (FW) Juan Carlos Obregón Jr. (Mitchell Curry, 65′); 7 (FW) Prince Saydee (Jeciel Cedeno, 78′)
ATLANTA UNITED 2 STARTING LINEUP:
25 (GK) Justin Garces, 2 (DF) Aiden McFadden, 39 (DF) Noah Cobb, 33 (DF) Michael Ambrose, 29 (MF) Nick Firmino (Alan Carelton, 97′); 34 (MF) Brendan Lambe, 14 (MF) Robbie Mertz, 31 (MF) Erik Centeno, 37 (FW) Jonantan Villal (Ajani Fortune, 60′); 11 (FW) David Mejia (Grant Howard, 65′); 41 (FW) Luke Brennan (Darwin Matheus, 45′)