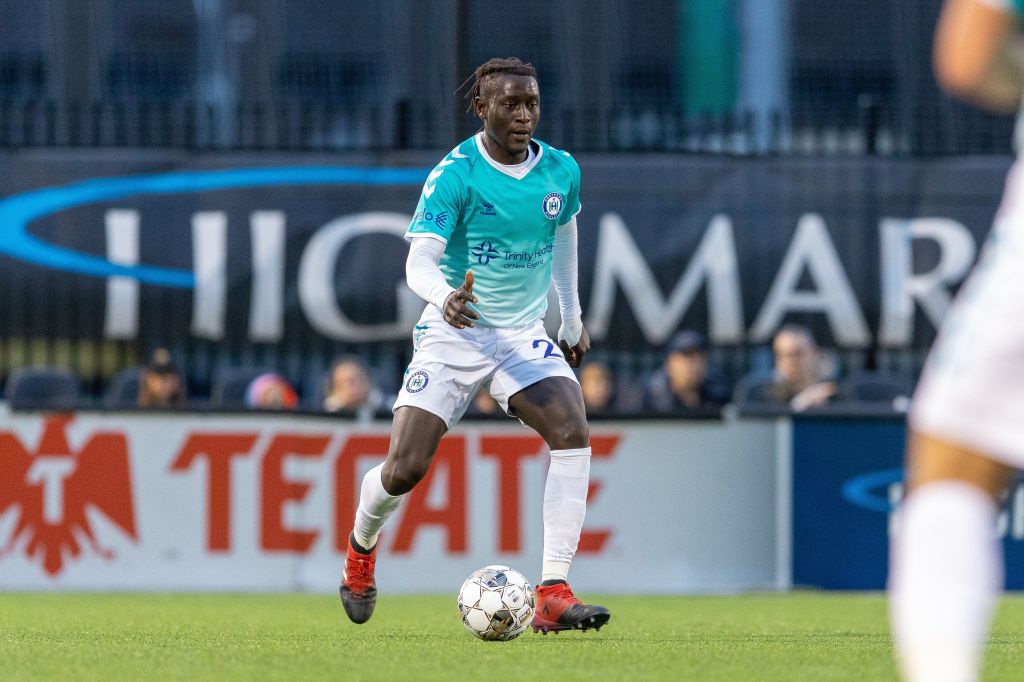 Down to 10 men from the 40th minute forward, Hartford Athletic dropped their season opener 2-1 on the road to the Pittsburgh Riverhounds.
In a game where there were a total of seven yellow cards handed out, the first half of the match was chaotic for Hartford Athletic. Robby Dambrot got Pittsburgh on the board in the 12th minute, and a yellow card was issued to Peter-Lee Vassell six minutes later that would end up looming large. Pittsburgh's offense would threaten again, as they found the back of the net in the 39th minute, but fortunately for Hartford, Dane Kelly was marked just offsides by about a foot. Just one minute later, Conor McGlynn booted a long pass to Prince Saydee who took a quality touch and crossed a pass that found the foot of a streaking Juan Carlos Obregon Jr. who finished the equalizing goal. Right when it looked like Hartford was going to take some momentum into the locker room despite not playing their best soccer in the first half, a game changing second yellow card and subsequent ejection was issued to Peter-Lee Vassell in the 40th minute.
Down to 10 men, the second half was already set to be an uphill climb for Hartford, but that climb got even steeper after a stunner of a goal from Pittsburgh's Kenardo Forbes from just outside the box that gave the Hounds a 2-1 lead. Hartford fought hard to keep Pittsburgh lead at one and nearly equalized for a second time off a brilliant set piece in the 93rd minute. Andre Lewis fed a great ball to Jeciel Cedeno, who's shot was blocked, and Younes Boudadi made a second attempt that got blocked as well.
Hartford Athletic head to Tampa Bay next Saturday, March 26th looking to bounce back against the Rowdies.
FAST STATS:
Shots (On-Target): Hartford 10 (2) – 12 (4) Pittsburgh
Corners: Hartford 5-3 Pittsburgh
Fouls: Hartford 7-17 Pittsburgh
Offsides: Hartford 1-2 Pittsburgh
Possession: Hartford 38.5%-61.5% Pittsburgh
Passing Accuracy: Hartford 74.5%-86.4% Pittsburgh
Saves: Hartford 2-0 Pittsburgh
SCORING SUMMARY:
12′ – Robbie Dambrot 0-1
40′ – Juan Carlos Obregón Jr. (Prince Saydee) 1-1
51′ – Kenardo Forbes (Dane Kelly) 1-2
DISCIPLINARY SUMMARY:
17′ – Alex Dixon (Yellow)
18′ – Peter-Lee Vassell (Yellow)
34′- Andre Lewis (Yellow)
41′ – Peter-Lee Vassell (Red)
45+1′ – Mekiel Williams (Yellow)
68′ – Toby Sims (Yellow)
90+1′ – Angelo Kelly (Yellow)
HARTFORD ATHLETIC STARTING LINEUP:
1 (GK) Austin Pack; 2 (DF) Younes Boudadi, 5 (DF) Tom Brewitt, 23 (DF) Modou Jadama, 30 (DF) Joel Johnson (Jeciel Cedeño, 80′); 8 (MF) Peter-Lee Vassell, 28 (MF) Conor McGlynn (Luka Prpa, 80′), 77 (MF) Andre Lewis; 10 (FW) Danny Barrera (Ash Apollon, 66′), 9 (FW) Juan Carlos Obregón Jr. (Rashawn Dally, 57′), 7 (FW) Prince Saydee
PITTSBURGH RIVERHOUNDS STARTING LINEUP:
31 (GK) Chase Vosvick; 5 (DF) Mekiel Williams, 15 (DF) Arturo Osuna, 16 (DF) Toby Sims, 27 (DF) Jelani Peters; 12 (MF) Danny Griffin, 11 (MF) Kenardo Forbes, 22 (MF) Robbie Dambrot; 7 (FW) Alex Dixon, 29 (FW) Dane Kelly, 10 (FW) Russell Cicerone