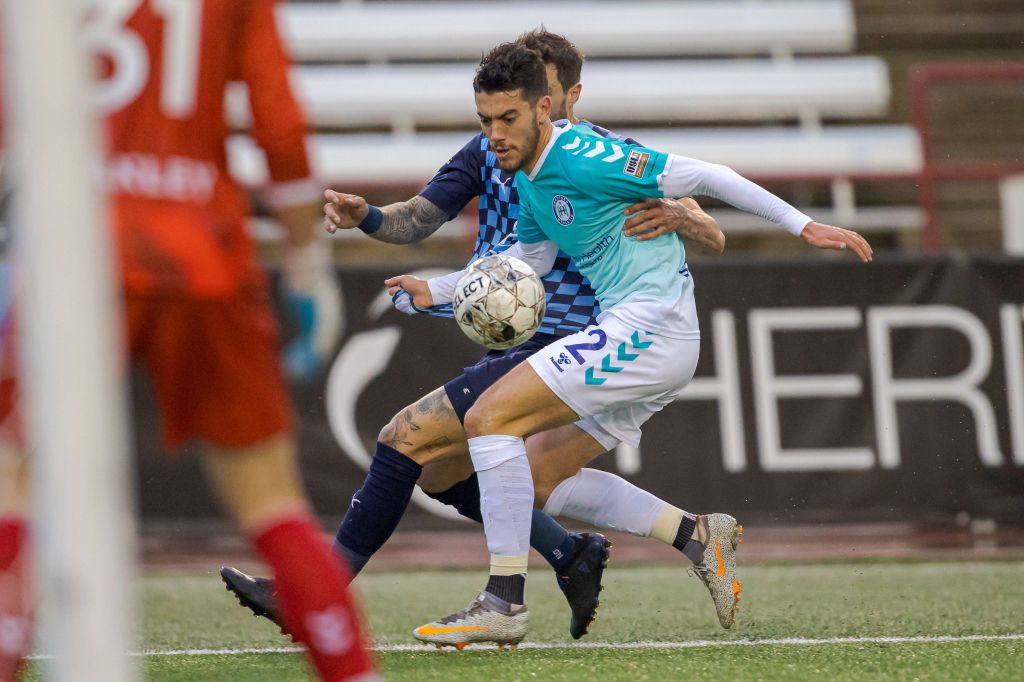 In a tiring night of soccer with two lightning delays, Hartford was unable to equalize after conceding to Indy Eleven in the 40th minute.
After a lightning delay, Saturday night's match kicked off just after 7:40 PM. Prior to a goal from Ayoze in the 40th minute, there was little to report for either squad. Hartford was able to generate a few chances through some patient play in Indy's third and by playing through Joel Johnson on the right side. Johnson fed a few balls into the box that had the potential to be dangerous, but in the end were either well contested by Indy or fell off target. 
In the 40th minute, Stefano Pinho played a clever touch to Ayoze at midfield who took possession of the ball with room to run. The midfielder entered Hartford's box with a head full of steam and beat a charging Jimmy Slayton under his left hand, rolling a well-placed goal into the bottom right corner of the net. A frustrating end to the half for Hartford, as they had the upper hand in possession (60.8% to 39.2%) and had more final third entries (32 to 21).
After a second lightning delay, this one lasting 90 minutes, the second half kicked off at about 10:00 PM. Indy threatened right away, with Stefano Pinho getting behind Hartford's back line for a one-on-one opportunity with Jimmy Slayton, who stonewalled Pinho with a brave save off of his chest. In the 57th minute, Ayoze tried to get on the board for a second time with a shot from about 15 yards out, but Slayton came up with another quality save. Hartford had a great opportunity in the 62nd minute off a corner kick that fell to the feet of Rashawn Dally, but his shot sailed above the crossbar.
The attacking third play from the Green and Blue improved as the match went on. There was a span of eight minutes in which they produced three corner kicks, and they totaled five in the half. They were determined to keep the ball in front of them, as they attempted 18 crosses in the half and 24 total, which broke their average of 16.3 per game in USL Championship play. Modou Jadama had Hartford's last quality opportunity in the 89th minute on a free kick from about 20 yards out. His attempt was well-struck but went above the goal.
Hartford Athletic will come back home to host Loudoun United FC next week on Saturday, May 7th at 7:00 PM.
FAST STATS:
Shots (On-Target): Hartford 5 (1) – Indy 8 (3)
Corners: Hartford 6 – Indy 3
Fouls: Hartford 15 – Indy 19
Offsides: Hartford 6 – Indy 1
Possession: Hartford 61.8% – Indy 38.2%
Passing Accuracy: Hartford 83%– Indy 72.2%
Saves: Hartford 2 – Indy 2
SCORING SUMMARY:
39′ – Ayoze (Pinho)
DISCIPLINARY SUMMARY:
21′ – Aguilera (Yellow)
38′ – Johnson (Yellow)
51′ – Boudadi (Yellow)
74′ – Cochran (Yellow)
91′ – Fjeldberg (Yellow)
HARTFORD ATHLETIC STARTING LINEUP:
31 (GK) Jimmy Slayton, 2 (DF) Younes Boudadi, 5 (DF) Tom Brewitt, 6 (FW) Ariel Martinez (Vassell, 32′) (Dally, 61′); 10 (MF) Danny Barrera, 12 (FW) Corey Hertzog (Curry, 81′); 14 (DF) Ash Apollon, 23 (DF) Modou Jadama, 28 (MF) Conor McGlynn, 30 (DF) Joel Johnson 77 (MF) Andre Lewis
INDY STARTING LINEUP:
12 (GK) Elliot Panicco, 15 (MF) Neveal Hackshaw, 3 (DF) AJ Cochran, 5 (DF) Jared Timmer, 44 (MF) Alex McQueen, 23 (MF) Justin Ingram, 7 (MF) Ayoze García (Fjeldberg, 63′); 17 (DF) Noah Powder (Law, 63′) 8 (MF) Raul Aguilera (Briggs, 87′); 9 (FW) Manuel Arteaga, 29 (FW) Stéfano Pinho