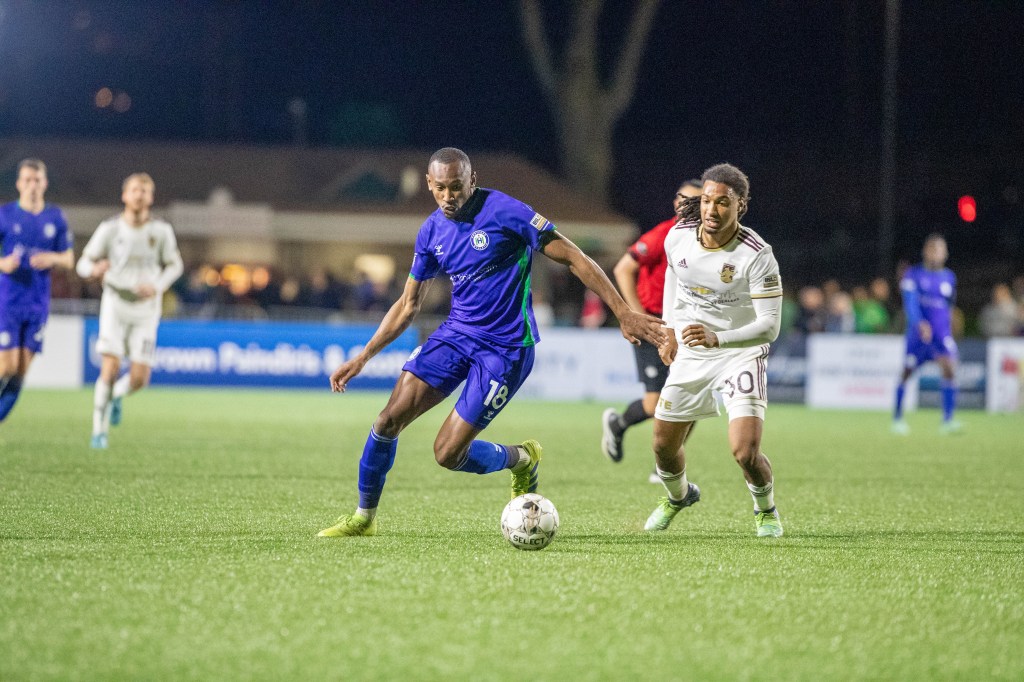 Another quality performance from Hartford Athletic was not enough, resulting in a 2-1 loss to Detroit City at home.
Detroit City forced Hartford to defend early on, as they recorded three shots and completed 14 passes in Hartford's third in the first 10 minutes. Jimmy Slayton made a quality save in the 12th minute after a cross into the box that was headed on target from short distance. Hartford's back line remained calm in handling the early danger, making 12 total clearances in the half. The Green and Blue responded magnificently on the offensive end, creating a quality chance for Joel Johnson in the 21st minute and eventually finding the back of the net with Rashawn Dally's first goal of the season in the 42nd minute. Prince Saydee delivered a well-placed ball to Dally, tallying his third assist of the season.
Despite not scoring a goal, Hartford played some of their best soccer of the season in the second half. They continued to create quality chances and applied consistent pressure in Detroit's third, as they entered it 41 times in the half. In the 68th minute, Detroit's Deklan Wynne shot a ball that took a fortuitous deflection off of Younes Boudadi and spun over a diving Jimmy Slayton to bring the visiting side level. Hartford responded well yet again, firing off five shots from the 68th minute up until stoppage time, and putting three of them on target. Their best opportunity came off a brilliantly executed set piece in the 81st minute that came up inches short of a goal. Danny Barrera placed a ball into the box that landed on the feet of Luka Prpa, whose shot rang off the crossbar. Just a few minutes later in stoppage time, Stephen Carroll found space off of a chaotic corner and flicked in the game winner for Detroit with his right foot.
Despite the two goals conceded, Jimmy Slayton delivered a strong performance with seven saves. Ariel Martinez made his Hartford debut tonight and was lively off of the bench, recording a shot and three touches in Detroit's box.
A bitter pill to swallow for Hartford, they'll set their focus on a matchup with Indy Eleven next Saturday on the road.
FAST STATS:
Shots (On-Target): 13 (4) Hartford – Detroit 24 (9)
Corners: Hartford 2 – Detroit 3
Fouls: Hartford 8 – Detroit 6
Offsides: Hartford 4 – Detroit 2
Possession: Hartford 52.3% – Detroit 47.7%
Passing Accuracy: Hartford 82.5% – Detroit 81.3%
Saves: Hartford 7 – Detroit 3
SCORING SUMMARY:
Dally – 41′ (Saydee)
Wynne – 68′ (Rodriguez)
90+2′ – Carrol
DISCIPLINARY SUMMARY:
54′ – Deklan Wynne (Yellow)
78′ – Younes Boudadi (Yellow)
80′ – D. Amoo Mensah (Yellow)
90+4′ – F. Atuahene (Yellow)
HARTFORD ATHLETIC STARTING LINEUP:
31 (GK) Jimmy Slayton, 2 (DF) Younes Boudadi, 5 (DF) Tom Brewitt, 7 (FW) Prince Saydee (Prpa, 50′); 10 (MF) Danny Barrera, 14 (DF) Ash Apollon, 18 (FW) Rashawn Dally (Martinez, 62′); 23 (DF) Modou Jadama, 28 (MF) Conor McGlynn, 30 (DF) Joel Johnson (Curry, 87′); 77 (MF) Andre Lewis
DETROIT STARTING LINEUP:
1 (GK) Nathan Steinwascher, 15 (DF) Matthew Lewis, 5 (DF) Stephen Carroll, 30 (DF) Devon Amoo-Mensah, 2 (MF) Rhys Williams (M. Bryant, 65′); 8 (MF) Aboulaye Diop, 21 (MF) Maxi Rodriguez (B. Tanyi, 79′); 20 (MF) Deklan Wynne, 29 (FW) Antoine Hoppenot, 19 (FW) Patricio Botello Faz (F. Atuahene, 65′); 11 (FW) Connor Rutz