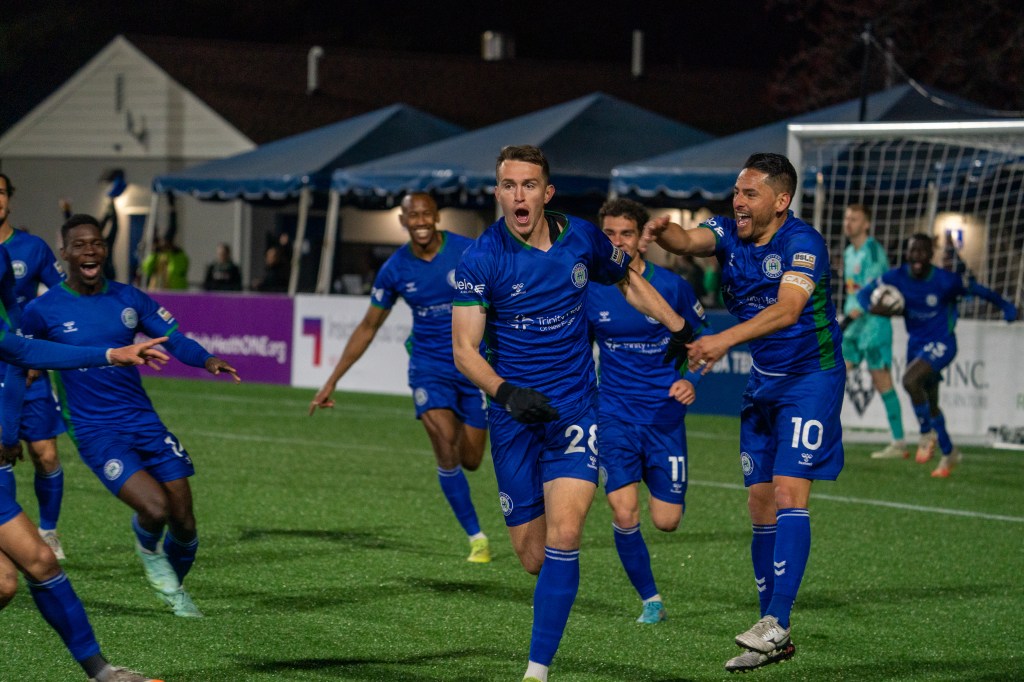 In the first home match against an MLS opponent in club history, Hartford Athletic fell 2-1 to the New York Red Bulls in the third round of the U.S. Open Cup.
The New York Red Bulls made their presence known at Trinity Health Stadium in the first half. They fired off six shots in the game's first 10 minutes and scored on the seventh shot, when Lewis Morgan booted a well-placed ground shot past Jimmy Slayton into the bottom right corner of the net. Just seven minutes later, Franuel Amaya forced Slayton into a diving save, leaving an open net for Aaron Long to clean up the rebound and give the Red Bulls a 2-0 lead. The MLS club recorded 24 shots, 15 of them from inside Hartford's box, and seven on target in the first half.
The second 45 minutes was a different story. Head Coach Harry Watling brought Conor McGlynn, Rashawn Dally, and Younes Boudadi on to start the half, and Hartford came out of the locker room with fantastic energy. In the 51st minute, Hartford was given a free kick opportunity from just in front of the right side end line. Danny Barrera played a perfect ball to Conor McGlynn, who had a full head of steam and blasted a shot into the right corner of the net, cutting New York's lead in half. The goal brought a crowd of 5,144 to their feet, and loads of momentum had been gained by the home side. 
The Green and Blue continued to apply pressure to the Red Bulls throughout the second half. Danny Barrera had another free kick opportunity from outside the box in the 66th minute and sailed a shot just a few feet over the crossbar. Hartford was inches away from equalizing in the 79th minute, when Younes Boudadi rocketed a strike from nearly 30 yards out and hit the right post.
Jimmy Slayton faced perhaps his biggest test as a professional, as he faced eight shots on target and made six quality saves. He was integral in giving his club a chance to make a comeback in the second half after falling down 2-0 early. 
Despite the loss, a brilliant effort against an MLS club in front of a roaring crowd was certainly a step in the right direction for Hartford Athletic. They will continue their USL Championship schedule this Saturday, April 23rd, as they host Detroit City FC at 7:00PM.
FAST STATS:
Shots (On-Target): Hartford 9 (2) – New York 19 (5)
Corners: Hartford 1-10 New York
Fouls: Hartford 13-13 New York
Offsides: Hartford 1-1 New York
Possession: Hartford 52.2%- 47.8% New York
Passing Accuracy: Hartford 72.1% – New York 74.5%
Saves: Hartford 6 – New York 0
SCORING SUMMARY:
18′ – Lewis Morgan
25′ – Aaron Long
51′ – Conor McGlynn (Danny Barrera)
DISCIPLINARY SUMMARY:
13′ – S. Nealis (Yellow)
43′ – Peter-Lee Vassell (Yellow)
57′ – L. Morgan (Yellow)
61′ – Modou Jadam (Yellow)
HARTFORD ATHLETIC STARTING LINEUP:
31 (GK) Jimmy Slayton, 23 (DF) Modou Jadama, 5 (DF) Tom Brewitt, 4 (DF) Tulu, 14 (Conor McGlynn, 45′); (DF) Ash Appollon, 8 (MF) Peter-Lee Vassell (Rashawn Dally, 45′); 10 (MF) Danny Barrera, 77 (MF) Andre Lewis, 30 (DF) Joel Johnson, 17 (FW) Mitchell Curry (Younes Boudadi, 45′); 11 (FW) Luka Prpa (Prince Saydee, 61)
NEW YORK RED BULLS STARTING LINEUP:
18 (GK) R. Meara, 47 (DF) J. Tolkin, 33 (DF) A. Long, 15 (DF) S. Nealis, 12 (DF) D. Nealis, 16 (MF) D. Yearwood, 8 (MF) F. Amaya (C. Cásseres, 45′); 10 (MF) L. Morgan, 82 (FW) Luquinhas, 21 (MF) O. Fernandez (T. Barlow, 80′); 9 (FW) P. Klimala (Z. Ryan, 64′)